Veteran trader Peter Brandt has suggested that Coinbase Global (COIN) has formed a head-and-shoulders pattern, potentially heralding a significant downturn in the stock price.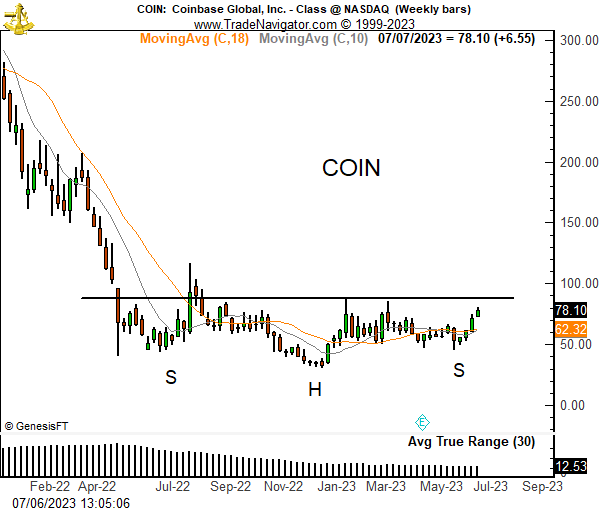 This comes amid the cryptocurrency exchange's stock trading at a higher level since before the SEC's lawsuit against rival exchange Binance. In a tweet, Brandt simply stated, "Head and shoulders in $COIN," pointing to a bearish technical pattern that some traders use to predict a major market reversal.
The head and shoulders pattern, used by chartists to predict price reversals, consists of three peaks with the middle one being the highest (the 'head') and the two on the sides (the 'shoulders') being nearly equivalent in height. The pattern forms over a baseline (the 'neckline') and is often considered one of the most reliable trend reversal patterns. It signals that the asset's price is set to fall from the neckline level, potentially in a significant way. However, the pattern is not confirmed until the asset's price breaks below the neckline.
In the case of Coinbase, the formation of this pattern suggests that the company's recent stock rally, fueled in part by BlackRock's Bitcoin ETF filing, could be short-lived. Coinbase stock has surged more than 30% since June 15, when BlackRock filed for a spot Bitcoin exchange-traded fund (ETF) with Coinbase acting as the custodian. However, with the emergence of the head and shoulders pattern, traders and investors may want to brace for a potential price drop.
While the potential trend reversal has caught the attention of some market watchers, others interpret the situation differently. Omid Malekan points out that Coinbase stock sold off in anticipation of the SEC's "Endgame", and also adds that the market might not believe in the efficacy of "Endgame". Despite the technical signal for a reversal suggested by the head and shoulders pattern, it remains to be seen how COIN will fare in the coming weeks and months, as these predictions are not always accurate and the broader market context will undoubtedly play a critical role.