Tether (USDT), the largest stablecoin in the digital currency ecosystem, has been trading at a price below its designated benchmark of $1 in a move generally known as de-pegging. At the time of writing, Tether is trading at $0.9998, atop a market capitalization of more than $66 billion, aiding it to maintain its position as the third largest crypto by market cap.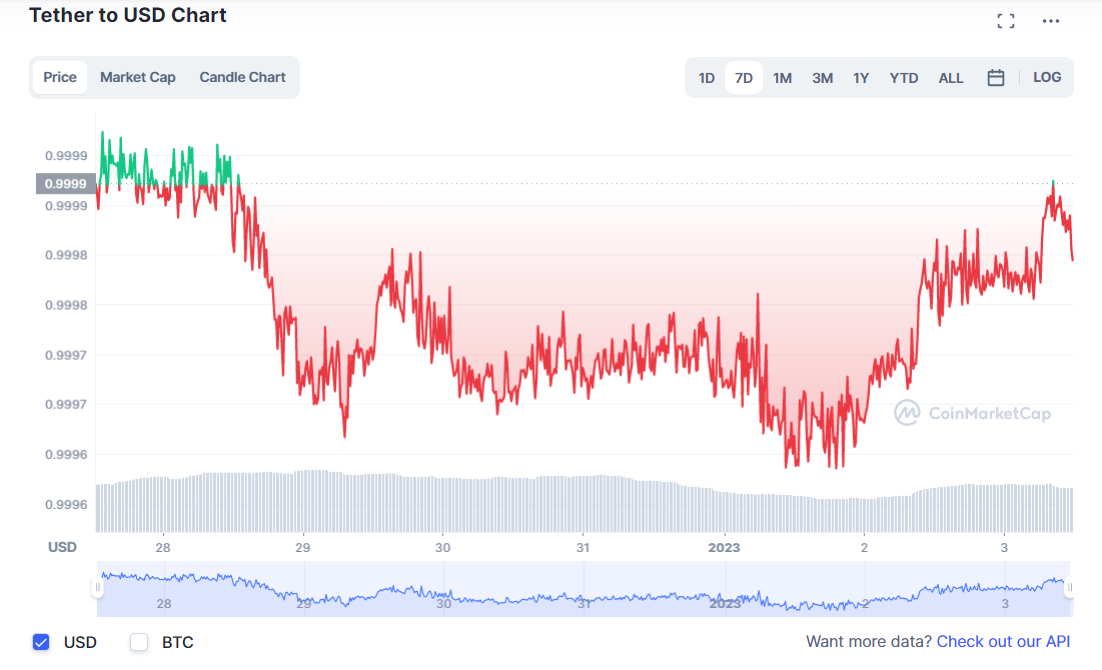 Though the currently de-pegged trading price of USDT is not affecting its outlook, related slips below the designated $1 peg do not typically take longer to correct. However, according to the chart above, the de-pegging of the stablecoin below $1 has been on since Dec. 27, about a week ago.
There are different factors that can stir the de-pegging of a stablecoin, some of which could range from market conditions to protocol attacks, as in the case of TerraUSD (UST) earlier in the year. The sheer lack of concern on the part of Tether's executive, including the company's CTO Paolo Ardoino, may suggest that there is nothing to worry about in the meantime.
Irrespective of the current sentiment surrounding the stablecoin, there is a keen observation in the ecosystem with respect to the trends in the price of the digital assets that are designed to maintain parity with the U.S. Dollar on a 1:1 basis.
Negating current bullish growth
One thing that is uniquely mind-boggling about the de-pegging of the USDT is the fact that the broader crypto industry is experiencing a relative surge in price and valuation at this time.
The combined crypto market cap has formed a new support above the $800 billion benchmark after inching upward by 0.30% over the past 24 hours. Since the start of the year, some of the most popular cryptocurrencies, including Dogecoin (DOGE), have received a boost, riding on some unique ecosystem development or other.