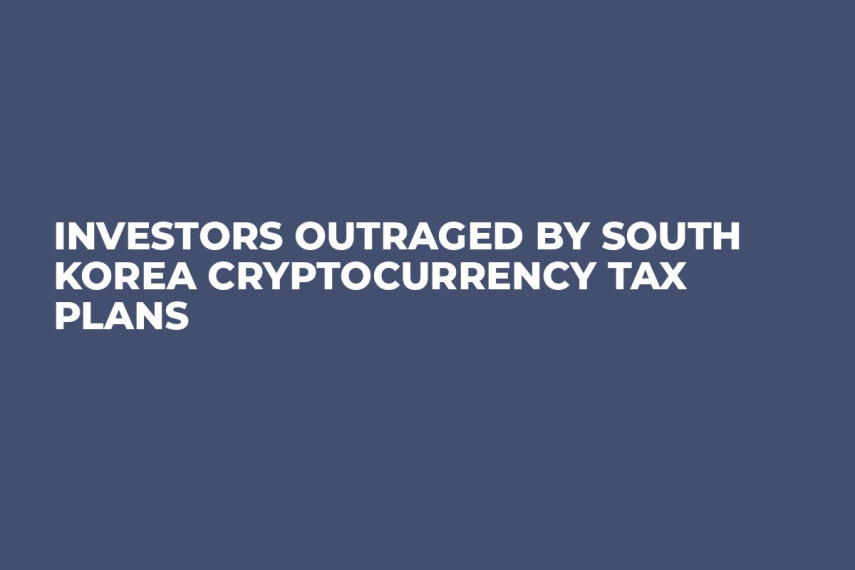 Cover image via U.Today
Since mid-December, the South Korean government has teased its short-term plan to tax Bitcoin and cryptocurrency investors. Several sources have claimed that cryptocurrency exchanges have already started to file reports to the National Tax Service (NTS) on unusually large deposits and withdrawals.
Local investors have been outraged by the government's decision to tax cryptocurrency investors. In fact, rumors of government meddling have cost South Korean traders significant losses following Justice Minister Park Sang-ki's claim about an upcoming trading ban. The premature statement of the justice minister was immediately refuted by the Blue House, the executive office of the South Korean President Moon Jae-in.
Despite the official refutation of Sank-ki's claim, the cryptocurrency markets have experienced weeks of nervousness. Things have calmed a bit this week, once Finance Minister Kim Dong-yeon's echoed the government's enthusiastic stance towards the cryptocurrency market and clarified its intention not to ban cryptocurrency trading. Kim said:
"There is no intention to ban or suppress cryptocurrency [market]. Regulating exchanges is [the government's] immediate task."
Angry traders
After this fiasco, which led to many millions of dollars in losses for South Korean investors, the government has solidified its plans to tax investors once again. One local investor stated that the government should defer its tax plans for awhile given the losses experienced as a direct result of the justice minister's false statements.
One local trader told a South Korean media outlet:
"Government claims the cryptocurrency market is not strictly regulated and institutionalized, but it wants to obtain taxes from it? It is not a currency but anyone who tries to arbitrage the market will be jailed? Bitcoin is worthless, but the supreme court acknowledged it as an asset and personal wealth? The South Korean government initiated insider trading by selling Bitcoin prior to the announcement of the Justice Minister and government officials are not being penalized?"
Local investors remain infuriated with the South Korean government's approach to regulating the local cryptocurrency market despite many months' of negligence. It has been alleged that several officials within the South Korea Financial Services Commission initiated insider trading, raking in significant profits by obtaining prior knowledge about the justice minister's statement in early December.
Cautious regulation
The South Korean finance minister stated that the government will begin taking a cautious approach in regulating the market to protect both investors and businesses. Kim wrote:
"Blockchain technology can disrupt and revolutionize the world. But, for open-source Blockchain networks, cryptocurrencies are necessary as incentives for individuals to participate in the network. The Finance Ministry has no plans or intentions to eliminate or prohibit cryptocurrencies. Blockchain technology is an important technological breakthrough to fuel the fourth industrial revolution and as such, the ministry will take a cautious approach in regulating the cryptocurrency market."