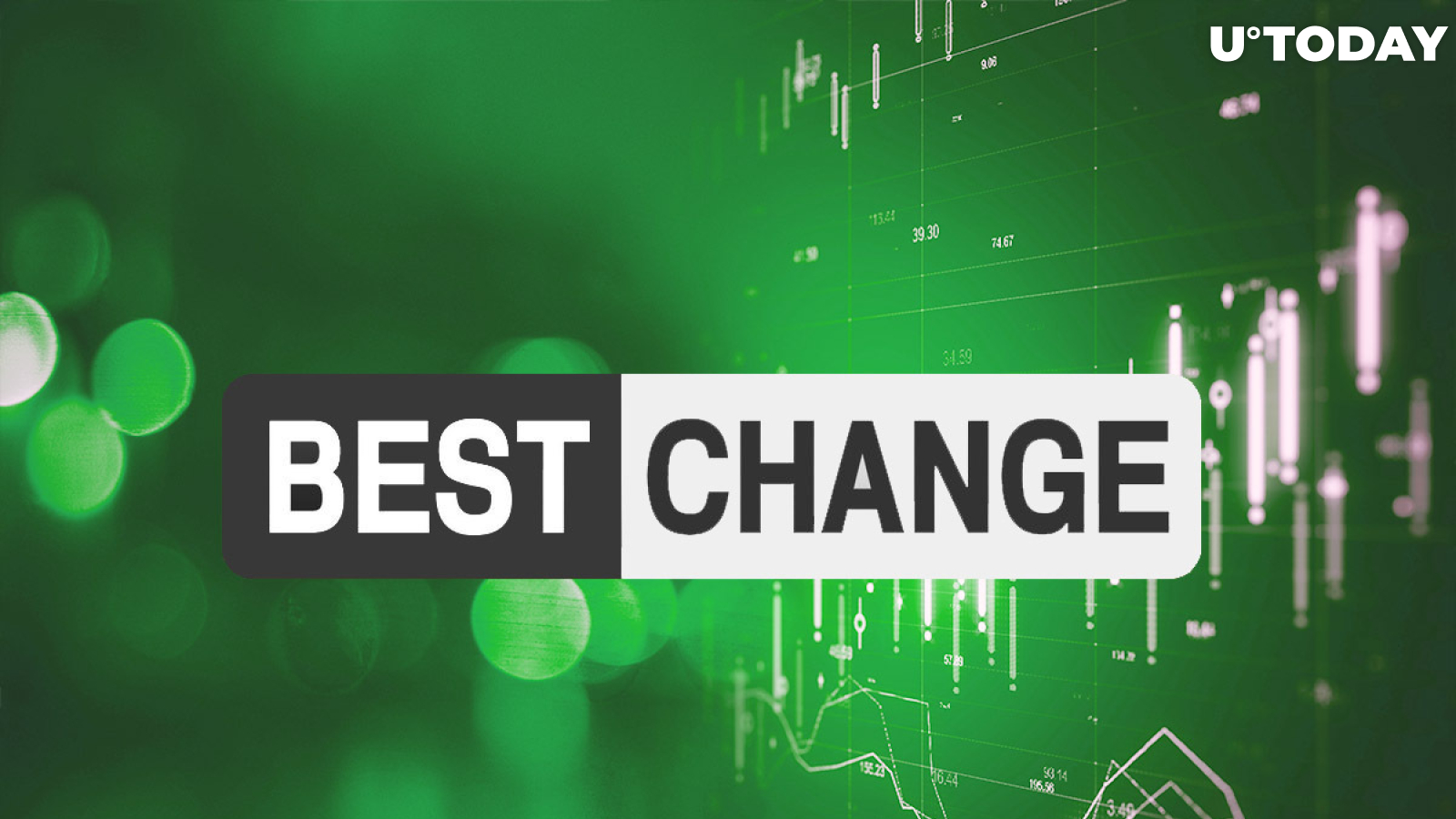 Sponsored
Cover image via stock.adobe.com
Using a trustworthy aggregator of exchanges may be a smart bet for choosing the right method for exchanging digital assets. Here's how Bestchange can assist you in browsing through the crypto exchange segment.
How to exchange crypto in 2021: top methods
Exchanging crypto in 2021 is no longer a cumbersome and sophisticated process. Typically, people exchange their assets on crypto trading platforms (Binance, Coinbase), through peer-to-peer services (Localbitcoins, Paxful), Telegram exchange bots (Vexel) and built-in exchange modules in some wallets.
Thus, the issue of reliability, i.e., the reputation of this or that exchange remains really tough. This is where Bestchange comes in.
What is Bestchange?
Bestchange is an aggregator (monitor) of cryptocurrency exchanges that ranks cryptocurrency exchange services by reliability, number of payment methods available, asset volume, minimum operation volume, etc.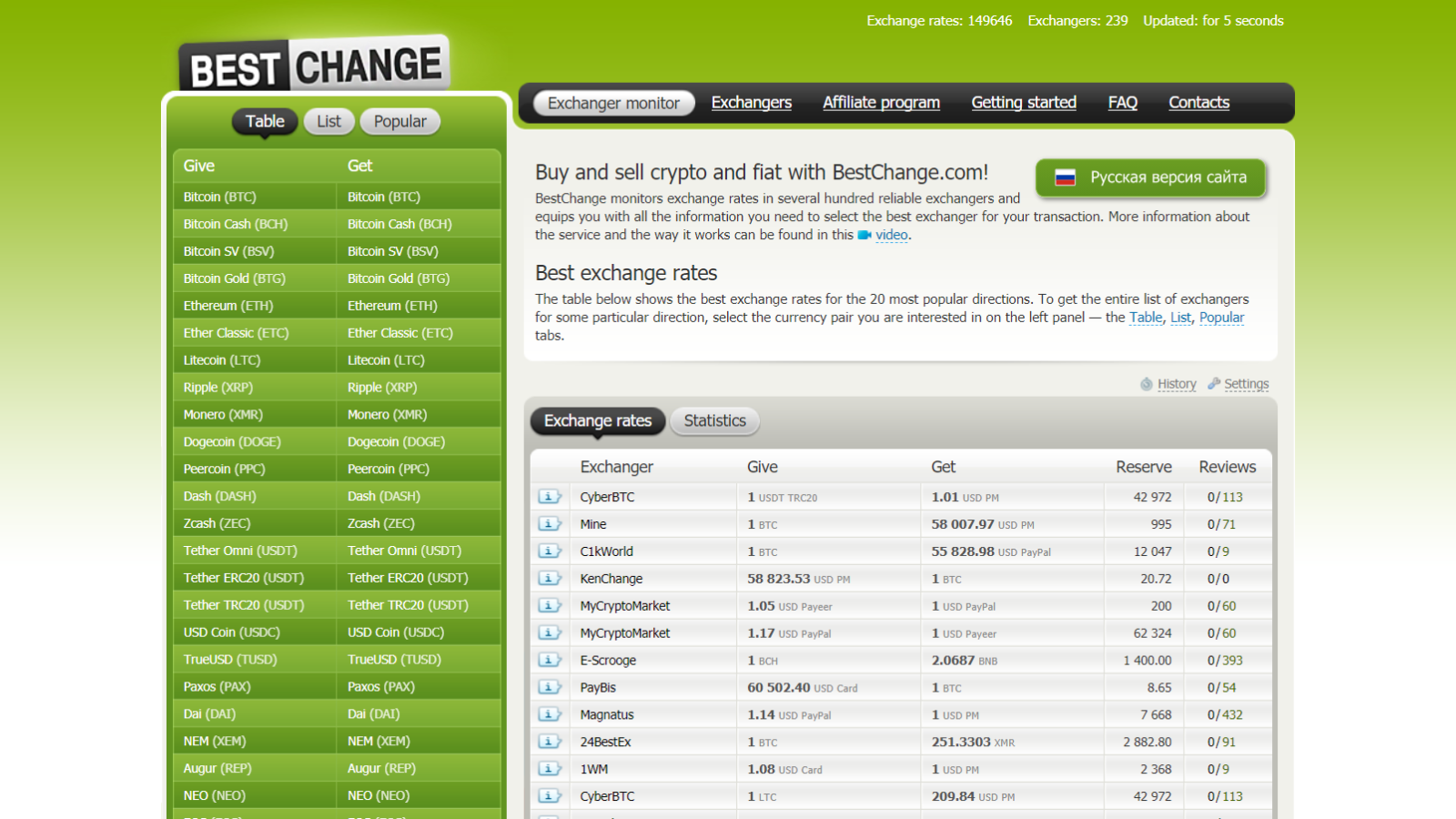 Launched in 2007 as an e-currencies service, Bestchange is designed to assist in exchanging cryptocurrencies reliably, quickly and seamlessly.
Which assets are supported on Bestchange?
Before initiating the exchange, users should find the assets they want to exchange in a list displayed in the upper left corner of the Bestchange domain's main page.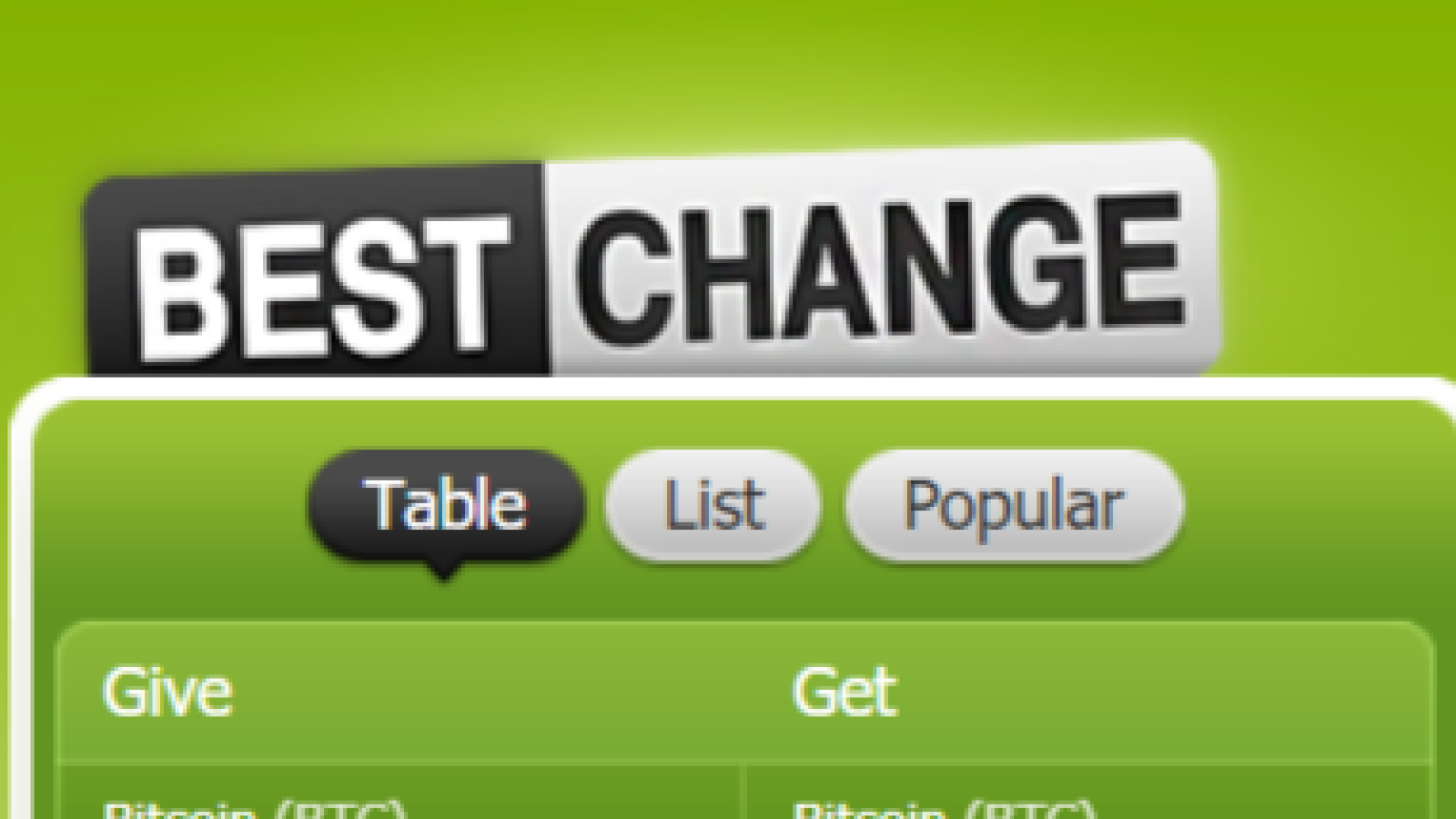 The list includes cryptocurrencies (Bitcoin, altcoins, stablecoins), digital currencies, crypto exchange codes, online banking methods, cross-border money transfers and seamless cash-to-crypto exchange.
How to exchange your crypto to fiat/e-money on Bestchange?
To find the most suitable crypto exchange option on Bestchange, the user of crypto, fiat and digital currencies is required to make a few clicks only.
Setting currencies
Say we want to exchange the first cryptocurrency, Bitcoin (BTC), for U.S. Dollars and are willing to receive USDs on our PayPal account.
Then, we should click "Bitcoin (BTC)" in the "Give" box and "PayPal USD" in the "Get" box. Here is what we will see in the "Exchange Monitor" dashboard.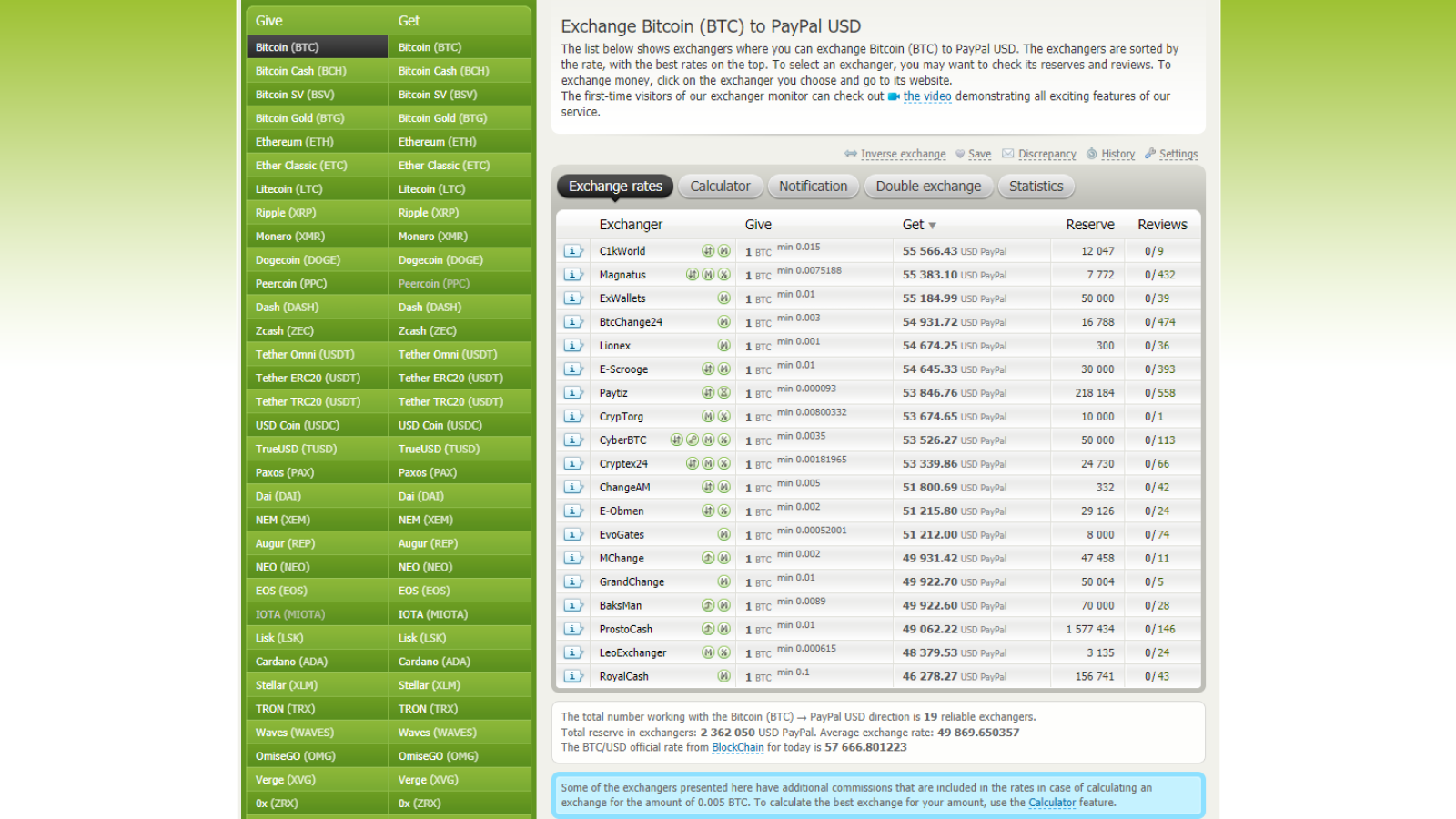 That means that 19 platforms are ready to execute a trade of Bitcoins (BTC) against PayPal USD. Rates vary significantly from $44K to $56K while actual Bitcoin (BTC) is struggling to hold above the $57,000 level.
Checking exchanges
The Bestchange service displays the most sensitive features of exchange operations: additional fees, registration required, disabled "fixed rate" option, etc.
They are shown as green icons to the right of the name of the exchange. It is better to check them all before initiating a trade.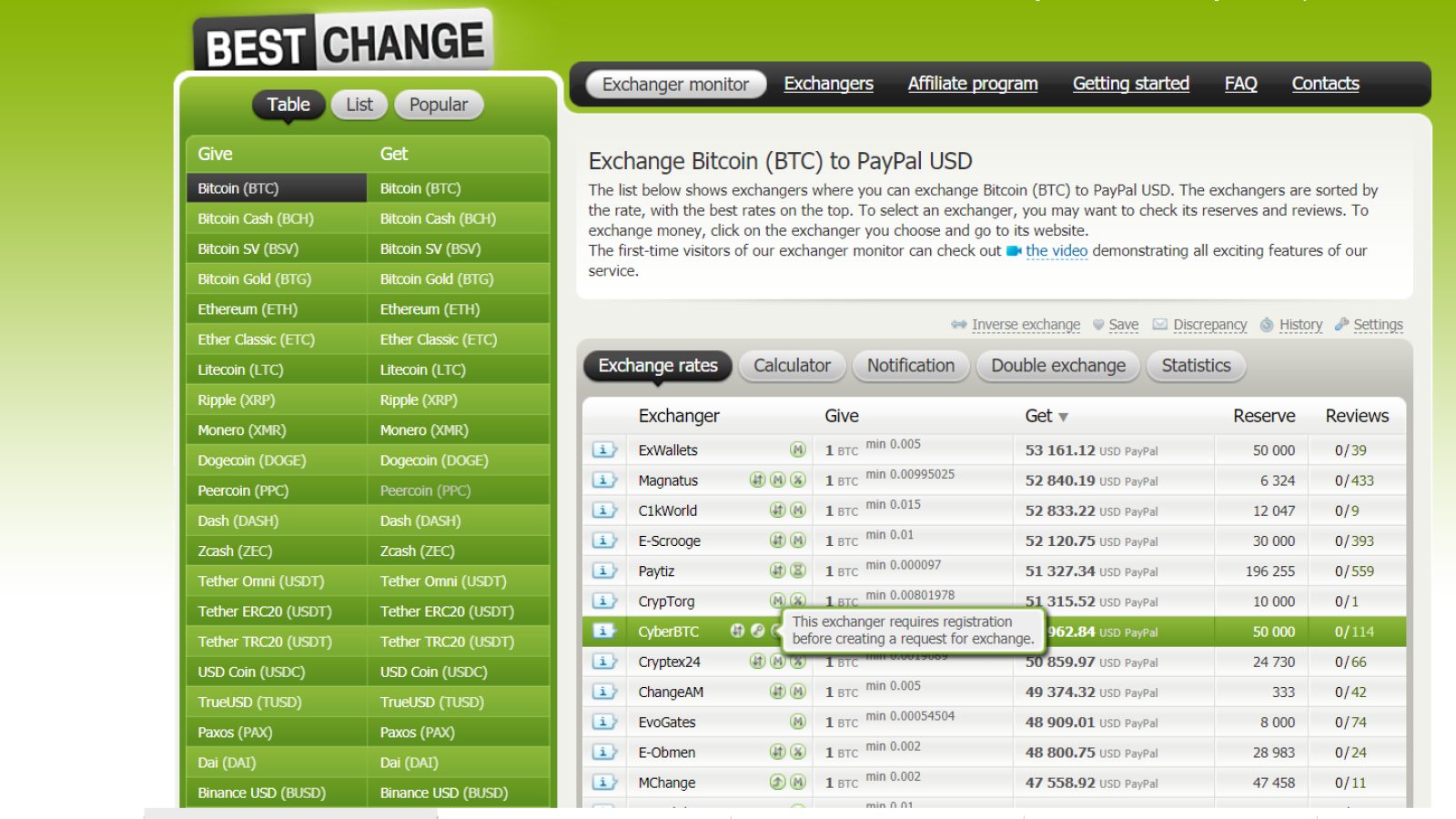 Then, the user should check whether the reserves of the exchange are sufficient for his/her trade and whether he/she meets the minimum requirements with the actual sum. Also, reviews would provide a comprehensive description of this or that platform.
In "Calculator" mode, the user can see how much money he/she is going to get in his/her PayPal account, and which exchanges can facilitate the trade right now.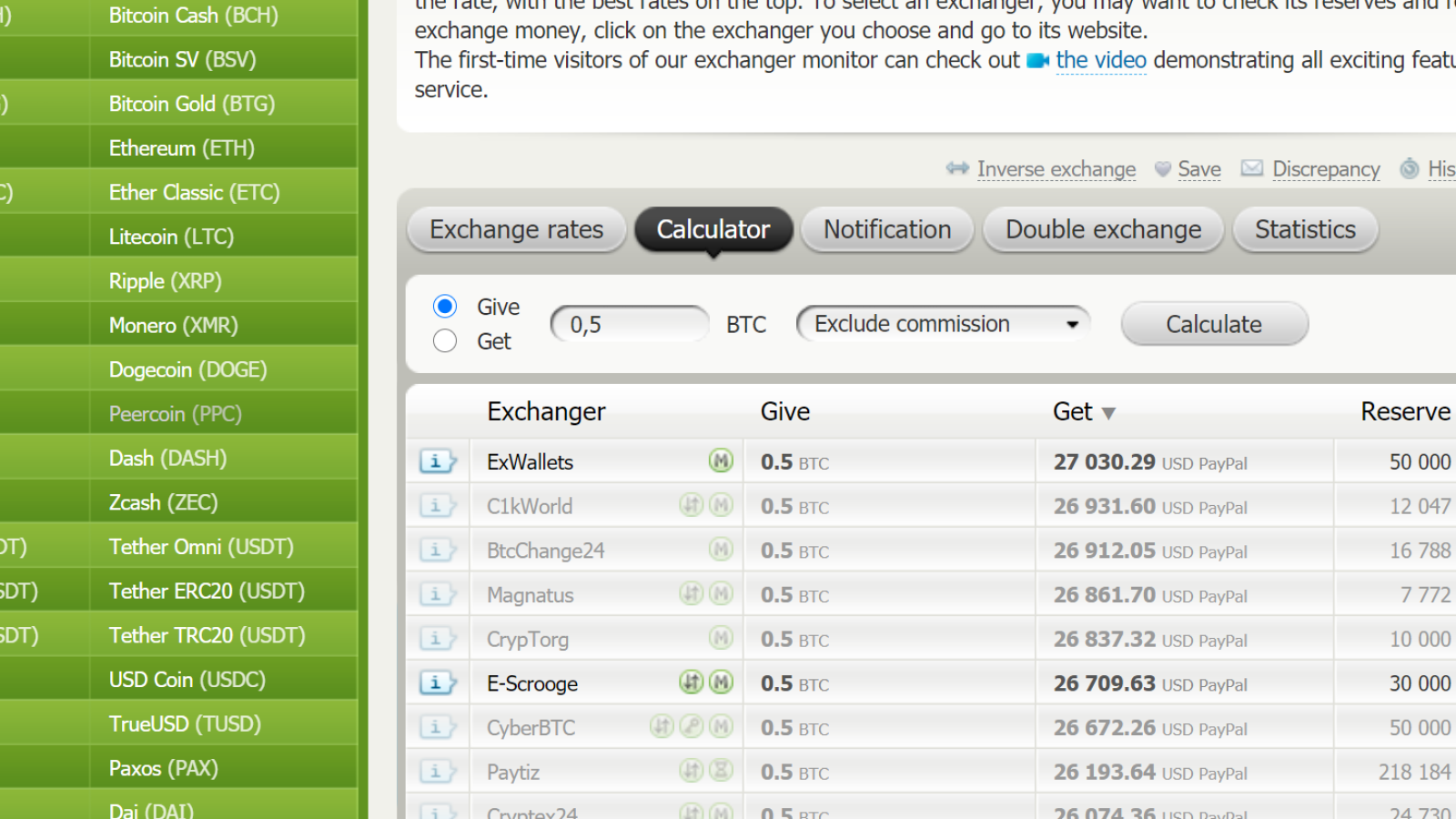 If the best variant is not available at the moment, the crypto holder can either set up a notification about a possible price move or order a double exchange (in which, say, BTC is first exchanged into ETH, and then ETH is exchanged for PayPal USD).
Initiating a trade
Once the best exchange is chosen and the conditions of trade are suitable, the user should click on its name and initiate the trade. Typically, that means sending Bitcoins (BTC) to a platform-associated address and inputting PayPal's wallet data.
Meanwhile, users should be aware that Bestchange will not be liable for any losses incurred when interacting with third parties.
Leaving feedback
After the money (minus exchanger fees and PayPal deposit commissions) is received by the trader, he/she can briefly describe his/her experience with the platform listed by Bestchange.
The feedback about Bestchange itself can be written in the "Feedback" box in the bottom left of the main page while suggestions about the exchanges should be left in the "Reviews" section.
How to exchange crypto to crypto on Bestchange
Exchange operations between two cryptos are conducted in a similar way. For instance, while exchanging Chainlink (LINK) tokens to Ethers, a user will see offers from 20 exchanges.
Some exchangers can start a trade with even one Chainlink (LINK) token. In "Double Exchange" mode, proposals from 60+ platforms are available.
Affiliate program: get your social exposure monetized with Bestchange
Bestchange has some additional income offers for those who want to spread the word about its service. In the "Affiliate" program, the user can get a unique referral link and start earning bonuses from his/her referrals.
Also, Bitcoiners can set up a Bitcoin (BTC) faucet to earn Satoshis periodically as a small source of passive income.
Bottom line
Bestchange has developed a "go-to" service for ranking crypto-to-crypto and crypto-to-fiat exchanges. It implemented a rich toolkit of instruments for profitable peer-to-peer exchange. The service is really easy to navigate, so crypto newbies can easily browse the segment of exchanges and find the most suitable offer.