The price of Bitcoin (BTC) is down 1.8% since the beginning of the trading session. As a result of the decline, the quotations fell below the mark of $28,000 per BTC and reached the lowest value in recent weeks. Now, the price of Bitcoin has returned to the dynamic channel, but whether it will be able to stay in it is an open question. Nevertheless, there is something that may be able to keep BTC from dipping further.
As demonstrated by data from crypto intelligence portal IntoTheBlock, the key support zone for Bitcoin is now between $27,100 and $27,980, where more than 1.28 million addresses have purchased 458 BTC. This "wall of demand" must hold to prevent a further drop to $25,480 levels at least.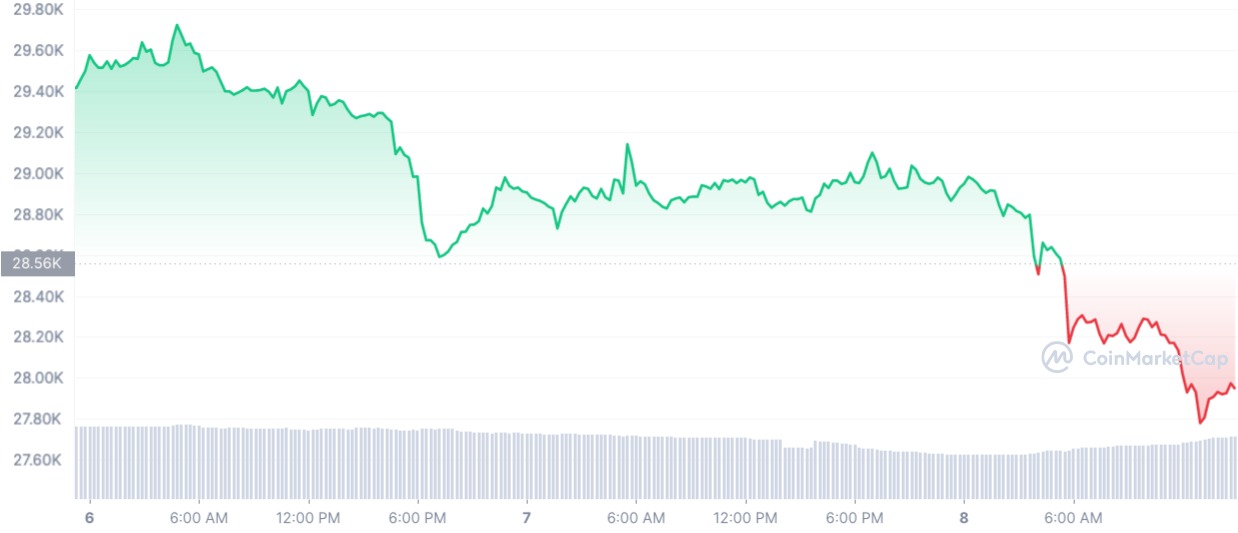 On the other hand, to move higher from the current values, the price of Bitcoin has to go beyond $29,600. Between that level and the current Bitcoin price, according to the data, there are 1.72 million BTC at 3.37 million addresses. Those addresses are now suffering losses.
It is important to note that the recent price movement of BTC is not occurring in a vacuum. The entire crypto market has been experiencing a period of volatility, with many cryptocurrencies experiencing significant price swings.
The risk of a recession, which could hit as early as July, and the pressure of the "Sell in May" slogan creates a situation in which the most logical action is to sell off. Adding to that is the meme season seen over the past three weeks, which could also be seen as a red flag.