Trading cryptocurrencies is not as easy as it may seem. However, those who have appropriate knowledge are able to invest in cryptos profitably. In this EOS Trading Guide for Beginners we are going to provide you with necessary information about the project, coin and its specifics. We are also going to compare EOS with its closest competitor – Ethereum.

EOS is a blockchain platform for dApps. The idea behind this system is to provide users with best known practices allowing businesses and private persons to benefit from a high level of security and computing support.
One of the main advantages of this platform is that it will allow users to conduct thousands of transactions per second. This level of scalability is out of range for Bitcoin and even Ethereum nowadays. The aim of the team is to create a complete operating system for decentralized applications giving the opportunity to user to benefit from high level of security, server hosting and cloud storage.
EOS trading. The main features of the project
Before an investor or trader puts his or her money into this coin, it is necessary to learn the main features of this system.
One of the main specifics of this network is its high security level. All users accounts have different permission levels. There were several updates of the system allowing users to store their data off the blockchain. There are also some features helping EOS clients to restore access to their compromised and recover stolen accounts.
Another great feature of EOS is its scalability performance. There is no doubt that future of cryptocurrencies as payment method depends not only on security of data transfer, but also on how fast the transaction may be executed. Bitcoin and Ethereum use PoW consensus method, which is criticized by the crypto community nowadays.
EOS uses another method, which focuses on transaction instead of the state of the whole system. This allow to significantly increase the speed of message exchange within the network up to one million per second.
EOS team and coins
Before trading EOS or investing in this coin, one need to learn more information about the project's team. The system is created by Block One company, led by Dan Larimer. This person is famous in crypto industry as he was founder of Bitshares and Steemit.
As for EOS coins they are listed on most of major trading places and have medium liquidity level as compared to other cryptos. EOS is on the fifth place in the list of market capitalization according to coinmarketcap in the moment of writing.
Comparing EOS and Ethereum
Once you have decided to trade EOS or hodl it, you need to know the closest competitor of this project. EOS is designed to create dApps and smart contracts meaning its rival is Ethereum.
Despite all the similarities that EOS have with Ethereum, those projects are not the same and this information is important for traders and investors in order to understand whether to put money in EOS or not.
Target audience
Many investors think that EOS and Ethereum are the same but they have different target audience. EOS adepts think that this platform will be more decentralized as it uses Proof of Stake consensus mechanism as compared to Ethereum, which works on Proof of Work.
EOS is supposed to be the host of different decentralized applications that would high costs if run on Ethereum platform. There is no transaction fee within the EOS network.
Technical differences
EOS team aims at overcome scalability, functionality and usability issues that Ethereum has currently. To do this, developers have implemented delegated Proof of Stake protocol, which helps to eliminate the bottleneck that Ethereum network has currently. Another reason to use it is the ability to freeze the network and to fix broken applications without affecting other accounts.
EOS has chosen this DPoS mechanism to add more democracy into their network meaning no party will be able to consolidate enough coins (PoS) or computing power (PoW) to control the whole network.
Additionally, EOS team expects the system to process 1,000 operations per second and to increase this number in future up to 100,000 transactions. However, Ethereum developers also work on scalability as they seek to introduce Casper technology, an update that will help the network to be more scalable.
As you may see, there are several differences between EOS and Ethereum and it is not clear whether the first is able to "beat" the second.
EOS trading and general fundamental analysis
Besides all the above mentioned, when predicting EOS price for trading or investing you need to pay attention to the global fundamental factors that affect all crypto industry. Those are the following:
News and events
There are some news and events that may affect the whole industry. When a country bans exchanges or ICOs, for example, this fact will negatively affect the crypto market as traders and investors will get rid of their coins looking for safer investments.
In general, all negative news have the same impact on the industry and are likely to push EOS and other coins down. As for positive news and events, they will give support to the whole industry helping coins to grow.
Let's list the most influencing news and events that you need to pay attention to:
Bans of cryptocurrencies, exchanges, ICOs in different countries.

Adoption of blockchain technology, cryptocurrencies, ICOs and exchanges by governments.

New technologies within blockchain industry that lead to scalability, security and other improvements.

Different meetings and conferences and other events that may influence the crypto industry.
Experts opinion
EOS trading may be affected by the experts' opinion. If there are any comments from famous persons within the crypto community, they may influence EOS price in both short and long term. Those comments may have either positive or negative impact on EOS depending on their nature.
If experts criticize cryptocurrency, this fact is likely to have negative influence on the coin and vice versa, when experts support coins, they are likely to grow.
General market players' moods
EOS price changes due to market participants' activities. Bulls try to drive it higher while bears push it downwards generally. Major players may have significant impact on quotes especially for cryptos with low liquidity.
EOS takes the fifth place on capitalization as we have mentioned above. This cryptocurrency is less liquid than Bitcoin or Ethereum meaning it is more volatile and may be seriously influenced by huge players.
Cryptocurrency market has some similar traits with traditional stock and currency industries and sometimes is driven by serious players. All you need to do in this case is to forecast EOS fluctuations and follow the whales.
Strong and weak points of EOS
Before you start trading EOS, you need to know strong and weak points of this cryptocurrency. We have gathered the most interesting advantages of the project. They are the following: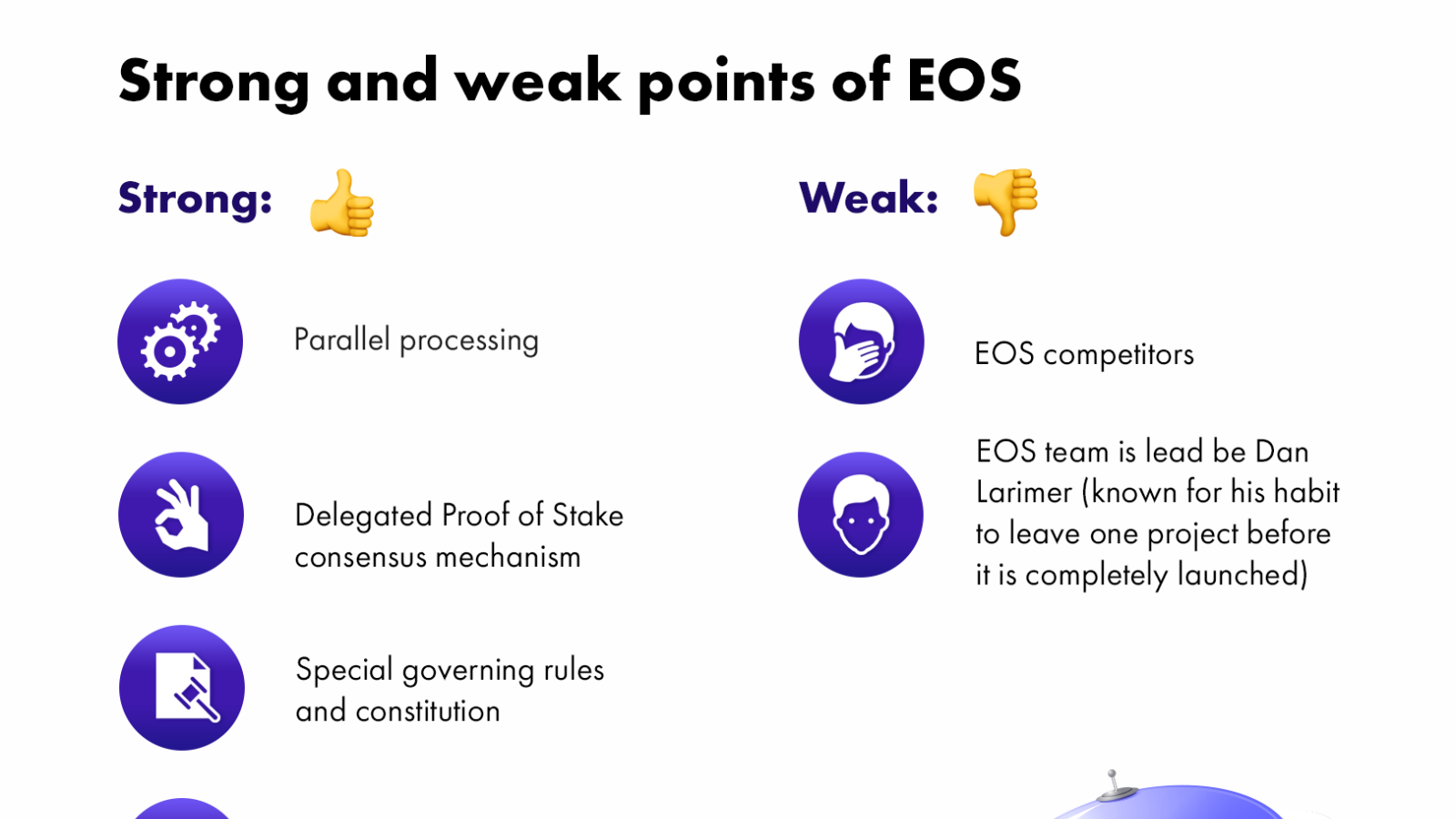 As for weak points, they are the following:
EOS team is lead be Dan Larimer. He is a famous expert of Blockchain technology. However, Larimer is also known for his habit to leave one project before it is completely launched. He left Bitshares and Steemit once he met serious issues.

EOS competitors. Apart from Ethereum, there are other projects like Crown, RChain that are going to release their platforms in the nearest future.
How to trade EOS
Before we make the final stop in this guide, we would like to describe step-by-step how to trade EOS:
The first step to do is to choose an exchange. EOS is rather popular and offered by many trading places including the most liquid ones.

Make EOS forecasting. You can use both fundamental and technical method. Pay attention to Bitcoin price as the first crypto ever affect the whole industry nowadays.

Find entry points. Use a strategy to look for the best chances to open positions.

Determine the appropriate risk/reward ratio. Professional traders advise this proportion to be 1/3 at least. If you are going to invest, read the latest news on EOS in order to understand whether it looks promising in long term.

Use different order types in order to diversify your trading and to find best EOS trading opportunities.