Launched back in Q2, 2018, Godex is a multi-chain cryptocurrency exchange that allows its users to exchange cryptocurrency with fixed rates. Godex is the exchange of choice for those who take the privacy and speed of exchange very seriously.
Exchange 200+ coins with unprecedented anonymity
Today the cryptocurrencies exchange segment is saturated by well-designed and powerful products. Even amidst this landscape, Godex surpasses most of its competitors by a wide margin in terms of the variety of blockchains and assets available for swaps.
It supports operations with crypto behemoths like Bitcoin (BTC) and Ethereum (ETH), privacy coins like Monero (XMR) and ZCash (ZEC), stablecoins like USDT and BUSD and the native assets of competitors like Binance Coin (BNB) and Crypto.com (MCO). The total number of coins supported by Godex surpasses 200 positions.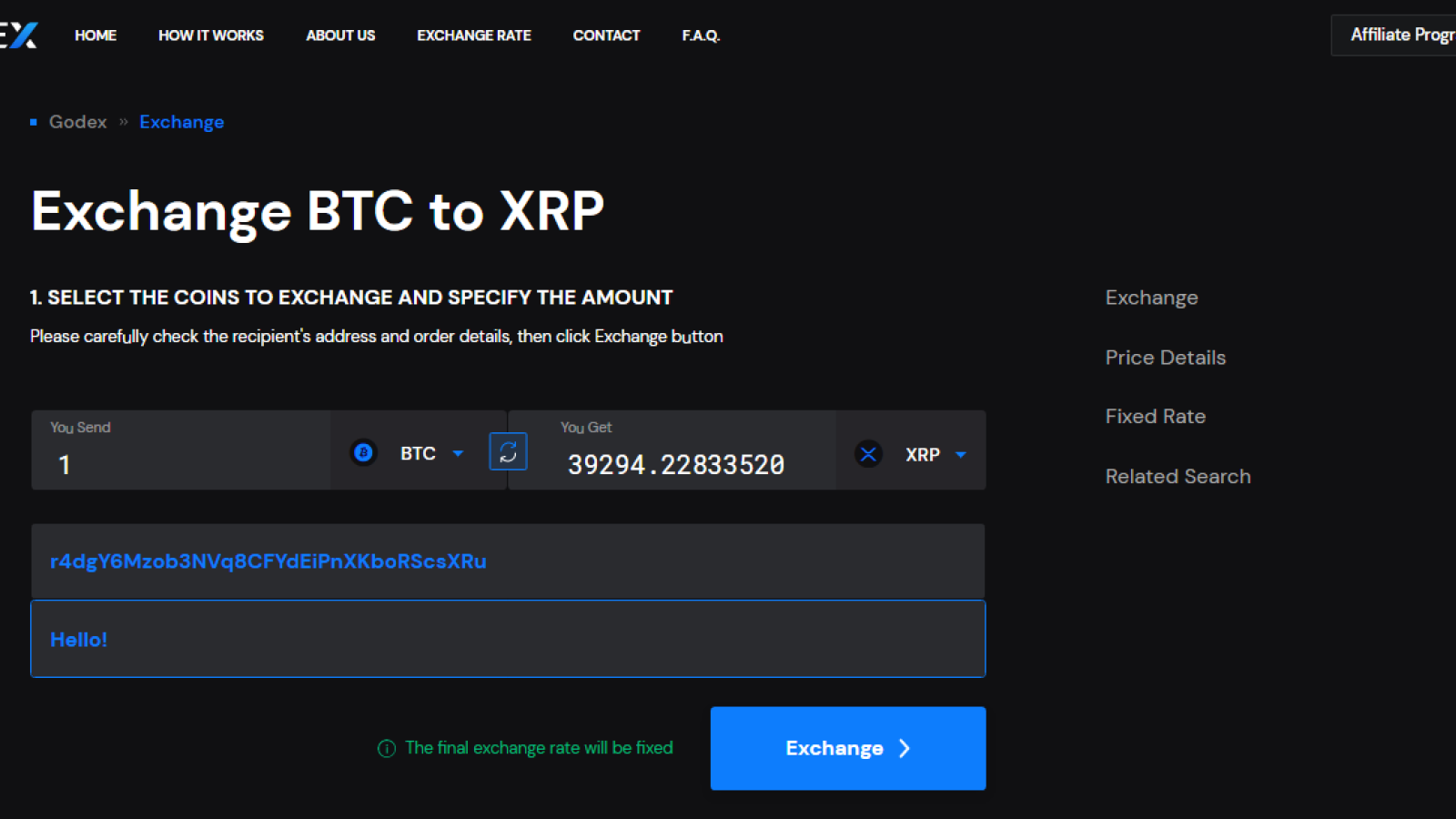 Most importantly, Godex has added numerous assets from the red-hot sector of decentralized finances, or DeFis. Balancer (BAL), Ampleforth (AMPL), Chainlink (LINK), Compound (COMP) and all those coins with triple-digit daily gains are available with one click.
But the most interesting aspect of Godex's approach to crypto trading is its KYC agnosticism. Godex does not even require registration to initiate trades on the platform. Its users need nothing but to obtain a valid blockchain address and matching private key to authorize the transaction and receive coins.
Godex does not employ an orderbook: all trades are executed with fixed cryptocurrency rates. This feature is particularly useful for crypto newbies who may find the regular system of bids and asks at the majority of exchanges confusing.
Extra options for businesses and individuals
From day one, the Godex team proudly announced that it has no limits in terms of trading amount. Once registered, the user is allowed to exchange any amount of cryptocurrency he/she desires.
Should crypto enthusiasts need seamless instant crypto exchange for their eCommerce projects, swapping widgets by Godex will solve their problems in an out-of-the-box manner. Clients can customize the size and color of the Godex widget interface.
Developers can integrate Godex instruments in third-party business operations via powerful API.
Retail traders will enjoy a one-click exchange in a couple of seconds. Traders on Godex do not need to wait for the confirmation of transactions by blockchain validators. With a "Dictionary" section, trading newbies can upgrade their understanding of crypto market processes.
Furthermore, the development team tasked with the progress of the Godex wallet has announced that applications for iOS- and Android-based devices will be released soon.
Affiliate program
The users of the Godex wallet are invited to monetize their exposure to social media by participating in its lucrative affiliate program. The affiliate program has two categories: for individuals and organizations.
Within the frameworks of individual affiliate programs, traders can obtain 0.005 Bitcoin (BTC) as a welcome bonus and earn up to 0.6 percent off every transaction as a reward for his/her referrals.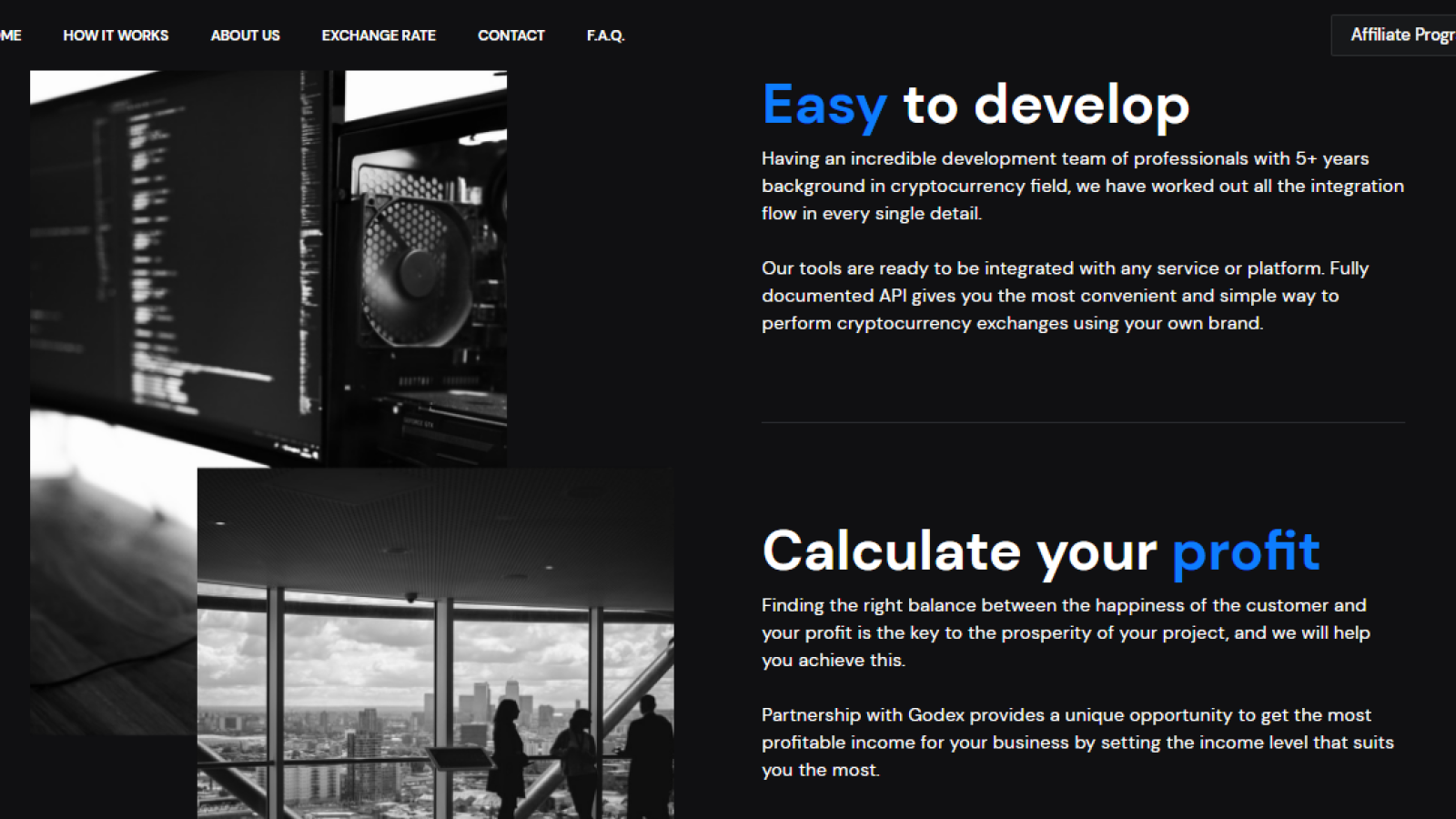 Entrepreneurs who decide to join the Godex affiliate program can install Godex widgets, become "white label" partners and interact with the platform through its API. The Godex team guarantees 24/7 support for every participant in its affiliate program.
Bottom line
All in all, Godex represents a new generation of exchange platforms for users with a high trading volume, zero tolerance for KYC and well-diversified portfolios of digital assets.