Today, we bring you a list of companies, representatives of the mainstream business elite, whose employees or investors have left in order to join the crypto world (displayed in the alphabetical order):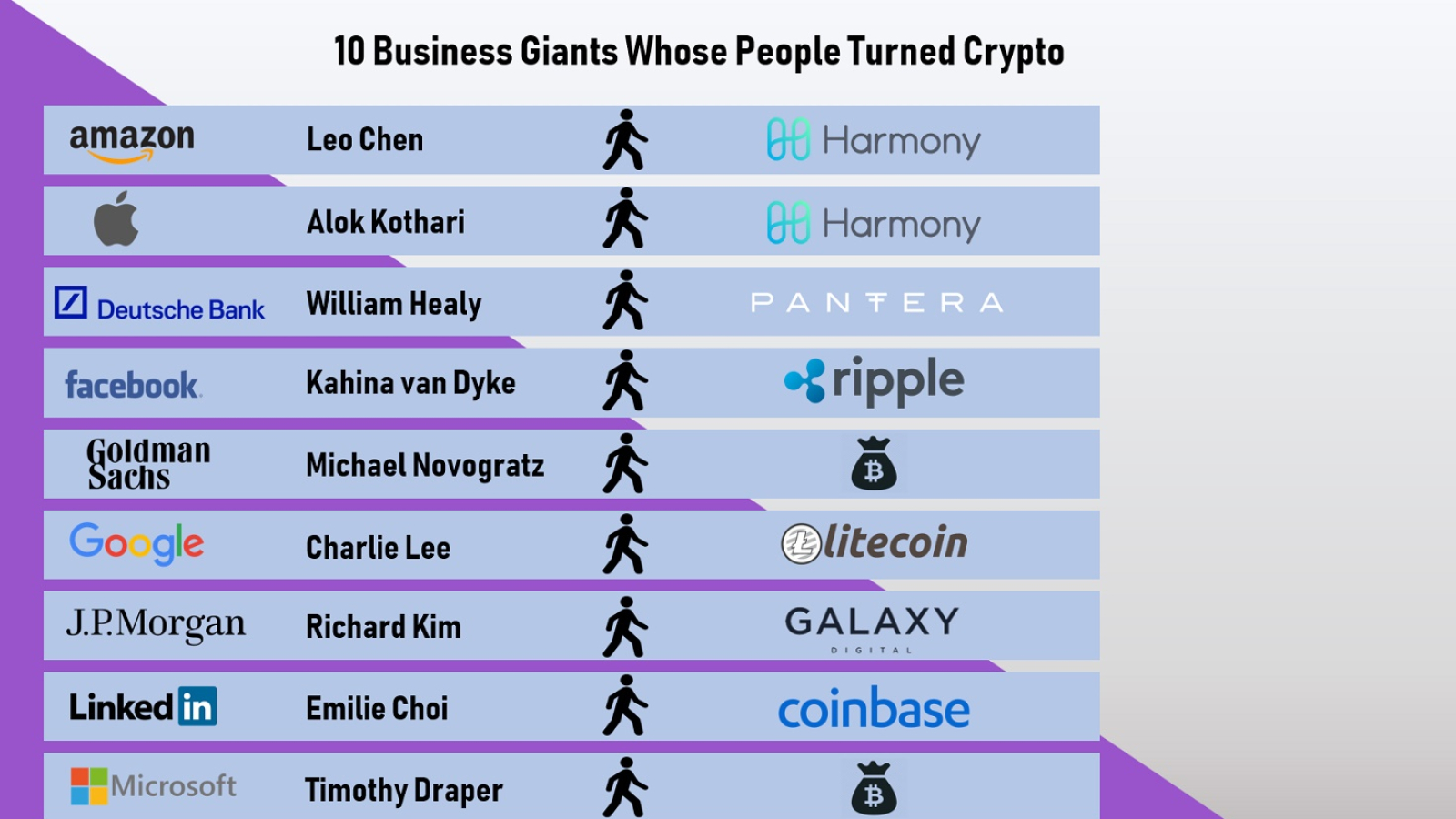 Leo Chen of Amazon Web Services recently left the huge corporation to join Harmony, an open infrastructure decentralized platform.
Alok Kothari of Apple, another giant of the mainstream tech world, did the same and moved to Harmony to become its chief engineer.
William Healy of Deutsche Bank recently left one of the biggest banks in the world to join Pantera Capital, a crypto investment firm.
Kahina van Dyke of Facebook left Zuckerberg's creation to become Ripple's vice president for corporate development.
The billionaire Michael Novogratz worked at Goldman Sachs for many years before becoming a top level crypto investor of Bitcoin and Ethereum.
Charlie Lee left the giant Google to found one of the crypto pioneers, Litecoin, back in 2011.
Richard Kim worked for JP Morgan for five years before recently leaving the world of mainstream finance to join Galaxy Digital, a Blockchain-based digital investment company.
One more top executive, Emilie Choi, left LinkedIn not long ago to join the well-known crypto exchange platform Coinbase.
Another billionaire on the list, Timothy Draper, was an early investor in Microsoft's Hotmail and Skype before switching to Bitcoin and multiplying his assets.
And finally, Ryan Lechner of Netflix recently left the online streaming media giant to join the Ethereum-backed Consensys Labs.
We hope you found this list interesting. Stay tuned for more.