Since May 10, the second largest cryptocurrency, Ethereum, has been trading in a range between the $180 area and the $200 zone.
Crypto investor Ryan Adams reckons that as it is greatly undervalued, the Ethereum price will start rising in the future, to the store-of-value level in the end.
Meanwhile, a crypto trader from TradingView expects ETH to hit $790 by year's end.
Will ETH hit $790 by late 2020?
A trader from TradingView going by 'Wolf' on Twitter has shared a chart, saying that the value of ETH will likely multiply almost four times this year and hit $790 by the end of 2020.
On the chart, the trader shows that, since the start of 2020, when ETH was worth $130 in January, it has been gradually increasing in price in the course of coming out of a Falling Wedge pattern.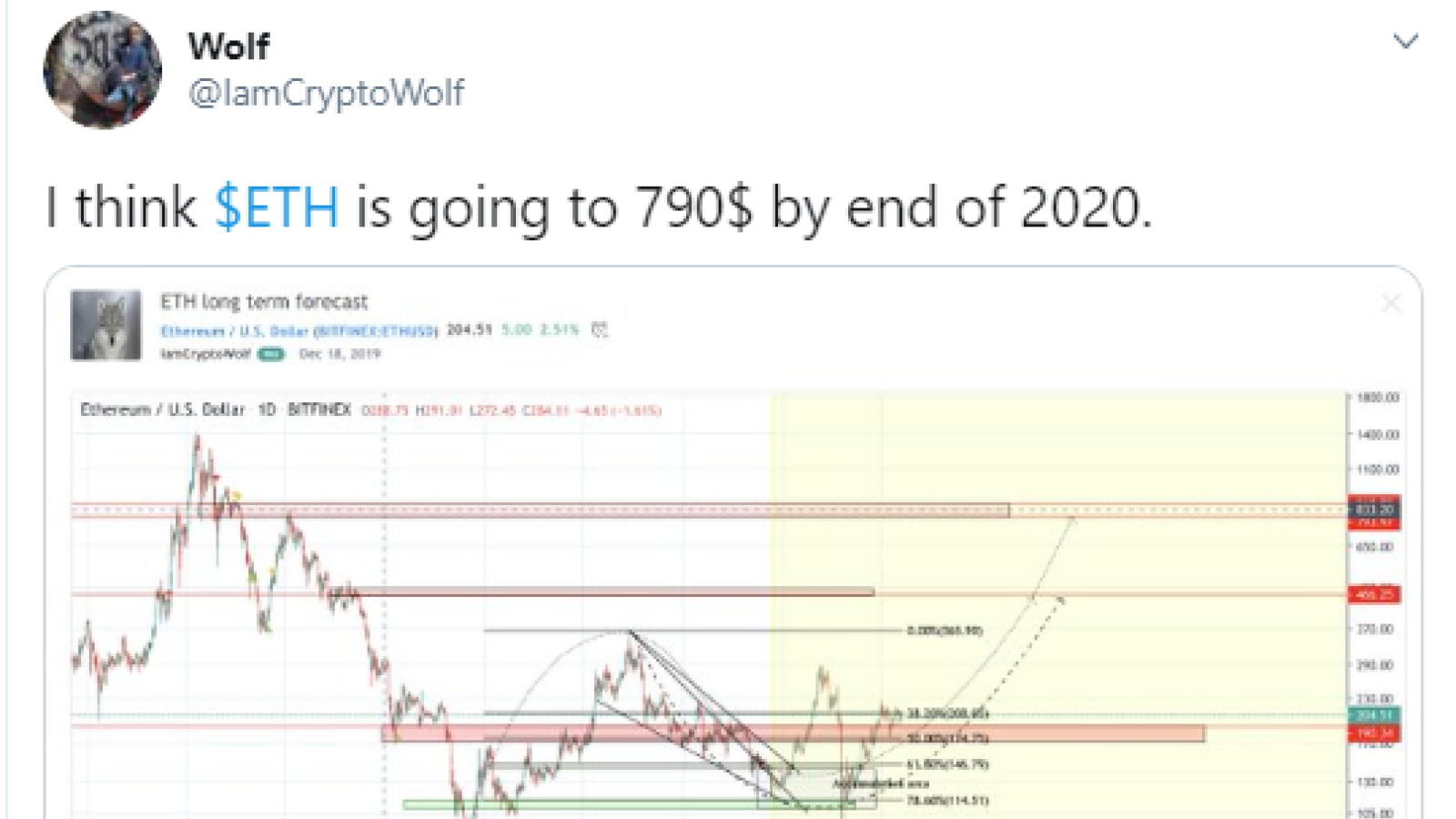 As per his other tweet, he also believes the second biggest crypto, Vitalik Buterin's brainchild, will hit $490 (0.0550 BTC) by the end of September. Here, he looks at the ETH/BTC pair.
Trader 'Ethereum Jack' has chosen a closer target for his prediction and has tweeted that the ETH/BTC pair will likely rise about fifty percent by the end of June and hit the 0.0350 BTC level.
That's $311.90 at the present BTC/USD rate.
I think $ETHBTC is going to 0.0350 by end of June

— //Ethereum ?ack ? (@BTC_JackSparrow) May 25, 2020
'Ethereum usage is already at all-time-highs'
Crypto investor and Mythos Capital founder Ryan Adams has taken to Twitter to say that at the moment Ethereum is largely undervalued.
He says that Ethereum usage is at an all-time high right now and that once the ETH price catches up with it, it will surge to a level that will make ETH a store of value, similar to what many believe Bitcoin to be right now.
It's not 2017. We're not in a bull market

But Ethereum usage is already at all-time-highs

It won't last

First ETH price will catch up with Ethereum usage

Then ETH price will catch up with ETH as a store-of-value

Til then...

ETH is doubly undervaluedhttps://t.co/qLgHgrftCr

— Ryan Sean Adams - rsa.eth ? (@RyanSAdams) May 25, 2020
Active ETH supply 1w-1m down almost 16%
Over a period of 1-4 weeks, hodlers seem to have been moving their ETH stashes much less often.
Data shared by the Glassnode analytics company says that the active ETH supply 1w-1m has demonstrated a substantial drop of 15.9 percent over the past twenty-four hours.