Twitter boss Elon Musk has shared a meme with Pepe the Frog (the symbol of the recently emerged trendy meme coin PEPE) with his followers.
The crypto community responded by sending PEPE images in the comment thread.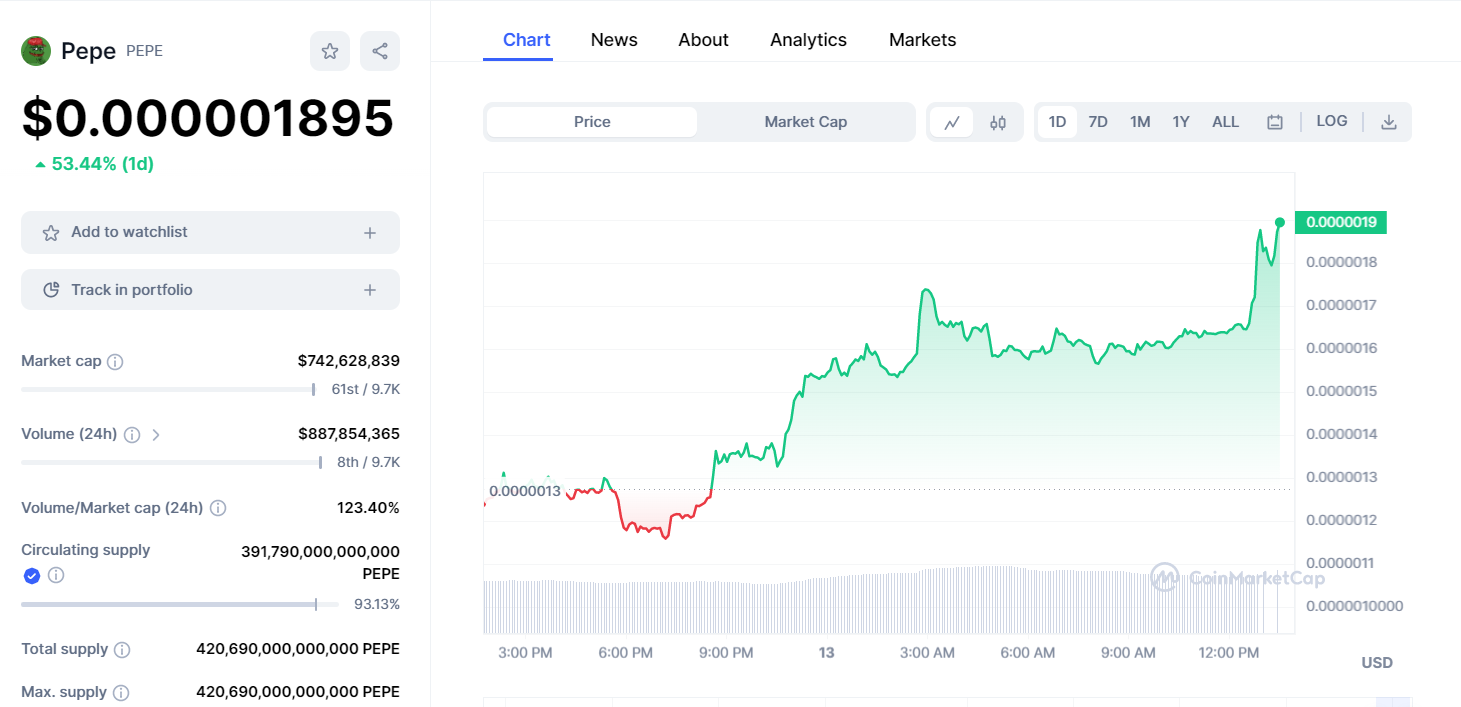 Elon Musk turns his attention to PEPE?
Pepe coin is now 54.7% up following this tweet posted by Musk, according to data shared by CoinMarketCap.
The official Pepe Twitter account also quoted Elon Musk's tweet, commenting "seize the memes of production $PEPE."
Pepe emerged in April from an anonymous team of developers and managed to quickly gain support of the crypto community. It has been listed on various major exchanges (including the Innovation Zone of Binance crypto giant) and reached an all-time high of $0.000004354 on May 5.
Currently, despite the 54% growth, PEPE is changing hands 57.82% below the above-mentioned historic price peak.
Recently, crypto enthusiast David Gokhshtein made an assumption in his tweet that Elon Musk could be suppressing PEPE tweets. The reason for that was that Gokhshtein received many notifications that said that those tweets were unavailable.
seize the memes of production $PEPE https://t.co/iVKu7YX82g

— Pepe (@pepecoineth) May 13, 2023
Another meme coin spiking on Musk's tweet
As covered by U.Today earlier this week, Elon Musk tweeted a meme allegedly related to Milady Meme Coin (LADYS). After that tweet, the recently launched coin's price skyrocketed as much as 12,056%.
Curiously, according to Lookonchain "Smart Money" tracker, a whale bought a staggering 8 trillion LADYS one hour before Musk issued his allegedly-related-to-Milady tweet.
Musk remains one of the top influencers in the crypto community and his tweets often provoke price surges of cryptocurrencies. On Friday, the LADYS meme coin was listed on the major Crypto.com exchange.
Whales keep grabbing PEPE, make millions on them
The @OnchainDataNerd account has shared that three "smart traders" have acquired large chunks of PEPE during the past 24 hours.
Wallet 0xa20 purchased 350 trillion PEPE worth $500,000 today. This wallet is one of the early buyers and he raked in $1,200,000 in profits on that coin on May 5, when PEPE hit the all-time high.
Wallet 0xed6 grabbed 185 trillion PEPE on Uniswap DEX and also sold the top on the ATH day, earning $1,000,000 in profit.
Wallet 0x24e (norya.eth) bought 660 trillion Pepe coins. Earlier, he earned $1.7 million from trading this meme coin.
We discovered 3 Smart Traders buying back $PEPE in the last 24 hours.

All of whom made above $1M in profit trading the meme coin mania.

Can $PEPE make a comeback soon? pic.twitter.com/LZBIKZfzz5

— The Data Nerd (@OnchainDataNerd) May 13, 2023