DeHeroGame, a one-for-all gaming ecosystem with NFTs, tokenized cards, PvE and PvP missions, shares the details of its massive economic initiative and crucial listing for its core native governance cryptocurrency, AMG.
DeHeroGame activates Booking Function: Why is this important?
According to the statement shared by the DeHeroGame team on its social media channels, the platform activates a Booking Function mode. This function is designed to introduce the in-game opportunities of DeHeroGame to a broader audience.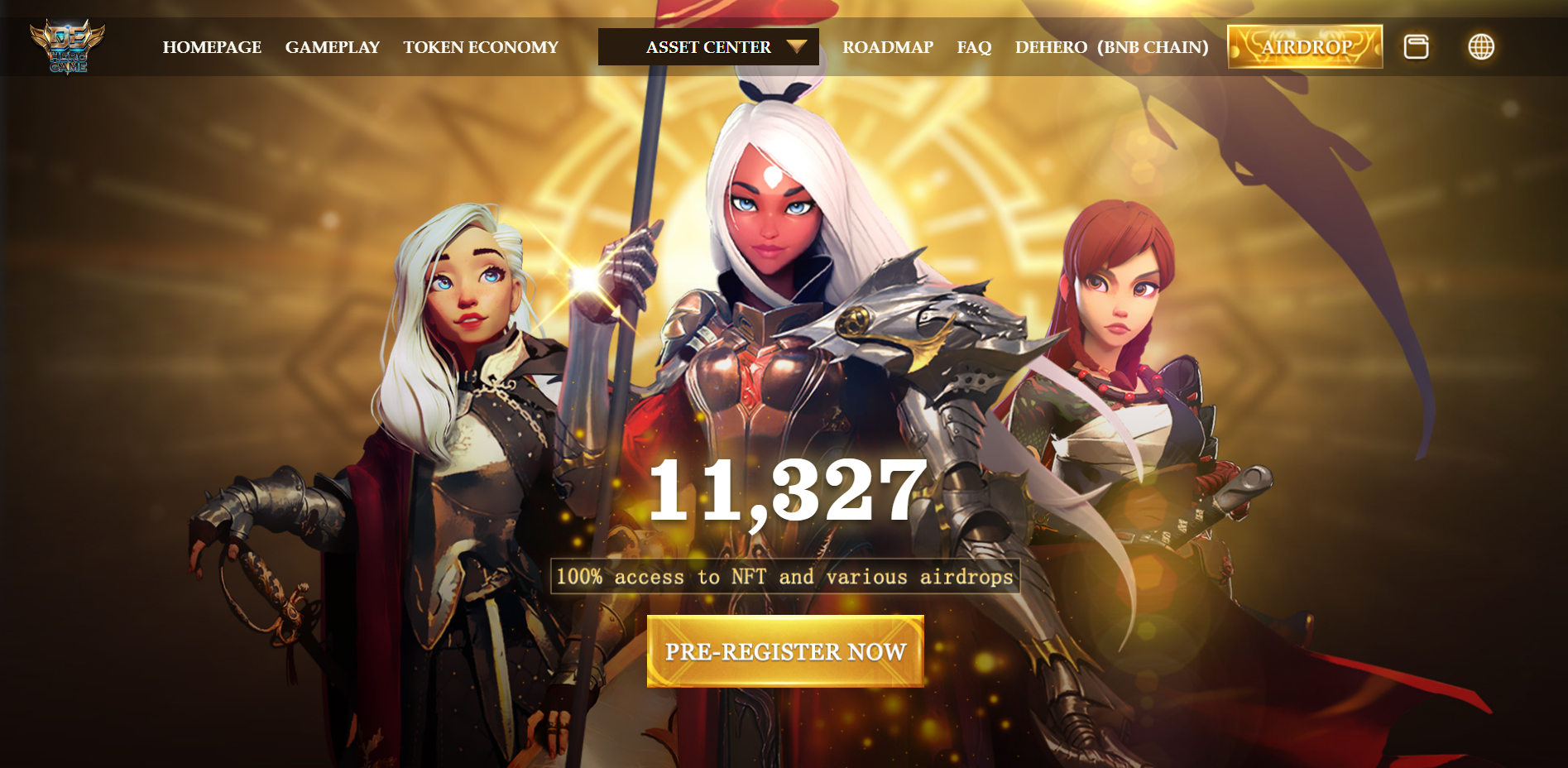 For instance, while participating in the DeHeroGame Booking campaign, players can obtain one of three Limited Blue Hero NFTs, VIP Experience Card and 30 С-СOINS, a kind of in-game cryptocurrency for DeHeroGame activities.
The team attempts to make the campaign 100% fair and inclusive; as such, both Web2 and Web3 authorization tools are available. While Web3 users are invited to sign up with their MetaMask wallets, Web2 users can register with an "Account Login" menu through email addresses. They will automatically get Unipass noncustodial wallets: in the coming months, Web2 users will be able to purchase crypto with fiat without leaving their DeHeroGame accounts.
The DeHeroGame team stresses the paramount importance of the release for introducing play-to-earn, GameFi and NFTs to the next generation of crypto users:
This is a groundbreaking moment for Web3 games to break the barrier between the Web2 and Web3 worlds. It'll push the blockchain games further on the path of mass adoption, and introduce large amount of Web2 users into the world of Web3.
As of press times, 11,327 users have already registered for participation in the campaign.
DeHeroGame's native token AMG makes it to top crypto exchange
Meanwhile, the ecosystem of DeHeroGame smashed through another accomplishment on its way to global adoption. Its core native governance cryptocurrency on BNB Smart Chain, AMG, scores listings on MEXC Global exchange.
🔥The time has finally come! $AMG/$USDT Trading Pair is officially open on @MEXC_Global

To celebrate, we will have a $200 #Airdrop to 10 winners:
✅Follow @DeHero_official
✅Like & RT
✅Comment #DeHeroGame

🚀Don't miss out on the action!
🖇️https://t.co/y9qENJB2L3 pic.twitter.com/nFZZqPDOG6

— DeHero | DeHeroGame (@DeHero_official) February 23, 2023
Per the largest crypto tracker, CoinMarketCap, MEXC Global is in the top 20 of exchanges by trading volume in the spot segment. AMG added on MEXC Global is a game changer for DeHeroGame adoption and another pillar of its balanced and sustainable tokenomics.
Right now, the currency is available in pairs with U.S. Dollar Tether (USDT), the largest stablecoin by market capitalization. The launch of the AMG/USDT pair on MEXC was accompanied by a $200 airdrop with 10 winners.
AMG token is issued on BNB Smart Chain as a BEP-20 cryptocurrency. Over 60% of its aggregate supply will be allocated to the treasury and a play-to-earn rewards pool.
Merging the benefits of Web2 and Web3 online gaming: What is DeHeroGame?
DeHeroGame promotes itself as a pioneering platform of GameFi 2.0. Its users are invited to compete against each other and to go through adventures in the multiverse. A total of 100+ characters of the gameplay are available as non-fungible tokens (NFTs).
Players live in parallel time-spaces, taking part in PvP and PvE dungeon challenges in pursuit of rewards in fungible and non-fungible tokens. DeHeroGame is a pioneering dApp on Rangers Mainnet, a blockchain network focused on ultimate decentralization, a seamless cross-chain experience, low gas fees and Web2-friendly solutions.
Also, using the Unipass login method, gamers can enter a free-to-pay module with 100% of gas fees for all operations covered by the team. All necessary NFTs can also be claimed for free in the booking function.