The largest cryptocurrency ecosystem globally reconsiders the way it highlights trading pairs that might have increased volatility during this or that period of time for various reasons. With these advancements, traders will be able to make their risk management strategies more flexible and data-driven.
Binance (BNB) introduces seed tags and monitoring tags, sunsets Innovation Zone
Binance (BNB), the world's largest cryptocurrency ecosystem by trading volume, will mark trading pairs with increased expected volatility with seed and monitoring tags. This novelty replaces the "Innovation Zone," a tag Binance (BNB) used to highlight early-stage products with high risks.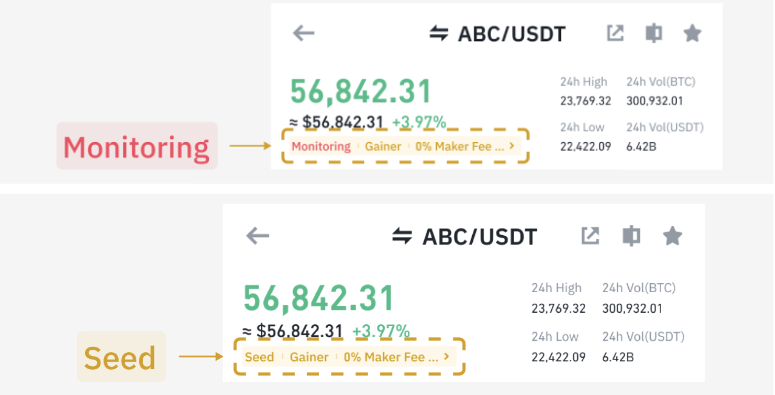 Seed tags are designed to replace Binance's Innovation Zone, a specific module of the exchange where traders were able to work with early-stage tokens associated with high risks. The Innovation Zone was introduced in mid-2020 and fueled the growth of many promising altcoins.
Seed tags will be added to all cryptocurrencies currently available in the Innovation Zone, as well as further listings of tokens issued by innovative products. Typically, such tokens are subject to high volatility.
The monitoring tag is a novelty for cryptocurrency exchanges. It is designed to highlight tokens with volatility levels higher than that of the majority of tokens.
In order to promote the principles of responsible trading, tokens with seed and monitoring Tags on Binance (BNB) will only be available to traders who complete special quizzes to understand the risks associated with trading high-volatility assets.
Risk warning banners for maximum trading security
Users will be invited to pass quizzes every 90 days on the Binance Spot and Binance Margin platforms. The corresponding labels will be demonstrated next to trading pair tickers as well as on the Markets Overview page.
In addition, the risk warning banners will be displayed on every page with seed and monitoring tag-labeled tokens. As such, traders will be repeatedly informed about higher risks associated with these types of tokens.
Binance (BNB) will conduct periodic reviews to ensure that both types of tags are relevant. As of today, both veteran (BTS, REN, LOOM, OMG) and new-gen (VGX, TORN) altcoins are listed in high-risk sections.