The last three months have brought much pain to a cryptocurrency segment seriously damaged by regulatory scrutiny and the banking sphere collapse in the U.S. However, the June 2023 micro-rally gives bulls some hope, new Kaiko research says.
Binance (BNB) spot trading volume plummeted to 2020 levels, Coinbase, Kraken, OKX also affected
All top-league centralized cryptocurrency exchanges closed Q2, 2023, with a painful plunge in spot trading volume. The world's largest exchange, Binance (BNB), predictably suffered the most: 70% of its aggregated spot trading volume across all pairs vanished. Such calculations were provided by leading crypto research firm Kaiko in its fresh Quarterly Market Report thesis.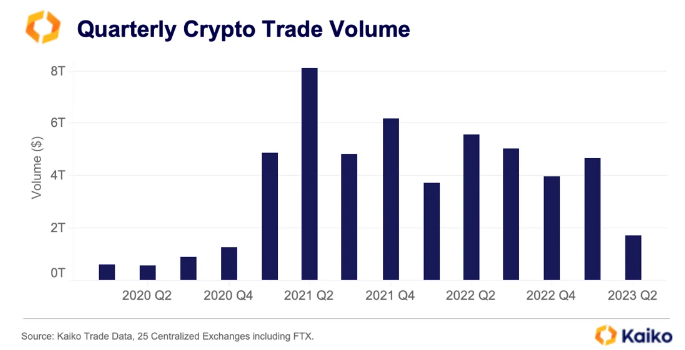 Spot trading volume metrics plunged to levels unseen since Q4, 2020, when Bitcoin (BTC) only started recovering from its 2018-2020 bearish recession. Besides unprecedented regulator aggression, Binance's (BNB) underperformance might also be attributed to its decision to reintroduce fees on many Bitcoin (BTC) trading pairs.
Key Binance (BNB) competitors — OKX, Coinbase, and Kraken — lost over 50% of its spot trading volume. Also, trading volume in euro-based pairs dropped to two-year lows, the report says.
At the same time, amid the mania gaining steam about the potential launch of spot Bitcoin ETFs by asset management giants, the trading activity increased on spot Bitcoin ETF products. ProShares Bitcoin Strategy (BITO) fund registered $500 million plus daily trading volume for the fifth time in its history.
Despite airdrop frenzy, Layer 2 tokens were worst performers of Q2, 2023
The situation in the altcoin segment also looks sad for cryptocurrency bulls. As the SEC is cracking down on major altcoins, including almost all of the top 20, Open Interest (OI) metrics dropped by 40% in just five days in mid-June.
While almost all major categories of tokens (Kaiko tracks L1 altcoins, L2 altcoins, DeFi tokens, DEX tokens, "BTC+ETH" and so on) closed Q2, 2023, in the red, core governance assets of second-layer solutions for Ethereum (ETH) are the worst performers.
L1 tokens lost 24% of their capitalization in Q2, 2023.
At the same time, the BTC+ETH portfolio is one of the rare baskets that managed to close both Q1 and Q2 with positive growth, Kaiko noticed.
As covered by U.Today previously, in the midterm, this pair remains the undisputed champion despite regulatory scrutiny and a liquidity crisis.