The recovery of the crypto ecosystem is going at a relatively slow pace; however, many top altcoins, including Binance Coin (BNB), are doing all they can to join the trend. Binance Coin, the native token of the Binance exchange, is changing hands at a price of $242.53, up by 3.17% over the past 24 hours, per data from CoinMarketCap.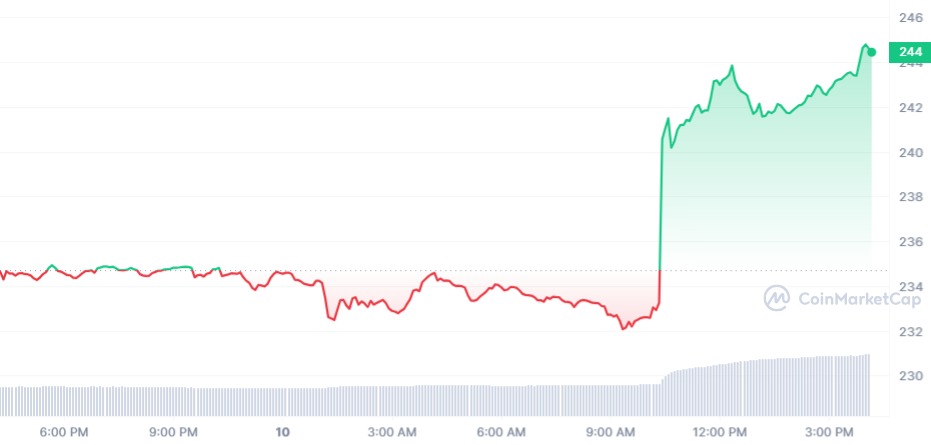 Binance Coin is an unusual high flier in the market, and whenever it moves, it becomes apparent that the positive sentiment surrounding the exchange is high at this time. As such, the trigger the current sell-off received might have stemmed from the announcement of the launchpad listing of the Arkham Intelligence token.
Unlike other tokens that Binance exchange has supported on the launchpad, Arkham Intelligence has already made a name for itself in the crypto world as an analytics platform and sleuth, helping to uncover scams and theft in the industry.
As a result, the proposed listing has garnered much interest from retail traders and whales in the industry. As Lookonchain revealed, about three whales have been very deliberate in their efforts to participate in the launchpad's activities by borrowing a cumulative of over $4 million to stack up ARKM tokens.
Upside for BNB
In Binance's model for the launchpad campaign, the overall balances of Binance users will be recorded over a six-day period after which the eligibility of users will be profiled. Invariably, many Binance customers are stacking up on BNB in order to be able to participate in ARKM sales.
With millions of users associated with the Binance platform, the intense accumulation of the trading platform's token has seen its 24-hour trading volume surge as high as 114% to more than $644 million. This ARKM launchpad integration and token sales might be BNB's gateway to recovery since it was christened an investment contract by the U.S. SEC, alongside Cardano (ADA) and other tokens.