Peter McCormack, who hosts the "What Bitcoin Did" podcast is one of those sued by Craig Wright for libel. The legal documents were delivered to McCormack in April.
Recently, the podcaster has shared on Twitter his calculations as to how much it would cost him to oppose Craig Wright in court.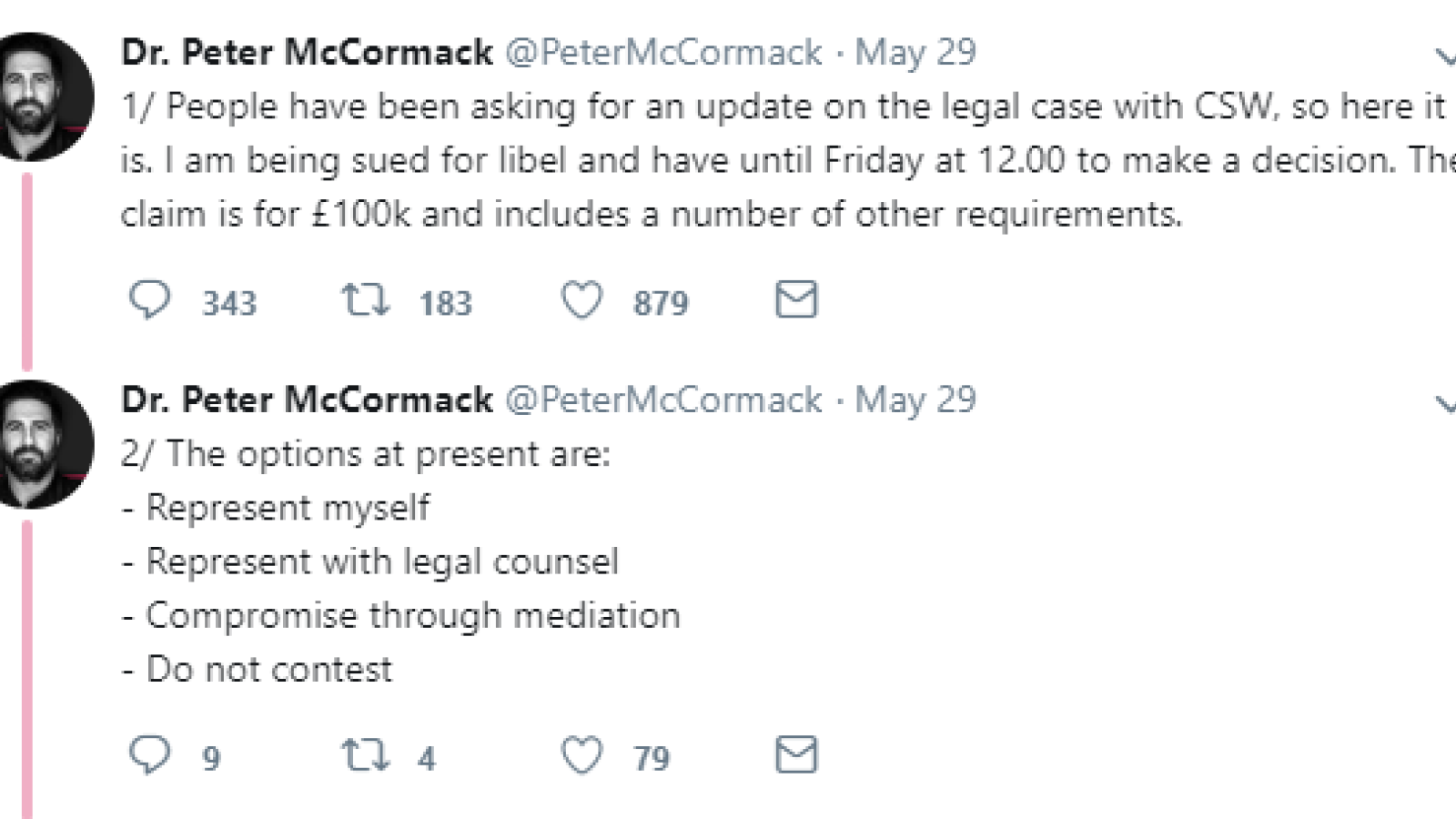 Choices McCormack has against Wright
Peter McCormack, a noticeable figure in the crypto industry, has recently shared the details of how Wright's libel case against him has been developing.
The legal claim against him was made on April 17, in which Wright pointed out that McCormack's attacks against him are actually targeted at damaging Bitcoin SV, Wright's brainchild and a controversial hard fork of Bitcoin Cash emerged in November 2018.
McCormack has written in Twitter that he has to make a decision on how to act regarding the libel accusation until May 31 and choose one of the options he has.
First of all, the podcaster needs to decide on his representation in court – whether it will be a lawyer or he will represent himself. Another option here is that he will not contest the accusations at all.
How much it costs these days to protect people against fake Satoshis
A lawyer's services would cost McCormack between 25,000 and 50,000 pounds sterling for merely initial defense. A lawyer for a full trial would cost up to 750,000 pounds.
3/ For full support from an expert lawyer, the cost for the initial defence is estimated at around £25k - £50k. If this goes to a full trial, the worst case to defend would be £500k - £750k. If I lose, it could be double that as I would have to pay CSW's legal fees (£1.5m).

— Dr. Peter McCormack (@PeterMcCormack) May 29, 2019
In case McCormack loses the case, he would have to pay Wright's legal expenses too – this would be a double amount.
Should the podcaster choose not to contest Wright's claims, he would not have to go to court but it would still cost him 100,000 pounds. In this case, he writes, the worst thing is that he may lose his house.
5/ Not contesting is an option as it does not give them their day in court, or the judgement they so want. It will cost me £100k and worse case is I lose my house.

— Dr. Peter McCormack (@PeterMcCormack) May 29, 2019
Binance's CZ offers help
A great number of people in Twitter offered to help McCormack by donating towards covering his legal fees. Changpeng Zhao (commonly known as simply CZ) has also offered to collect donations for those who have a hard time finding free funds to oppose Craig Wright in court.
CSW is picking on the people who have a hard time fronting their legal fees. How about we do a @BinanceBCF charity program to raise money from the community for legal fees for anyone CSW sues?@PeterMcCormack @rogerkver @jihanwu

— CZ Binance (@cz_binance) May 7, 2019