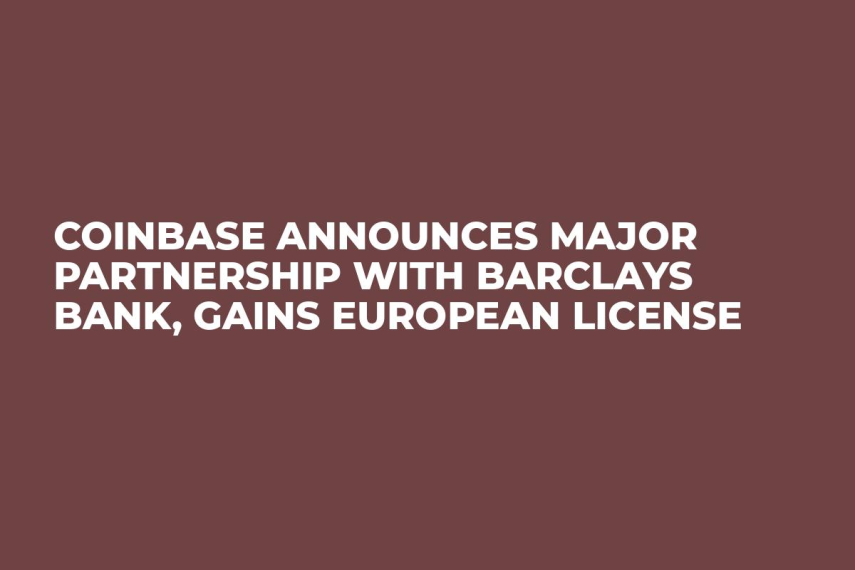 Cover image via U.Today
Digital currency exchange Coinbase has opened an account with British Bank Barclays, according to CNBC. The partnership with Barclays will give Coinbase access to the Faster Payments Scheme, making them the first cryptocurrency exchange to have such access. Britain's Financial Conduct Authority (FCA) announced just yesterday that it was granting Coinbase an e-money license.
The head of Coinbase's UK operations, Zeeshan Feroz, told Business Insider:
"It's an approval of the compliance and the KYC processes we have today. There's an element of trust here in a business that is regulated by the FCA."
New gateways
Feroz noted that the partnership will give UK customers a much better experience because no other crypto exchanges have access to domestic banking. Instead:
"UK consumers today have to jump through all sorts of hoops around sending money to European accounts using Euros in order to get money in and out."
These "hoops" add time and expense to the process. Pound to Euro to Pound conversions add additional costs, and transactions were previously routed through an Estonian bank, adding several days of waiting to deposits and withdrawals.
Fast payments
Feroz notes that access to the Faster Payments Scheme will make it much faster to deposit and withdraw funds, but noted that the rollout will be done in stages:
"UK customers will benefit from faster, safer and seamless bank transfers. We will start with a pilot, giving a small number of institutional users access to Faster Payments. In the coming weeks, we will begin rolling out to all UK customers, making the Coinbase experience increasingly easier."
Big market
The UK is Coinbase's largest European market by far, and the company is ramping up its staff to deal with the expected influx of new customers following recent announcements. The exchange is increasing their UK staffing eight-fold according to Business Insider.
Feroz noted:
"The UK is a huge market for us, Brexit or no Brexit. We've got access to a type of talent pool you can't really get anywhere else besides the UK in Europe. We certainly intend to invest significantly in the UK office and the headquarters here. The roles we're hiring from range from engineering to compliance and everything in between."
Big step
Currently, there are no laws in place that forbid European banks from dealing with cryptocurrency businesses, but most banks aren't taking any chances. Because of the lack of regulatory clarity, most banks have taken steps to distance themselves from digital currency-based businesses, often closing the accounts of customers found to be dealing in digital currencies. Rather than potentially face the ire of regulators, banks have been erring on the side of caution.
Coinbase's partnership with Barclays is significant because it's the first major banking relationship to be announced with a cryptocurrency exchange in Europe. Recently, Dutch bank ING confirmed that cryptocurrency exchange Bitfinex is a customer, but they declined to elaborate on the nature or depth of that relationship.
It should be noted that Coinbase's new FCA license extends to the 23 countries across Europe, opening more doors than just the UK.