It has been 17 long months since Bitcoin has seen such low volatility. The digital currency was famed for its ability to not only skyrocket upwards but just as easily collapse in a quick succession.
It was that aspect that drew a lot of people to the exciting investable asset with the hopes of making a quick buck, despite the potential to lose it all. Now, however, Bitcoin's price has shown remarkable stability and this could be a good sign for the cryptocurrency.
Get-rich-quick investors have all but flown the cryptocurrency coop having seen a more than 70 drop since the end of last year, and with that, potentially those who were trying to manipulate the market have also left the scene. This stability in price seems to correlate to a maturing and steady market.
Going steady
A look over the stats and graphs that show Bitcoin's price and volatility over time shows a close correlation, especially in the past few months. But even more so, the last couple of weeks have seen an almost dead-steady volatility chart, up until it dropped even lower quite recently.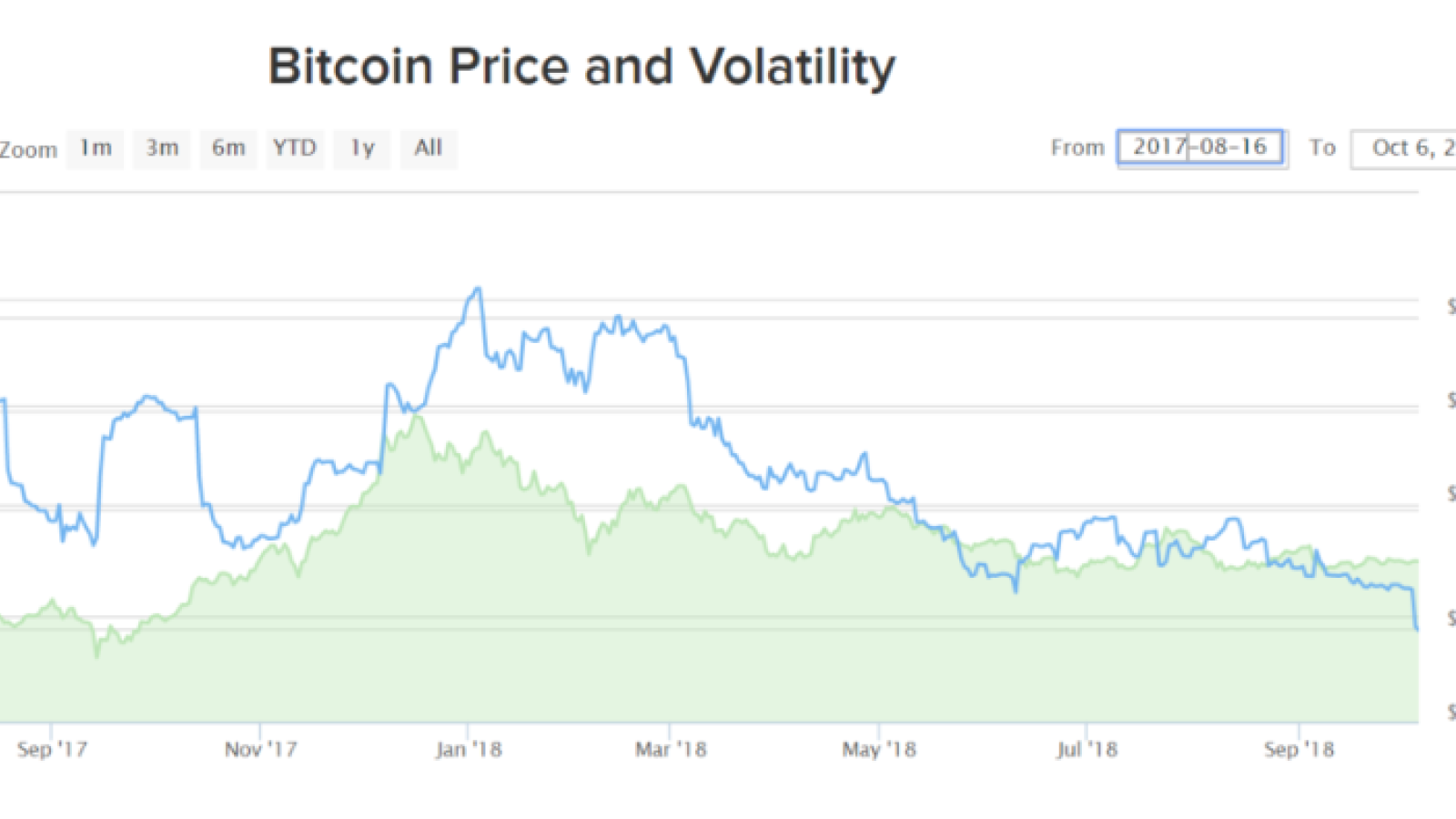 Bitcoin volatility index for the latest 30-day estimate is 1.73 percent, and for the most recent 60-day estimate is only 2.58 percent. These are incredible figures for an asset that had no problem in growing 70 percent in a few weeks, and dropping upwards of 30 percent in a day.
This has actually led to a few cryptocurrency commentators making jokes at this colorful turnaround.
Bitcoin shaming Tether in the stability game, Bitcoin has maintained its $6,550 peg since August 9 quite successfully

— Joseph Young (@iamjosephyoung) October 6, 2018
Hey guys, look! $BTC moved $60 !!!!!!!!!!

Guys??? Guys??????

Wake me up above $7500 or below $5800. #Bitcoin

— 360Trader (@360_trader) October 5, 2018
What does it mean?
While it is a strange turn of events, the sentiment is mostly that it is a good thing. If the downturn in price has already scared off the amateurish investors who were quick to move on any possible news — negative or positive — that in itself is good for the market.
Furthermore, negative aspects of the Bitcoin market, such as market manipulation, have often been associated with wild movements in the price of the cryptocurrency.
FXEmpire financial expert Bob Mason explains: "The low volatility is also a statement that price manipulation has perhaps abated. After wild swings and roller coaster rides, Bitcoin looks to have settled into a long-term relationship with its investors, who are not speculating their days away and appear to be in it for the long haul."
So if the market manipulators and the get-rich-quick are gone, it would seem that the market is in a space where it is showing real signs of maturity and growth.
Mike McGlone, a Bloomberg Intelligence commodity strategist, explained that because the market is rapidly maturing, it is likely that price volatility will continue to decline with the introduction of more Bitcoin-related products.
"This is a maturing market, so volatility should continue to decline. When you have a new market, it will be highly volatile until it establishes itself. There are more participants, more derivatives, more ways of trading, hedging and arbitraging."