Bad Idea AI (BAD) witnessed a sharp 35% decline in just a matter of hours. The crypto community is abuzz with speculation: is this a classic case of a rugpull, or is it merely a healthy correction in the token's price trajectory?
BAD is not just another token in the vast crypto universe. It holds a special place in the Shiba Inu ecosystem. As an AI-centric project, BAD aims to be the linchpin that connects Shiba Inu's meme coin legacy with the expansive AI ecosystem. In simpler terms, BAD is envisioned to be the bridge that merges the playful nature of meme coins with the serious and transformative potential of artificial intelligence.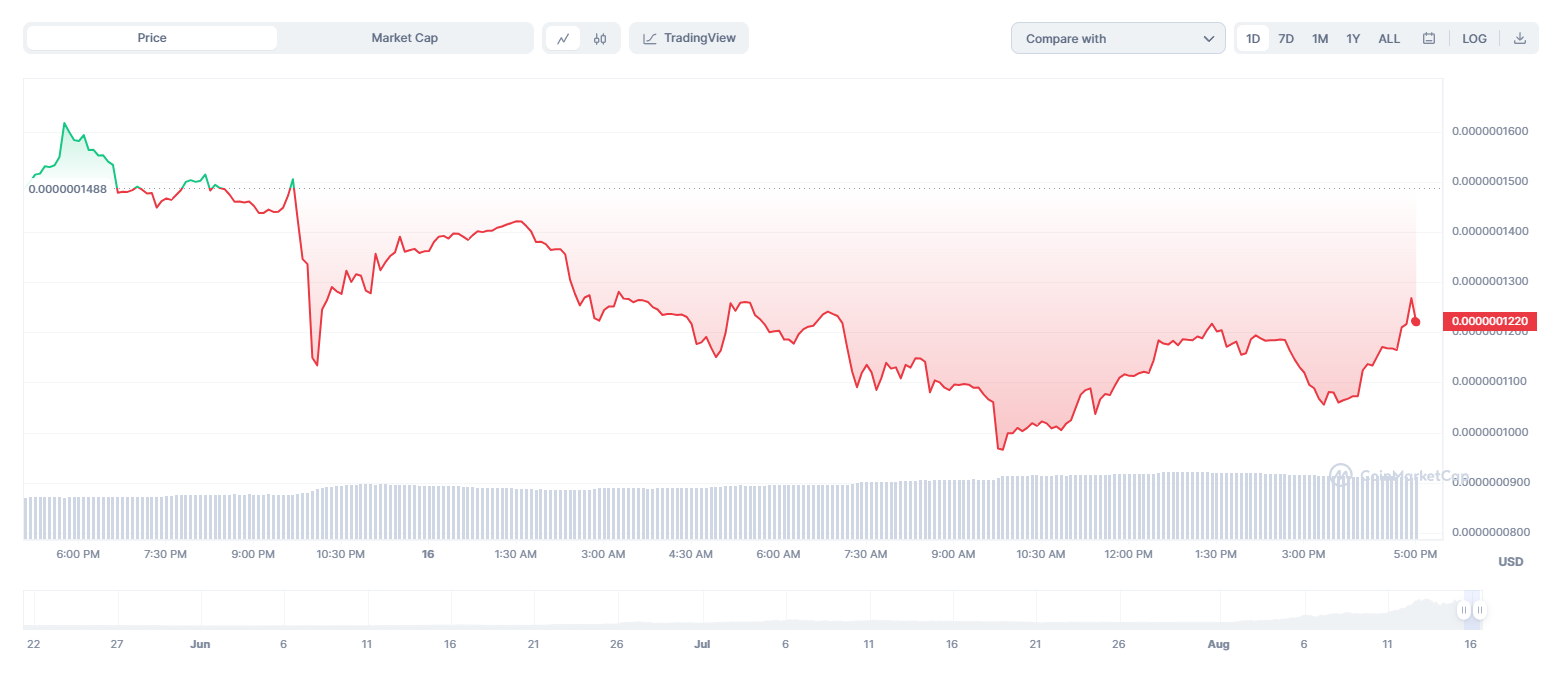 A closer look at BAD's recent price performance reveals some interesting insights. Starting from July 3, 2023, BAD was trading at a modest $0.000000027. Over the next few weeks, the token experienced minor fluctuations, hovering around the $0.00000003 mark.
However, the real surge came around Aug. 5, 2023, when BAD's price skyrocketed to $0.000000054, eventually reaching a peak of $0.000000147 on Aug. 11, 2023. This impressive rally was short-lived, as the token experienced its sharp 35% decline shortly after, bringing its price down significantly.
Given the rapid ascent of BAD's price in the days leading to the drop, it is plausible to consider the recent decline as a healthy correction. Markets often adjust after a steep rise, and this could be what we are witnessing with BAD.
Shiba Inu loses psychological support
Shiba Inu (SHIB), the meme coin that took the crypto world by storm, has recently slipped under the $0.00001 mark. This price level holds significant importance, serving as a psychological barrier for many investors and traders. The question on everyone's mind now is: could this mark the end of SHIB's impressive rally?
Psychological levels play a crucial role in influencing market sentiment. For Shiba Inu, the $0.00001 price point is one such level. It acts as a benchmark, a line in the sand that many watch closely. If SHIB can sustain above this level, it is seen as a bullish sign. However, slipping below could trigger concerns and potentially lead to a broader sell-off.
Over the past month, SHIB's price trajectory has been noteworthy. Starting from July 1, 2023, SHIB was trading at 0.00000757. It experienced fluctuations throughout the month, reaching a peak of 0.00001021 on Aug. 11, 2023. However, recent data shows a slight dip, with SHIB trading just below the critical $0.00001 mark as of Aug. 13, 2023.
Another factor to consider is SHIB's rising burn rate. As tokens get burned, they are permanently removed from circulation, which can lead to increased scarcity and potentially higher prices. The network activity for Shiba Inu has also been on the rise, indicating heightened interest and engagement from the community.
Bitcoin's volatility falls
Bitcoin (BTC) is currently experiencing a period of extremely low volatility, a phenomenon that has not been observed in years. While periods of low volatility might seem uneventful, they often serve as the calm before the storm, potentially leading to significant price movements in the foreseeable future.
Historically, extended periods of low volatility on financial markets have been followed by sudden and unexpected price movements. This is because low volatility often leads to complacency among traders and investors. When the market finally moves, those who are unprepared can scramble to adjust their positions, leading to rapid price changes.
For Bitcoin, the current volatility is at its lowest in recent years. This stagnation might seem concerning to day traders looking for short-term gains, but it is essential to remember that in the world of cryptocurrencies, situations can change in the blink of an eye.
Over the past month and a half, Bitcoin's price has shown relatively minor fluctuations. Starting from July 1, 2023, BTC was trading at $30,480.78. Throughout July, the price hovered around the $30,000 mark, with a slight dip to $29,014.68 on July 22. As of Aug. 13, 2023, Bitcoin was trading at $29,289.37.
This tight price range further emphasizes the low volatility conditions currently prevailing on the Bitcoin market. However, given Bitcoin's historical performance, such periods of calm often precede significant price movements, either upward or downward.