For over two years Aeron has been successfully developing software which improves the safety and convenience in general aviation. The past year was full of significant events, including pivotal ones such as the new releases of Aeron Pilot application which makes general aviation safer, and the launch of CryptoBonusMiles platform which unites loyalty programs from most of the global airlines and allows customers to get crypto rewards for every mile they fly. There are also big advancements in deployment of Aeron (ARN) token use cases including ARN migration into the Binance Chain and integration in the EOS ecosystem with listing on major EOS exchanges.
Further, please see some details about these events and get to know future plans for Aeron.
What is Aeron?
Aeron public launch took place on August 8, 2017. The project offers a blockchain technology-based solution for managing transparency and accuracy of pilot flight log data and experience records. Initially, Aeron was focused on the aviation professionals: pilots, aircraft owners, flight training organizations, but the development of CryptoBonusMiles (CBM) platform has allowed to expand the audience for passengers too.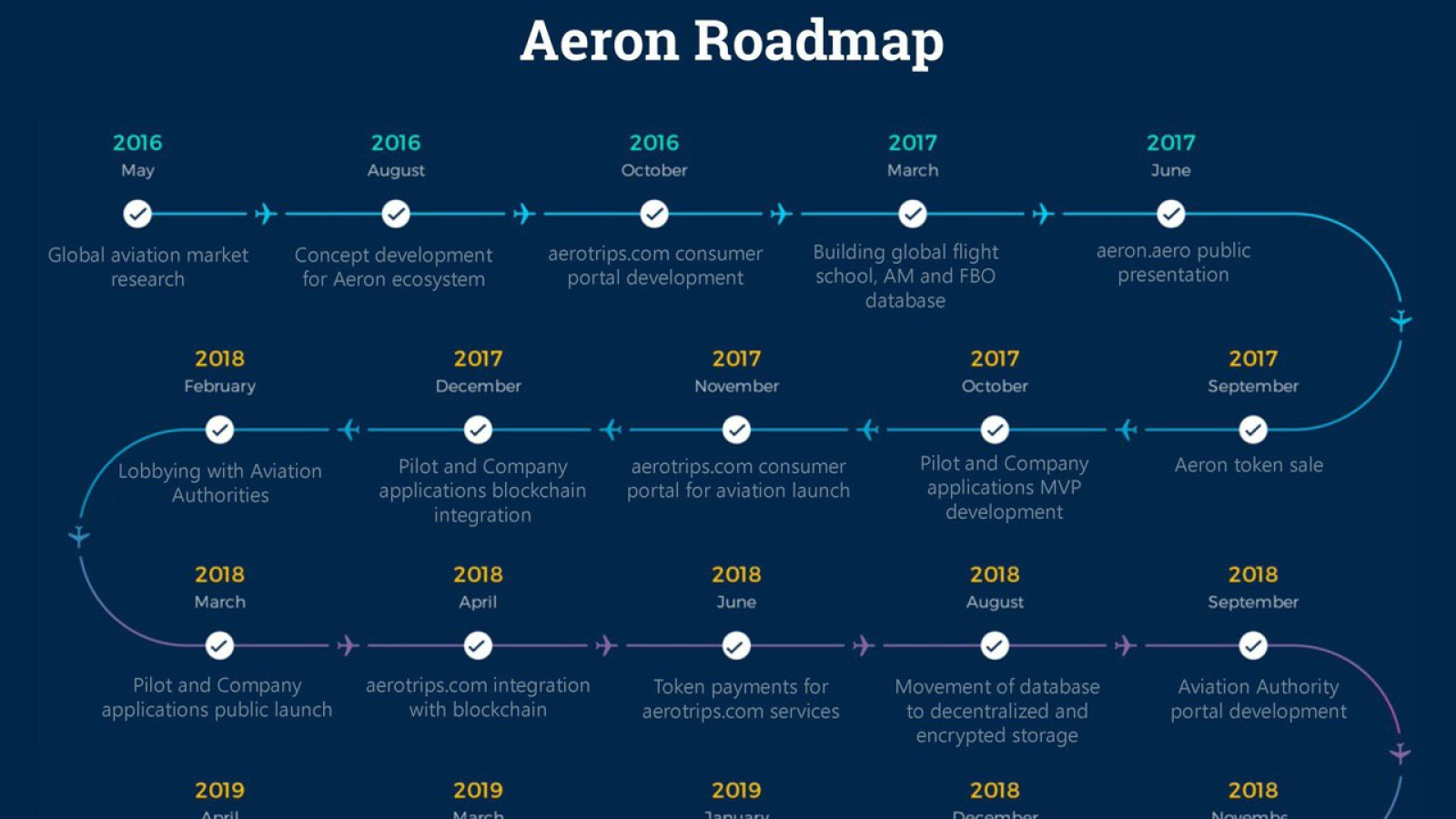 Significant steps
There has been a lot of events over the past year, with Aeron steadily following its roadmap, surprising the followers along the way. Achievement milestones should be put onto the record:
Aeron Pilot received several global updates, significantly expanding its functionality.
Aeron Pilot app has become available for most of the smartwatch vendors and operation systems: Apple, Samsung, Android Wear.
The first-ever pilot license renewal filed with the data from Aeron application was accepted by aviation authorities.
ARN utility token was listed on several dozen major cryptocurrency exchanges.
ARN was integrated with the EOS ecosystem, listed by main EOS exchanges and supported by most of the EOS wallets.
The successful launch of the CryptoBonusMiles (CBM) platform took place.
More than 60 leading airlines have got on board with CryptoBonusMiles with airline loyalty programs integrated.
ARN ERC20 utility tokens migrated to the newly launched Binance Chain, and further CBM ERC20 utility tokens migrated as well.
Aeron has acquired aeron.com premium domain name for future development and global expansion.
The migration of Aeron (ARN) and CryptoBonusMiles (CBM) ERC20 tokens to Binance Chain BEP2 standard was a huge event in 2019, comparable in scale to the integration with the EOS ecosystem, which occurred at the end of 2018. The most interesting thing about these events is that there are no obstacles with migration and use of tokens, facilitated by Binance. ERC20 to BEP2 migration takes place instantly at the rate of 1:1 without any limits. Integration has significantly improved Aeron's token transaction speed, while at the same time attracting even more attention and trust from supporters and end users.
CryptoBonusMiles is now integrated with @Binance Chain, link your BEP2 wallet to CryptoBonusMiles at https://t.co/eGg2ERv5JQ, hold Aeron ($ARN) BEP2 tokens and enjoy extra $CBM rewards https://t.co/B0IbUGsUM2 #arn #cbm #btc #binance #crypto #bitcoin pic.twitter.com/6PhwMJb2jP

— Aeron (@aeron_aero) July 16, 2019
CryptoBonusMiles (CBM) is a universal bonus miles platform that allows you to register all airline loyalty cards in one place and not miss earning opportunities. With its help, each passenger can receive loyalty rewards for any flights taken. CBM bonus points are added to standard airline loyalty programs, making them even more rewarding, and tight integration with the Aeron (ARN) token allows to get even more benefits for the token holders.
What the future holds?
Before the end of 2019, Aeron plans several big milestones on its roadmap, with Aeron Games to be launched. To expand Aeron (ARN) token adoption and engage a larger audience, Aeron gaming division plans to release two initial applications: Happy Traveler and Voyager. Aeron Games launch will significantly expand the Aeron (ARN) token utility and would tap into the mass market, increasing the number of holders and transaction volumes by hundreds of times.
Aeron Voyager
The first application will bring together many useful tools for air travelers. It will enable a user to insure the upcoming travel against departure delay or baggage loss using cryptocurrencies. For ARN token holders, as well as for payments in ARN token, more favourable conditions will be offered.
Aeron Happy Traveler
This application will offer an opportunity to make a bet on the outcome of a certain flight. Here is how it works. Take any commercial flight, say EK007 from Dubai to London. It can either land earlier than scheduled, in time, or later than scheduled. Make a bet! In case you have guessed the outcome of an upcoming flight correctly, you win. You get the winning payout in ARN tokens and enjoy the gains. Timing of all commercial flights globally is tracked by trusted FlightRadar24 data feed and your bets can be verified independently. You may put your bet on the flight you actually take, the flight carrying your friends or relatives, or any flight at all. Enjoy the new way to entertain yourself while waiting for your connection at the airport or make bets from the comfort of your home - become a Happy Traveller.
Aeron Games concept has been finalized. Aviation, excitement and betting $ARN token with a chance to win or lose. Integrated with a @flightradar24 data feed. Better than a casual game! Details for the first game will be revealed soon #arn #btc #eth #crypto #Binance #bitcoin pic.twitter.com/OwMlZQOwv7

— Aeron (@aeron_aero) July 16, 2019
Aeron has come into the aviation industry to stay, growing from general aviation (targeting private pilots, training organisations and aircraft owners) to a wider audience, and today we see how the quality, and most importantly, the safety of flights is evolving. Nevertheless, the journey doesn't stop at what has been accomplished and the extensive Aeron roadmap is showing the path to success in the coming years. Aeron becomes more available and universal covering additional niches in the industry, now not only for aviation professionals, but also for commercial airline passengers. Aeron is there for you!
To learn more about Aeron, please visit https://aeron.aero or reach out at info@aeron.aero.
Twitter: https://twitter.com/aeron_aero
Telegram: https://t.me/aeronaero
Facebook: https://www.facebook.com/aeronpublic
Medium: https://medium.com/@aeronaero