One of the world's largest and most influential banks – Bank of America (BoA) – admits that Ripple offers a truly innovative solution and mentions it in a report.
However, despite the good news for the Ripple community, whether it will impact the XRP price positively remains in question.
Bank of America acknowledges Ripple
A major XRP follower on Twitter, who goes by the name BankXRP, has shared a screenshot from a document by Bank of America. In it, one of the world's largest banks calls Ripple as an example of an innovative technology.
The document in particular says:
"Innovation example: Ripple cross‐border solution.

Ripple's distributed ledger solution remedies legacy correspondent banking infrastructure challenges and provides bi‐directional messaging to enhance payment tracking, data transmission, and enables enhanced certainty in settlement."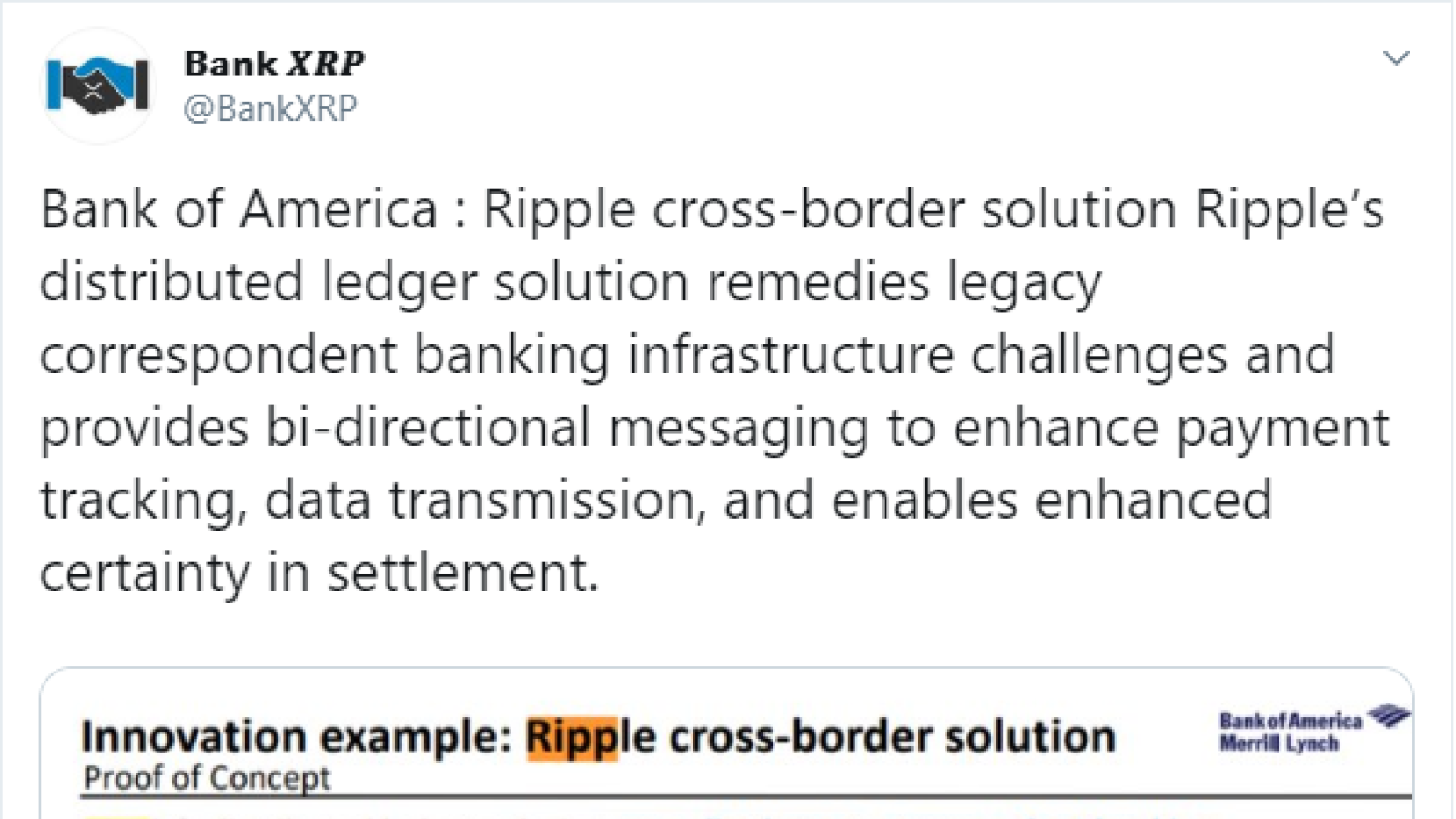 Ripple gets acknowledged by SWIFT
Unlike other cryptos, Ripple is not trying to oppose the current financial system with banks and governments. It is doing its best to become integrated in it. This year, over 300 banks and payments platforms have started trialling Ripple's xCurrent and On-Demand Liquidity (ODL).
However, the major rivals, such as the Swift system (that many in the crypto community believe will be replaced by Ripple one day) still refuse any sort of collaboration. Formally, as reported by U.Today earlier, Swift has approved of Ripple's ODL low cost and high speed but still stated that this technology is too young (read imperfect) to be used on a wide global scale.
Bank of America trials XRPL-based solution
Previously, U.Today shared the news with the community that BoA publicly admitted testing a product based on Ripple's XRP Ledger – it is called simply 'the Ripple project'.
The fact was confirmed by BoA's spokesperson. However, the same person confirmed that the institution does not plan to start using XRP yet.
Bank of America shuts down Justin Sun's account
Despite welcoming Ripple, BoA keeps opposing Bitcoin and other crypto. Recently, U.Today reported that the bank closed the account of the Tron CEO Justin Sun and the former PayPal top executive, an influential venture capitalist, Roelof Botha. The account of the latter was shut down assumingly because he had purchased Bitcoin through it.