WOW Summit Dubai 2023 | October 8-9, 2023
Event details
Location:

Event place

Atlantis The Royal, Dubai, UAE

Dates:

Sun, 10/08/2023 - Mon, 10/09/2023

Website

https://wowsummit.net/

Price: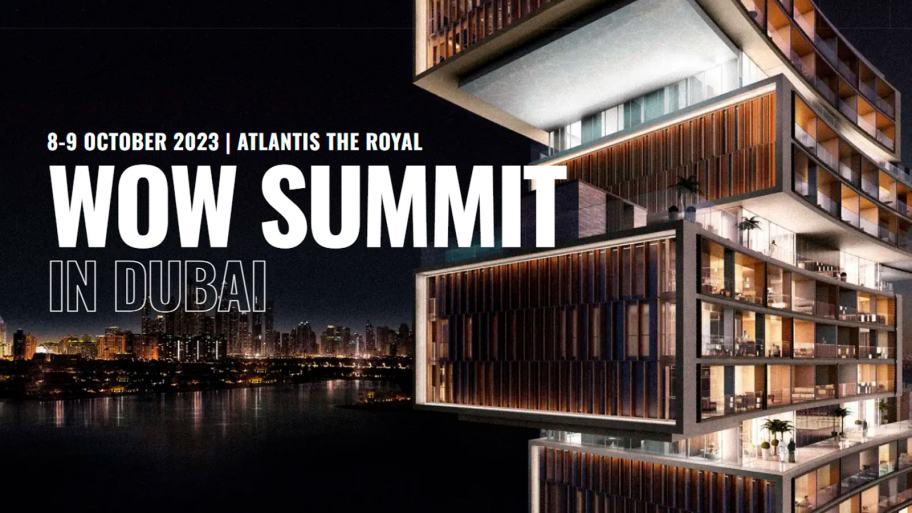 Cover image via U.Today
Welcome to the extraordinary world of WOW Summit Dubai 2023, where dreams meet innovation, and the future unfolds before your eyes. Get ready to embark on an exhilarating journey that will redefine the boundaries of what is possible in the Web3 space. Join us on October 8th and 9th at the captivating Atlantis The Royal as we gather the brightest minds, trailblazers, and visionaries for an immersive experience like no other.
Unleashing the Power of Web3: as WOW Summit Dubai is not just an event; it's an electrifying convergence of luxury, technology, and revolutionary ideas. With its unrivalled lineup of speakers, captivating panel discussions, and interactive experiences, this summit will propel you into a world where blockchain and Web3 technologies shape the future of business and society.
Listen to top industry speakers: as they share their insights on the latest trends, opportunities, and challenges in the world of blockchain and Web3 technologies. Gain invaluable knowledge and firsthand experience from renowned experts who are shaping the future of the industry. Some of our esteemed speakers include:
Eowyn Chen (CEO, Trust Wallet)
Joy John (Director, Cloud Native and Innovation, EMEA, Oracle)
Talal Tabbaa (CEO CoinMena)
Prof. Hoda Alkhzaimi (Director for EMARATSEC & Co-chair of the WEF Global Future Council)
Ben Caselin (MaskEx SVP & CSO)
Scott Tiel (TOKO Founder & CEO of TOKO by DLA Piper)
Sam Katiela (Founder & CEO of Mamemo and Chairman of Crypto Valley Partners)
These thought leaders will provide unique perspectives and thought-provoking discussions that will inspire, educate, and empower attendees. Stay ahead of the curve by learning from the best in the field and get ready to navigate the ever-evolving landscape of blockchain and Web3.
Discover the event Unique Selling Points:
The Playground of Visionaries: WOW Summit Dubai brings together the crème de la crème of the blockchain industry, esteemed government officials, enterprising venture capitalists, and influential corporates. Rub shoulders with pioneers who are driving the digital revolution and witness the power of collaboration.
Ignite Your Imagination: Immerse yourself in a realm of limitless possibilities, where innovation knows no bounds. Experience mind-bending discussions on the Web2 - Web3 transition, CBDCs, asset tokenization, and the real-life applications of blockchain and DLT technologies. Let your imagination soar as you explore the forefront of technological advancements.
Uncover Hidden Gems: WOW Summit Dubai is not just about big names; it's about uncovering the hidden gems of the industry. Discover rising stars, trailblazing entrepreneurs, and cutting-edge startups that are reshaping the Web3 landscape. Engage in intimate conversations, forge strategic partnerships, and unlock the next wave of innovation.
MMPro Expert Program: As a participant, take advantage of the MMPro Expert Program, a unique opportunity to receive comprehensive analytics, expert evaluation, and invaluable guidance for your startup. Seasoned industry leaders and top experts will provide honest feedback and support to help you enhance your products. Additionally, selected startups will have a chance to win up to USD 1,000,000 through the MMPro Grant, propelling their growth and success.
Startup Competition: Showcase your innovation and compete against some of the most promising startups in the industry. The WOW Summit Dubai Startup Competition offers a platform for emerging ventures to present their groundbreaking ideas, receive recognition from a distinguished jury, and win valuable prizes. Seize the opportunity to gain exposure, attract investors, and accelerate the growth of your startup.
Experience the Unforgettable: WOW Summit Dubai is more than just a conference; it's a sensory journey. Immerse yourself in the awe-inspiring beauty of Dubai, the global capital of Web3 and NFT marketplace. Unleash your creativity at the immersive art and NFT area, where digital masterpieces come to life. Prepare to be captivated by a symphony of lights, sounds, and ideas.
Elevate Your Potential: As a VIP attendee, you are granted exclusive access to tailored sessions, VIP lounges, and private networking events. Connect with influential industry leaders, share ideas, and seize unprecedented opportunities for collaboration and growth. Elevate your potential and be at the forefront of the Web3 revolution.
Join us at WOW Summit Dubai 2023: WOW Summit Dubai 2023 is your passport to a world of unlimited possibilities and game-changing innovations. Don't miss this once-in-a-lifetime opportunity to be part of the movement that is shaping the future. Secure your spot now and be ready to witness the convergence of luxury, technology, and visionary thinking.
For registration and further information, please visit our website at WOW Summit Dubai 2023. Limited VIP passes available. Get ready to immerse in the most luxurious event of the year!
Get 15% off your ticket with a special promo code WOWUTD15: https://wowsummit.net/tickets/?utm_source=all&utm_medium=ticketsdxb&utm_campaign=WOWUTD15
Advertisement
Top
Crypto
News
in
Your
Mailbox
Top
Crypto
News
in
Your
Mailbox