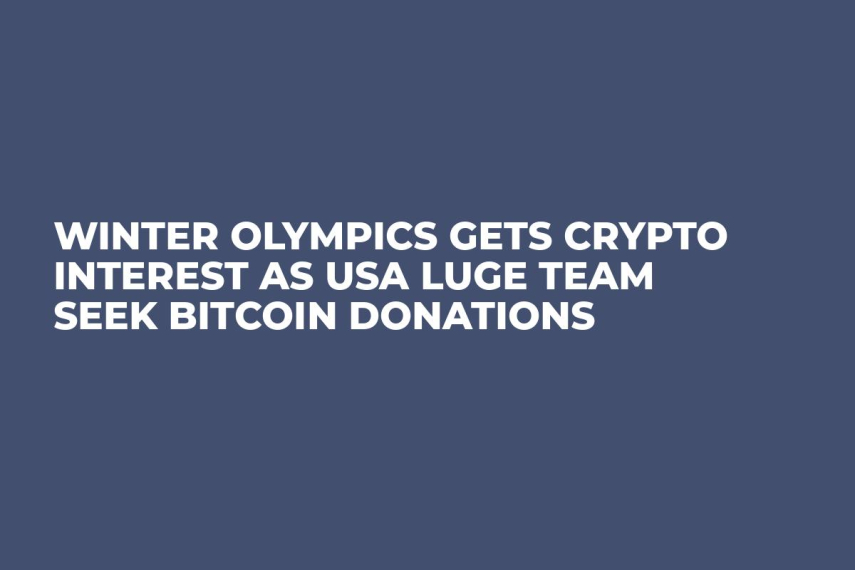 Cover image via U.Today
With the Winter Olympics now in full swing, the USA's Luge team announced that they would begin accepting Bitcoin as donations. In reciprocation, the team said that while they cannot promote any sponsors on their Olympic equipment, depending on how the donations went, they would promote the digital coin in upcoming events.
Beginning their Bitcoin campaigning in December last year, on their Medium page, the Luge team has become the first Olympic team to set up a crypto wallet to accept donations.
Back in 2014, the Jamaican Bobsleigh team has $250,000 raised for them in Dogecoin in the hopes of attracting the famous Island Bobsleigh team to the 2014 games in Sochi.
Crazy currency for crazy people
There seems to be a bit of a fit for Bitcoin to be the champion of a sport like Luge, which has long been regarded as a sport for madmen who are willing to hurtle down an ice track at high speeds.
USA luge marketing director and former double silver medalists Gary Sheer said that matching Bitcoin to the US Luge endowment fund is a natural fit:
You know, we hear a lot of jokes about lugers being crazy, and people don't know why we do it. But Luge is something that gets into your blood and transforms your life and the Bitcoiners we've met know exactly what it's like to be all in on something that the world doesn't appreciate yet. We've looked at Bitcoin hard, and it is definitely a risk-reward we understand and are eager to take.
Looking to Hodl
Ty Danco, a former Olympian and avid crypto investor also weighed in on the matter stating that it shows intend for the future of these team.
By hodling Bitcoin with the express goal of holding on through the 2022 and 2026 Olympic Games, the sport hopes to change from being underfunded to being able to support full teams on the World Cup level at the same time as developing grassroots youth programs to develop athletes,
Indeed, even the payback that is being promised by the Olympic team is one that refers to the future. They have promised that depending on their amount of success, they will incorporate Bitcoin sponsoring on their apparel and gear.
For instance, by receiving five BTC, Bitcoin's logo will appear on team hats and memorabilia hats. However, if they get to their top end and rake in 100 BTC, they will put logos on team outerwear, sleds for the next four seasons and their skinsuits for the next four years.