Popular crypto tracking service Whale Alert has detected 10 massive transfers of Shiba Inu (SHIB) conducted by the Binance exchange over the period of the past 24 hours. Etherscan shows there were more transfers than those spotted by Whale Alert — almost another trillion SHIB.
Ten massive transactions moved a total of $75,660,000 worth of the second most popular meme coin Shiba Inu.
Binance wires 6 trillion SHIB
Whale Alert reported that a mind-blowing amount of Shiba Inu (roughly 6 trillion of those meme coins) has been made since yesterday morning. Ten transactions each carryied approximately 499,999,677,307 SHIB worth $6.051 million to $6.37 million. That was $60.58 million in fiat. Two more transfers were highlighted by Etherscan: 499,999,677,307 and 397,320,528,788 Shiba Inu.
According to the crypto tracker, these transfers were made to an anonymous wallet. Currently, this address, per Etherscan, contains a whopping 6,051,163,174,772 Shiba Inu — the equivalent of $76,547,214.
This wallet is not marked as one that belongs to Binance; however, it may be a reserve wallet of the exchange as the sum of the transferred crypto is too large for a sale and was sent to just one address rather than several ones.
Binance itself, though, has not left any comments to clarify these huge transactions.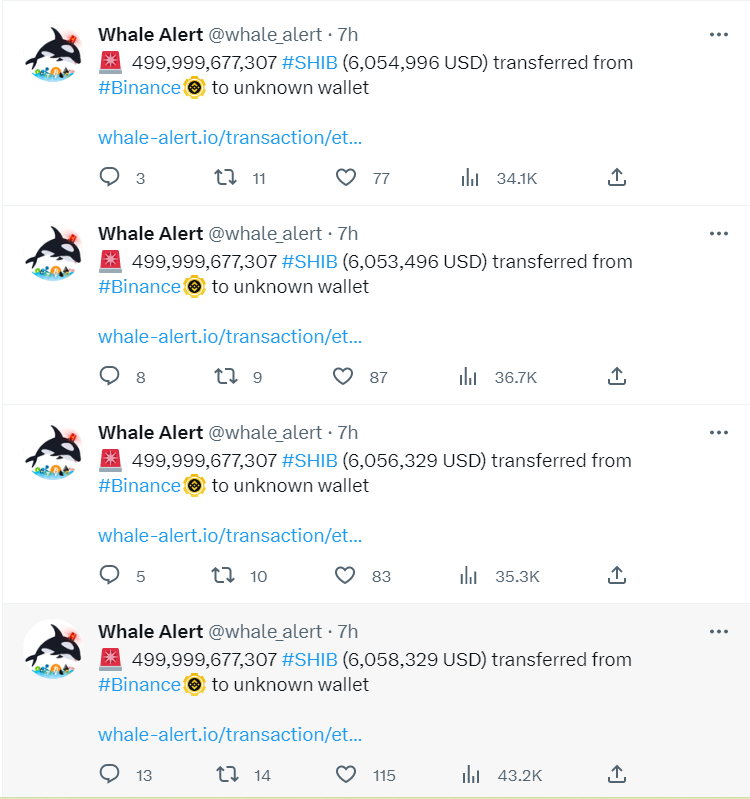 SHIB price jumps 10% weekly
The above-mentioned transfers seem to have had zero impact on the SHIB price. Still, over the past week, the price has demonstrated a rise by around 10%. By Thursday, in was higher — over 13%. However, in the past 24 hours, the Shiba Inu price lost some of its earlier gains, now trading at $0.00001252 per token.
SHIB army burns 1.12 billion meme coins in January
Last month, the SHIB army made significant progress in removing Shib tokens from the circulating supply. Shibburn crypto tracker that picks data on burn transactions on Etherscan has reported that in January, 1,124,579,958 meme coins were burned in total, in 223 transfers from various individuals and entrepreneurs dedicated to burning Shiba Inu.
🔥🔥🔥 1,124,579,958 $SHIB tokens have been burned in the month of January with 223 transactions. #shib #shibarmy

— Shibburn (@shibburn) February 1, 2023
January started with over a hundred million SHIB, sometimes two hundred million, burned per day. Soon after that, however, the burn rate returned to its previous values as around 20 million SHIB were removed from circulation on a daily basis.
In the past 24 hours, so far, merely 5 million Shiba Inu have been sent to dead-end wallets, according to the Shibburn website.