Popular blockchain tracking platform Whale Alert has detected two crypto transactions made by anon ETH whales, carrying $143.1 million worth of Ether.
Meanwhile, the second largest cryptocurrency remains below the $2,500 level after the recent price crash.
61,000 ETH on the move as ETH is in the red
According to Whale Alert, over the past two hours, two transactions, each carrying 30,095 ETH ($71,619,331), have been performed. Apparently, one amount of ETH was just moved between several addresses. First, an anonymous whale shifted over 30,000 ETH to another address with an unregistered owner—0xab08bfb2e55b079d9961dae5164ba0d846a1ede1—and then this large Ether stash was sent to the FTX crypto exchange.
Large amounts of Ethereum have been moved around recently, as whales have been buying and selling the second biggest crypto after its recent price dive—from $3,248 on Jan. 20 to the $2,181 low on Jan. 24.
At press time, the price has managed to restore to the $2,426 mark, rising over 8% in the past 24 hours.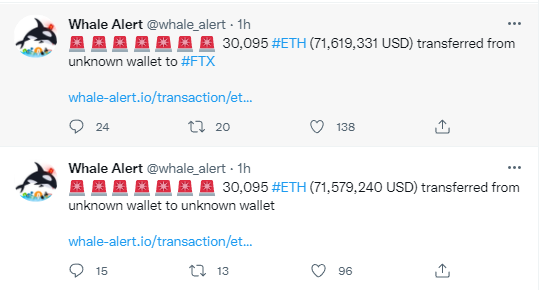 Ethereum dumps "ETH 2.0" upgrade title
In a recent blog post published by the Ethereum Foundation, it was stated that Ethereum is moving away from using such terms as "ETH 1.0" and "ETH 2.0" since they may be confusing for the majority of users and investors.
Now, these have been replaced with the "execution layer" (ETH 1.0) and the "consensus layer" (ETH 2.0).
This was done in order to stop confusion that has begun to arise as "ETH 1.0" fades into "ETH 2.0." In reality, Ethereum devs say, both are an active part of Ethereum, so the "consensus layer" stands for the transition from a proof-of-work (PoW) protocol to a proof-of-stake (PoS) one.