Web3 Carnival 2023
Event details
Location:

Event place

Palm Meadows Resort, Bangalore, India

Dates:

Mon, 12/04/2023 - Sun, 12/10/2023

Website

https://www.web3carnival.world/

Price: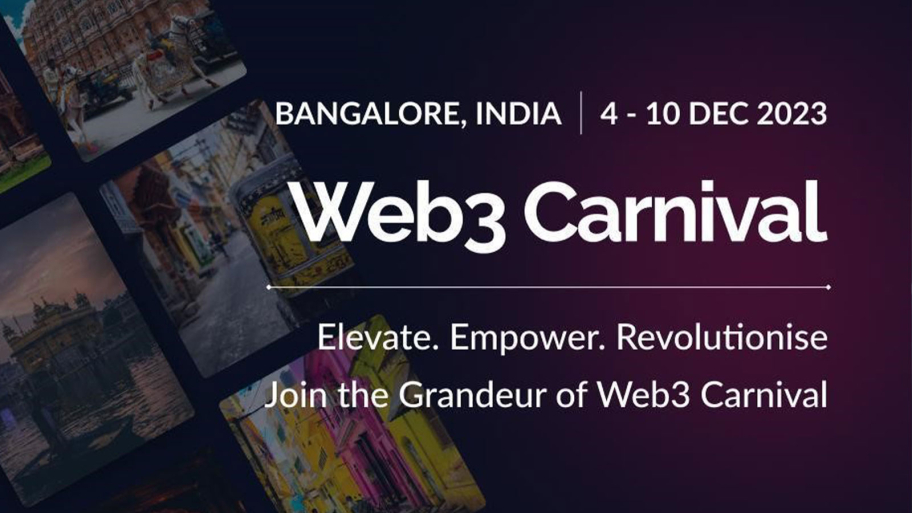 Cover image via U.Today
The highly anticipated Web3 Carnival 2023 is poised to captivate Bangalore from December 4 to December 10, 2023, at Palm Meadows Resort in Whitefield. This groundbreaking event promises a dynamic fusion of innovation and empowerment, nurturing a vibrant and inclusive Web3 community.
It's a 7 day-7 conference, part of India Blockchain Week, where each day unveils a new dimension of the Web3 universe, spanning from the core of blockchain to the mesmerizing metaverse, from the financial revolution of DeFi to the enchantment of NFTs and GameFi.
With an impactful theme of Women Empowerment and Catalyzing Decentralized Startup Growth, Web3 Carnival brings together top industry experts, developers, investors, and enthusiasts for a seven-day celebration of all things Web3.
Here are the Event Highlights:
Day 1: All about Blockchain Infrastructure, and Kick-off Party: The first day is dedicated to the decentralized world, the blockchain technology, and the foundation it sets for the Web3. Connect with people and celebrate the start of the journey at the Kick-off party.
Day 2: DAO and Governance, and Culture Evening: Indian Cuisine
Unfold the secrets of DAOs and how it is reshaping the industries and communities. Later in the evening, treat your taste buds with authentic Indian cuisine.
Day 3: Metaverse, GameFi, Demo Night, and Fundraising: Explore the realm of the metaverse and GameFi and their future impacts. Witness the live demos of groundbreaking technologies that are shaping the future.
Day 4: ZK & Security and Awards Night: Embark on the journey to explore various safeguarding mechanisms that strengthen Web3's trust architecture. Later in the evening, join award night to recognize the trailblazers pushing the boundaries of tech and innovation.
Day 5: CeFi, DeFi, Staking, and Web3 Prop Party : Discover the power of CeFi, DeFi, and staking and how they transform the finance industry. Join the web3 prop party to immerse yourself in the festivities.
Day 6: Enterprise Blockchain and NFT Art Culture Exhibition Night: Explore the transformative potential of enterprise blockchain solutions and discover the significant intersection of art and technology at NFT Art Culture Exhibition Night.
Day 7: NFT & Utilities and EDM Closing Party: Explore how digital arts, collectibles, and utility tokens converge to redefine ownership and values. And later at night, bid farewell to the grand Web3 event of the year.
To buy your passes for Web3Carnival - https://www.web3carnival.world/buy-ticket
To register yourself for the Web3Carnival Awards, register here: https://tally.so/r/wL7Og1
For more information and continued updates on WEB3 CARNIVAL Bangalore, please visit: https://www.web3carnival.world/
Garima Bakshi
+91-9711034797
PR Speacialist
Web3carnival
Advertisement
Top
Crypto
News
in
Your
Mailbox
Top
Crypto
News
in
Your
Mailbox