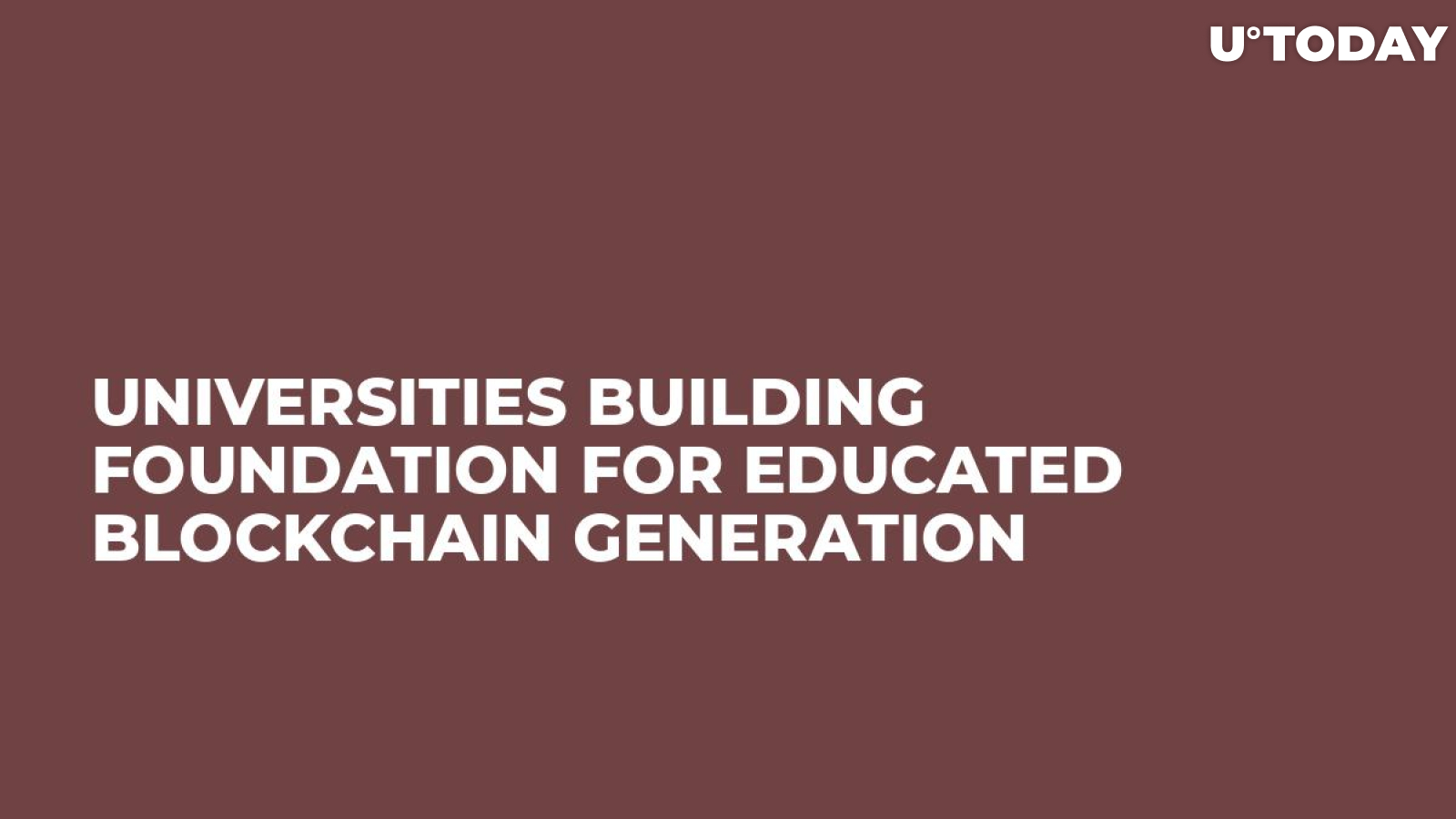 Cover image via U.Today
Blockchain adoption has been spotty at best, driven up into the mainstream through the financial potential of Bitcoin and other cryptocurrencies. However, the fractured nature of the entire ecosystem is seeing different levels of adoption ebbing and flowing.
There are big drives to see the advancement of Blockchain in a number of sectors, as well as a whole other wave of adoption for cryptocurrencies in the financial sector. But it must be admitted that the adoption is somewhat stalled currently.
However, the next wave of adoption seems to be predicated on an unlikely institution, that of higher education and universities across the globe. So often seen as stuffy and rigid in the take on changes and advancements, universities are actually building a good foundation for Blockchain adoption and putting their money where their mouth is.
For those who attend universities, they are building to be the leaders of the future and are primed to change the world — thus, it makes sense that they should be offered a chance to advance in a potential revolution that is Blockchain. There have been many instances of higher learning institutions having offered Blockchain course, but it is more than that now.
Institutions as big as Harvard and MIT are seeing their endowment funds investing in cryptocurrency funds. It is an indication of not only a belief in Blockchain being a part of the future but also that cryptocurrencies have value, as well as future growth.
The importance of providing for the future
There is a real juxtaposition that occurs at universities since they are seen as old and traditional in their makeup; yet, they educate future world leaders and thinkers. These thinkers are also being educated on what will come, not what is now, so there has to be some sort of understanding.
"We are not teaching people how to use today's Blockchains — tomorrow's Blockchains will look nothing like today's," Associate Professor of Computer Science at Cornell Emin Gün Sirer said.
This was after getting a Ph.D. level Blockchain course that brought in way more students who were more keen to learn than expected.
"Usually when you have five to a dozen students in such a class, you're teaching a popular class," Sirer explained.
But when the professor showed up on the first day to teach he was shocked as 88 students were waiting. "It was pretty interesting to see that level of interest," he added.
Students are hungry to learn this new space, and while they clearly are of an age and space to understand its importance, it is also good to see that those who are providing the education are also accepting that this technology needs to be further explained and taught.
Putting their money where their mouth is
Endowment funds at universities have recently been in the news as they have decided to put trust and faith into cryptocurrencies as a possible way to earn good returns from their investments.
It has been reported that the endowments of Harvard University, Stanford University, Dartmouth College, the Massachusetts Institute of Technology, and the University of North Carolina have recently made investments into at least one cryptocurrency fund.
"Universities have historically followed two investment strategies with their endowment funds: most have followed a very conservative strategy of investing in household names and solid sectors, while a few savvy schools have taken on risky bets in emerging areas, to big gains," professor Sirer added.
"There's no greater show of support for an emerging area than what we are seeing here. All else will follow from the people voting with their money," Sirer said. "I'm excited to see universities beginning to understand the importance of this new area, and hope that they will follow up with greater numbers of courses and interdisciplinary programs on Blockchain technologies."
A new dawn
The Blockchain and cryptocurrency space is full of passion and excitement but is not founded on too much currently, it has a shaky base. However, the fact that universities are looking to teach and educate on the subject, as well as put money into it, show huge support for this emerging technology.