As the cryptocurrency market faces persistent bearish trends, Solana's price analysis reveals SOL/USD sinking to $21.33 after encountering resistance at $22.35 today. Bears appear to maintain their grip, with SOL's downtrend pattern persisting since the beginning of the trading session. At present, SOL trades at $21.33, reflecting a decline of over 3% from its opening value.
In the near future, SOL/USD's immediate support lies at $21.11, a level crucial for the pair to stave off additional losses. However, if the bears continue to dominate, the next significant support level might be found below the $20.00 threshold.
Amidst this uncertain landscape, a new player has surfaced, boasting an inventive trading platform with the potential to reshape the crypto trading landscape. This emerging contender, Tradecurve.io (TCRV), warrants further exploration.
Interested enthusiasts can check out the pre-sale of TCRV.
Solana's 24-hour price analysis reveals a downturn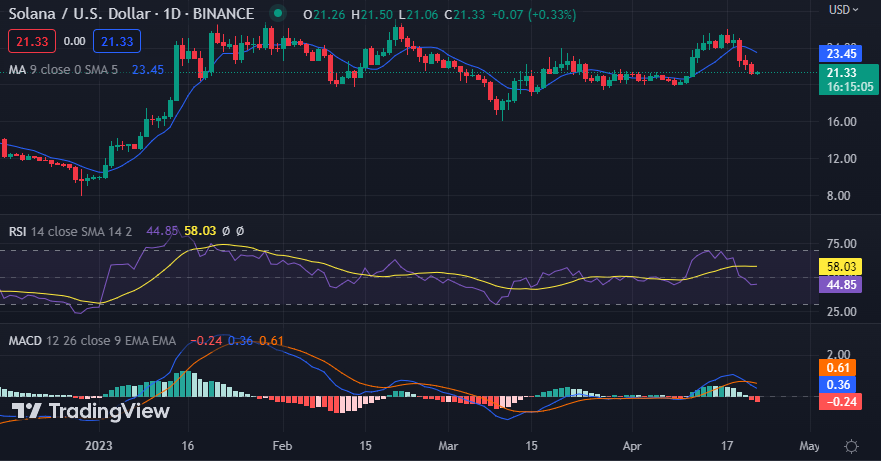 The 24-hour chart for Solana's price analysis indicates that SOL/USD has seen a drop from its opening price, with the pair hovering close to its daily low at $21.11. This downward trend has persisted over the past few days, and today is no exception. Furthermore, trading volume has been comparatively low, standing at $452 million, which is less than the recent day's closing.
SOL/USD's technical indicators present a bearish view, as the Relative Strength Index (RSI) slips to 44.85, signifying that the market maintains a bearish stance. The Moving Average Convergence Divergence indicator created a bearish crossover, with the signal line moving below the 12-period EMA line.
In addition, the moving average (MA) showcases red candlesticks dominating the chart, implying that momentum has tilted towards the downside, with bears currently in command. These indicators suggest a continued decline for SOL/USD in the short term, posing challenges for both investors and traders.
Tradecurve.io (TCRV) introduces an innovative trading platform
As Solana's price experiences a decline, an innovative trading platform called Tradecurve.io (TCRV) is capturing the attention of the cryptocurrency community. Designed to address the limitations of existing exchanges, Tradecurve.io (TCRV) incorporates groundbreaking features to meet the evolving needs of crypto traders and investors.
One of the platform's distinctive features will be its ability to enable seamless trading across a wide range of asset classes, such as cryptos, stocks, forex, and commodities, all within a single account. This versatility will provide users with a comprehensive and user-friendly experience, fostering accessibility for both expert traders and beginners alike.
Another notable aspect of Tradecurve is its emphasis on privacy and decentralization. By harnessing advanced DeFi capabilities, the platform ensures secure and transparent transactions, which are highly valued in the crypto domain.
With a solid roadmap, a seasoned team, and a rapidly growing ecosystem, Tradecurve (TCRV) is well-positioned to make a substantial impact on the cryptocurrency market with a current market cap of $1.2 trillion.
The Tradecurve (TCRV) presale with an initial starting price of $0.01 is your chance to secure a position in this trailblazing trading platform before it hits the market.
Visit Links Below For Info About Tradecurve Presale
Website: https://tradecurve.io/
Presale: https://app.tradecurve.io/sign-up
Twitter: https://twitter.com/Tradecurveapp
Telegram: https://t.me/tradecurve_official