TEAMZ WEB3 / AI SUMMIT 2024
Event details
Location:

Event place

Toranomon Hills Forum, Tokyo, Japan

Dates:

Sat, 04/13/2024 - Sun, 04/14/2024

Website

https://en.web3.teamz.co.jp/

Price:

Social links: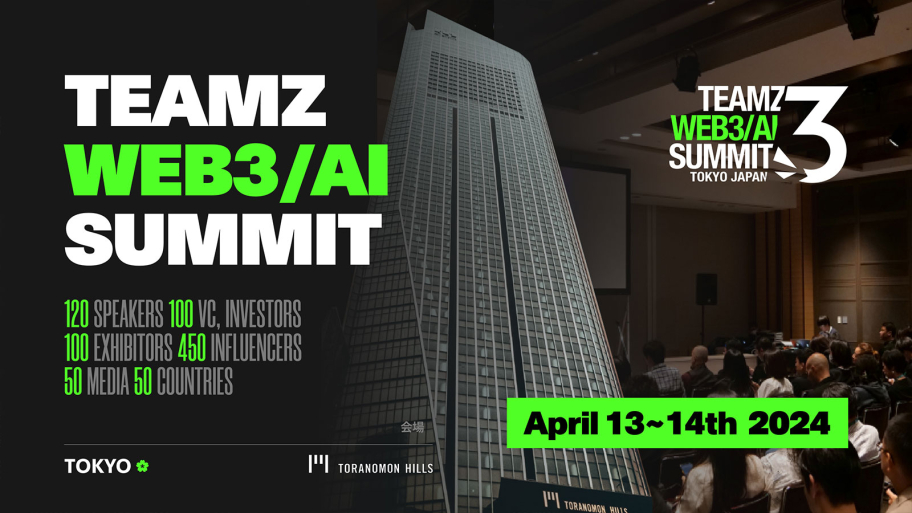 Cover image via U.Today
The TEAMZ WEB3 / AI SUMMIT 2024, among Japan's premier Web3 and AI conferences, is scheduled for April 13th (Saturday) and 14th (Sunday), at Toranomon Hills!
About TEAMZ WEB3 / AI SUMMIT 2024
The TEAMZ WEB3 / AI SUMMIT represents an evolution from the TEAMZ WEB3 SUMMIT 2023, previously recognized as one the most significant and influential events in Japan's Web3 landscape. For 2024, we're expanding our focus to encompass both the burgeoning realms of Web3 and AI, two domains that have seen explosive growth recently.
With our rallying cry, "WEB3 / AI: The Future", we aim to facilitate vibrant discussions on the trajectory of the Web3 sector post-2024 and the emerging societal and economic paradigms being shaped by AI. Thought leaders, pioneers, and experts in Web 3 and AI, hailing from both Japan and overseas, will offer a kaleidoscope of insights on technological applications, market dynamics, and innovative solutions. Additionally, interactive sessions are planned to deepen the discourse among attendees from diverse industries and nations.
This summit anticipates a gathering of over 100 VCs and investors, more than 100 exhibitors, and 120+ esteemed experts and scholars from the Web3 and AI sectors. We also expect a global audience of over 5,000 attendees.
Our objective remains clear: to champion the introduction and evolution of both Web3 and AI. Through highlighting the groundbreaking solutions offered by pioneers in these sectors we aspire to foster their wider acceptance and tangible impact in the real world.
What to expect at the event
Eminent leaders making strides in the Web3 and AI sectors will grace the stage, offering profound insights into current advancements, industry projections, specific applications and pioneering business concepts.
A confluence of experts and industry frontrunners in the Web3 and AI realms will converge to deliberate on technological prospects, sectoral challenges, business avenues, and varied viewpoints, all aimed at sparking novel ideas and groundbreaking innovations.
An exclusive segment spotlighting all speakers and panelists from the Summit Here, VIP attendees will be accorded the unique privilege of obtaining firsthand guidance and input from the crème de la crème of the industry
The Summit's exhibition area will be a hub of innovation, featuring over 100 standout Web3 and Ai initiatives. These projects will present their groundbreaking solutions and engage in productive interactions with investors and attendees.
Marking the Summit's grand conclusion, this event promises a splendid change to network with guest orators, specialists, and global investors. Revel in delectable beverages and gourmet cruising. Adorn your best attire and revel in a splendid evening set against the mesmerizing Tokyo night vista.
Spanning five days from April 11th to 17th, TOKYO WEB3 / AI Week is set to captivate attendees with close to 100 eclectic side events, all centered on the Web3 and AI sectors. Participants can anticipate a whirlwind of thrilling experiences and fresh perspectives.
Past Speakers
Tim Draper (Founder / Draper Associates)

Masaaki Taira (Former Vice Minister of the Cabinet Office)

Yuzo Kano (President / bitFlyer Blockchain, Inc.)

Ciara Sun (Founder / C2 VENTURES)

Hironao Kunimitsu (Representative Director / Financier, Inc.)

Kensuke Amo (Managing Executive Officer / Coincheck K.K.)

Yoshiaki Ueno (Executive Officer / Group CDO and General Manager / Corporate Planning Department / Mitsubishi UFJ Financial Group, Inc.)
*Please refer to the summit website for other past speakers: https://en.web3.teamz.co.jp/
Past Sponsors
LINE, Microsoft Japan, IBM, Fujitsu, animoca BRANDS, NTV WANDS, Zaif, STEP'N, Accenture, Deloitte Tohmatsu, DMM Bitcoin, Quoine, Litecoin, HUBLOT, LOOT a DOG, etc.
*Please refer to the summit website for past sponsors: https://en.web3.teamz.co.jp/
For further details or to get in touch with our team, please visit our official website as mentioned in the company profile. Alternatively, you can reach out to us directly at the email address provided below.
Advertisement
Top
Crypto
News
in
Your
Mailbox
Top
Crypto
News
in
Your
Mailbox