Prominent doggy-themed token Shiba Inu has been on a tear this week. It has been demonstrating a massive price rise in the past seven days and last 24 hours and has outperformed another popular altcoin, Litecoin (LTC). It jumped to reach two milestones for the largest whales on Ethereum.
SHIB outstrips LTC but is still behind Solana
Shiba Inu's market capitalization has hit a staggering $7 billion, and SHIB first jumped above Polkadot (DOT) and Litecoin by this metric. But then, it went down a little, now surpassing only LTC (also widely known as "digital silver" in the crypto space.
Currently, SHIB's market cap stands at $6,613,554,768, exceeding that of LTC by roughly $400,000,000. DOT sits at $6,856,470,221, while Solana's is over the $8 billion mark.
SHIB has demonstrated a rise by 34.59% in the last seven days, while it has grown more than 15% over the past 24 hours, too. At the time of this writing, Shiba Inu is trading at $0.00001203, per CoinMarketCap.

Shiba Inu's new records among whales
According to data shared by on-chain wallet tracking platform WhaleStats, SHIB has outperformed all other top tokens by two parameters.
It has become the biggest crypto holding in the U.S. dollar equivalent for the biggest whales on Ethereum and has flipped CRV to become the most traded crypto asset for these whales too.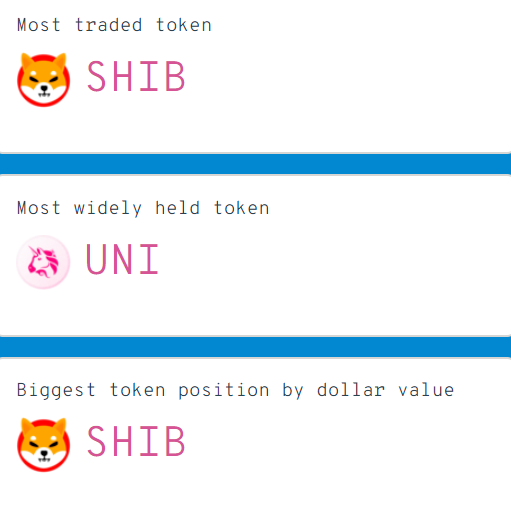 The average amount of SHIB the top wallets now hold is 504,630,634,875 SHIB worth $6,095,051. As for the overall part of the whales' comprised portfolio, there is now 50,400,341,191,067 SHIB evaluated at $609,340,125.
SHIB spikes on Shibarium news
As reported by U.Today earlier this week, the SHIB dev team announced that the beta launch of Shibarium Layer 2 solution is going to happen soon and shared the basic concepts of Shibarium.
The news made the SHIB army excited and began pushing the price of the second largest meme coin up. Aside from that, yesterday, SHIB was added to the mobile trading app of the StealthEX noncustodial digital exchange, along with the BONE governance token for Shibarium.
Besides, the growth of the SHIB price has certainly been stimulated by the rise of flagship cryptocurrency Bitcoin, which has increased from $16,700 to above $21,000 just recently. Overall, the SHIB price has reached a two-month high — the level lost by the token in early November after the crash of the FTX exchange and its boss, Sam Bankman-Fried.