In an unexpected turn of events, Shiba Inu (SHIB), widely recognized as a volatile meme-based cryptocurrency, has showcased a solid performance in recent weeks. Contrary to its erratic reputation, SHIB has managed to outperform a significant portion of the crypto market during a period of correction, adding more than 20% to its value.
While most of the market has been grappling with downward trends and corrections, Shiba Inu has consistently moved in the opposite direction. Over the last few weeks, the cryptocurrency has surged impressively, bucking the prevailing market trends. Notably, this growth has been steady and sustained, marking a departure from the sharp peaks and troughs typically associated with meme cryptocurrencies like SHIB.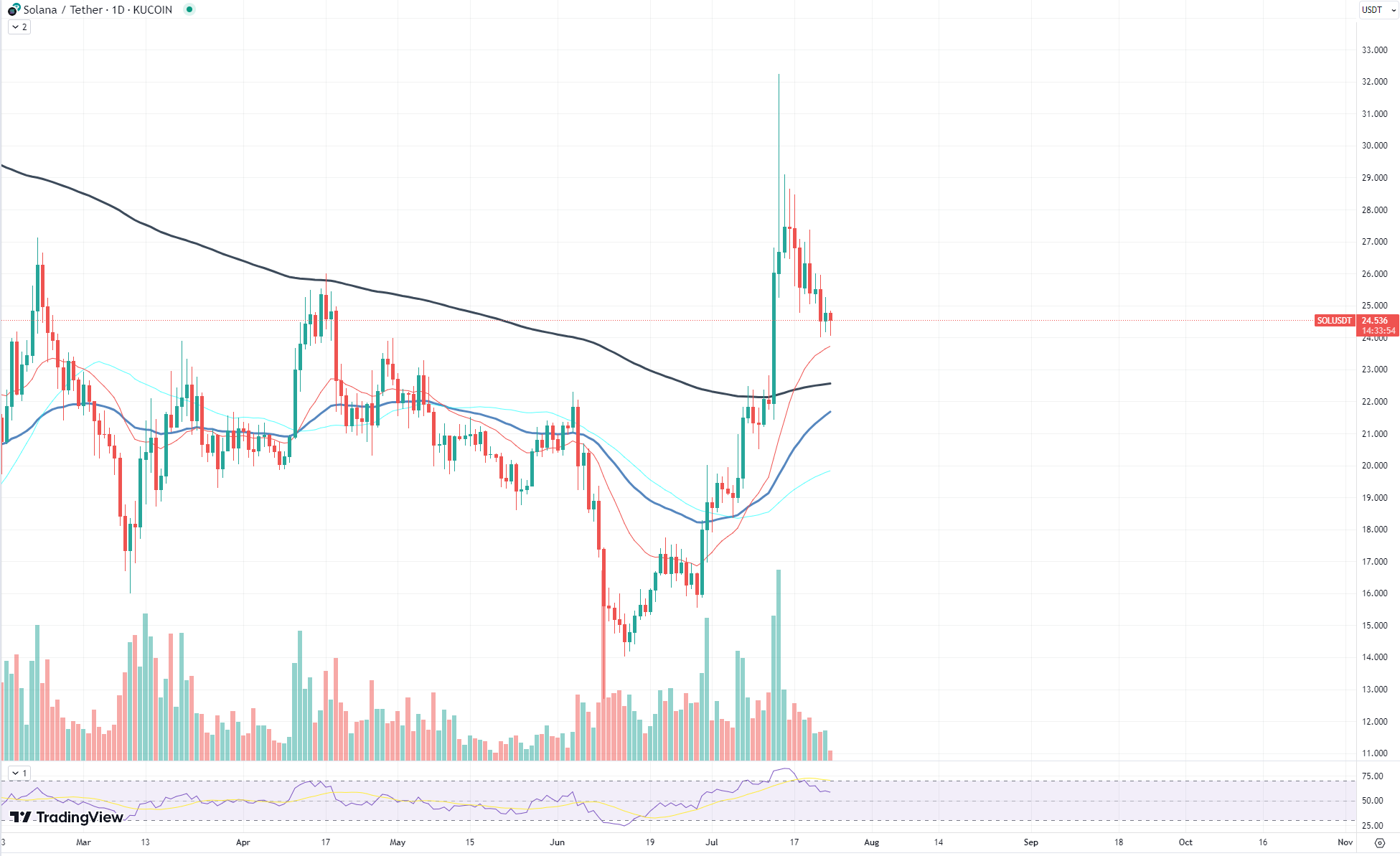 As of now, the price level of Shiba Inu is hovering around $0.000008, demonstrating its surprising resilience and potential for growth. This robust performance stands in stark contrast to SHIB's usual reputation as a highly volatile and speculative asset.
Shiba Inu's unexpected rally presents an interesting development within the broader cryptocurrency landscape. Initially launched as a joke akin to Dogecoin, Shiba Inu has often been criticized for its lack of underlying value or utility. However, this recent surge suggests that there might be more to Shiba Inu than meets the eye.
Ethereum's breakdown
The world's second largest digital asset, suffered a significant price drop, breaching the robust $1,900 support level. The descent sparks concerns regarding Ethereum's immediate future, raising questions about the potential for further depreciation.
Ethereum's latest stumble has pushed the cryptocurrency below the critical $1,900 price threshold, a level previously regarded as a stable support zone. This downward movement raises questions about the cryptocurrency's short-term price stability, signaling a potential risk for further price deterioration.
At the time of writing, Ethereum's price is precariously perched at the 50-day exponential moving average (EMA). This indicator is widely used by traders to evaluate an asset's momentum and identify potential support or resistance levels. Should Ethereum's price dip below this line, it would signify a potential bearish trend, suggesting further potential losses in the near term.
In such a scenario, the next significant support level is the 200-day EMA, sitting at approximately $1,780. If the current downward momentum continues and Ethereum's price breaks below the 50-day EMA, there is a risk of Ethereum spiraling toward the 200-day EMA. This level could act as the next line of defense against further price drops.
These price movements should be considered in the broader context of cryptocurrency market volatility. Cryptocurrencies are inherently volatile assets, with prices subject to sharp fluctuations based on a range of factors, including market sentiment, regulatory news and broader economic indicators.
Cardano's performance is usual
Over the past few days, the price of Cardano (ADA) has been exhibiting an unusual pattern of volatility, sparking discussions among investors and market observers. The third-generation blockchain has seen its native token, ADA, gain approximately 26% in value in a day, only to lose about 13% of its value soon after. Subsequently, ADA entered a rather neutral trend, moving sideways for the majority of the past week.
This mixed performance is atypical for Cardano, which is known for its relatively stable price dynamics, rather than rapid swings from 20% to 10% within a matter of days. The inconsistency in ADA's price behavior has raised questions about what is really happening with this particular cryptocurrency.
The reasons behind this unexpected fluctuation can be manifold, ranging from broader market influences to specific news or developments related to the Cardano project itself. However, without a clear catalyst, it is challenging to pin down a definitive reason for this price behavior.
Notably, the increased volatility comes at a time when the overall crypto market is showing signs of recovery after a prolonged bearish phase. This general market sentiment could potentially explain the sudden surge in ADA's price, although the subsequent drop remains puzzling.