Shiba Inu (SHIB) now finds itself in a precarious situation as it has dropped below the crucial $0.000009 support level, trading in the $0.000008 price range. This drop in value can be considered dangerous for the token as it may deter potential investors and exacerbate an already unfavorable market situation.
Over the past two months, SHIB has exhibited lackluster market performance, with its price losing approximately 26% of its value. The token's inability to maintain its support level is a concerning sign for investors, who may now be questioning the long-term prospects of their holdings.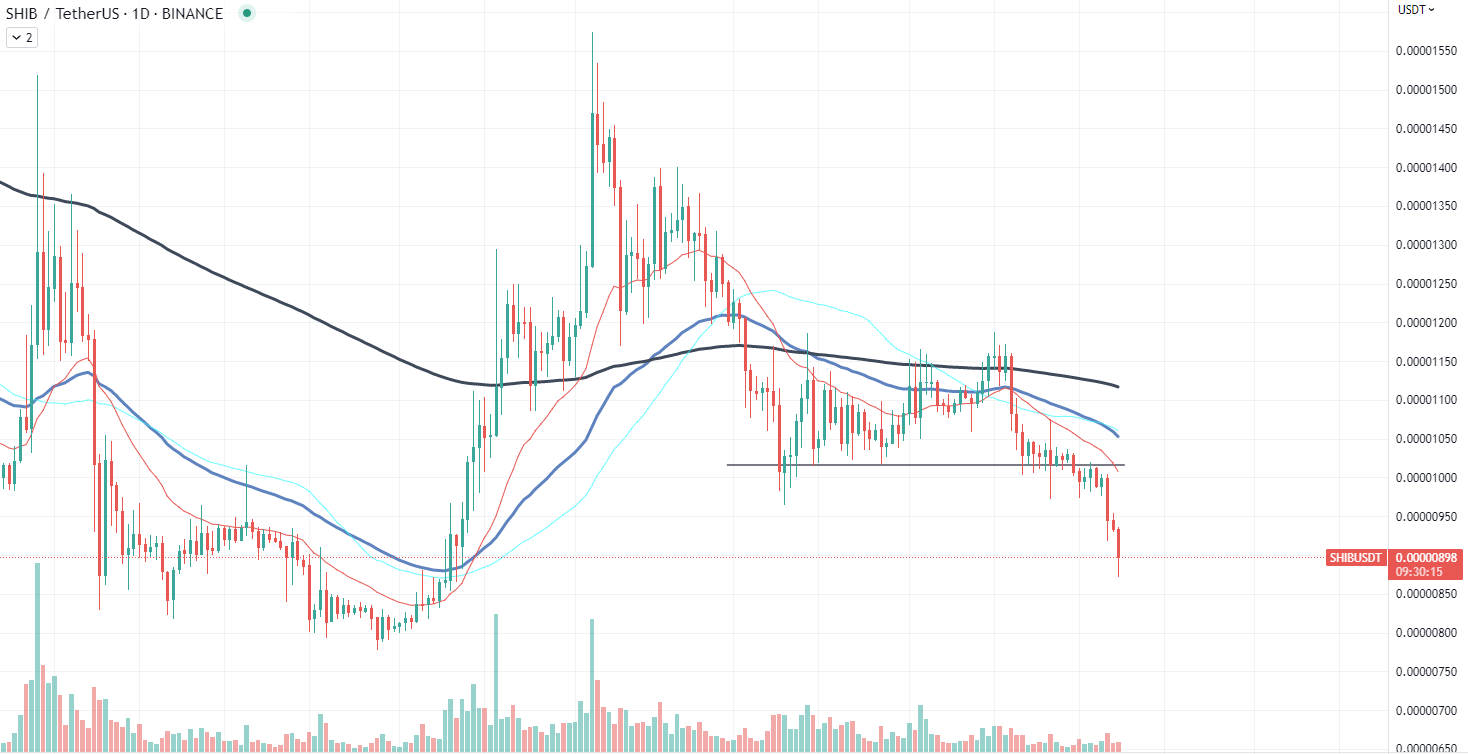 The declining price of SHIB could lead to a negative feedback loop, with investors selling their positions to mitigate potential losses. This, in turn, could drive the price even lower, making it increasingly challenging for SHIB to regain its former market position.
The market dynamics of SHIB highlight the inherent risks associated with investing in meme coins. Shiba Inu was the PEPE of 2021, bringing enormous gains to early investors. Unfortunately, the rally was short-lived and quickly turned into a disaster for anyone who entered SHIB around the ATH.
Pepe's poor state
The meme token Pepe (PEPE) has experienced a massive crash, losing more than 50% of its value after several whales, including some linked to the token's developers, decided to cash out their holdings. The sudden sell-off has caused panic among PEPE holders, leading to a domino effect of selling activity without regard for profit or loss.
Over the last 10 days, PEPE saw a staggering 1,000% price increase, which attracted a significant number of retail investors. The meteoric rise of this meme token generated considerable hype and speculation, luring investors with the promise of quick and substantial gains. However, the recent crash has left many with substantial losses as they scramble to exit their positions.
The sell-off appears to be indiscriminate, with no clear pattern in terms of profits or losses, reflecting the panic that has gripped the PEPE market. This situation highlights the inherent risks associated with investing in highly speculative assets, such as meme coins, which are often subject to extreme price volatility and market manipulation.
The sudden collapse of PEPE's value confirms the long-term unviability of such tokens and their inability to show stable market performance. It also serves as a warning for those considering entering the meme coin market, emphasizing the need for proper research and due diligence before investing in any cryptocurrency, especially those with limited use cases and questionable fundamentals.
Ethereum stronger than ever
Despite recent turbulence in the meme coin sector, Ethereum has managed to maintain a strong position on the market in terms of price performance. The second largest cryptocurrency by market capitalization has shown remarkable resilience in the face of a massive sell-off from Ethereum Foundation wallets and its co-founder, Vitalik Buterin.
Currently trading at $1,855, Ethereum has managed to avoid a critical sell-off and now sits comfortably at the 50-day moving average, which may serve as a guideline for its potential uptrend. The digital asset has managed to bounce back from a recent dip, where it briefly touched the $2,100 price threshold.
Ethereum's price may face resistance at the $2,000 level, and a successful break above this point could signal further upward momentum. However, a failure to surpass this resistance may result in consolidation around the 50-day moving average, where the digital asset could potentially establish a new support level.
In the long run, Ethereum's strength and stability may be attributed to its ongoing development and real-world use cases. With the staking unlock and finalized transition to PoS consensus mechanism, the network supposedly reached a higher level of scalability which has, unfortunately, been disproved by the enormous fees we are seeing on the network right now.