With the broader digital currency ecosystem sliding in terms of its valuation, the Shiba Inu (SHIB) token has seen its price fall as much as 1.13% over the past 24 hours and by more than 3% for the week. The token's bearish growth trend, however, is showing broad divergence from its burn rate, which has remained elevated at 1,506%.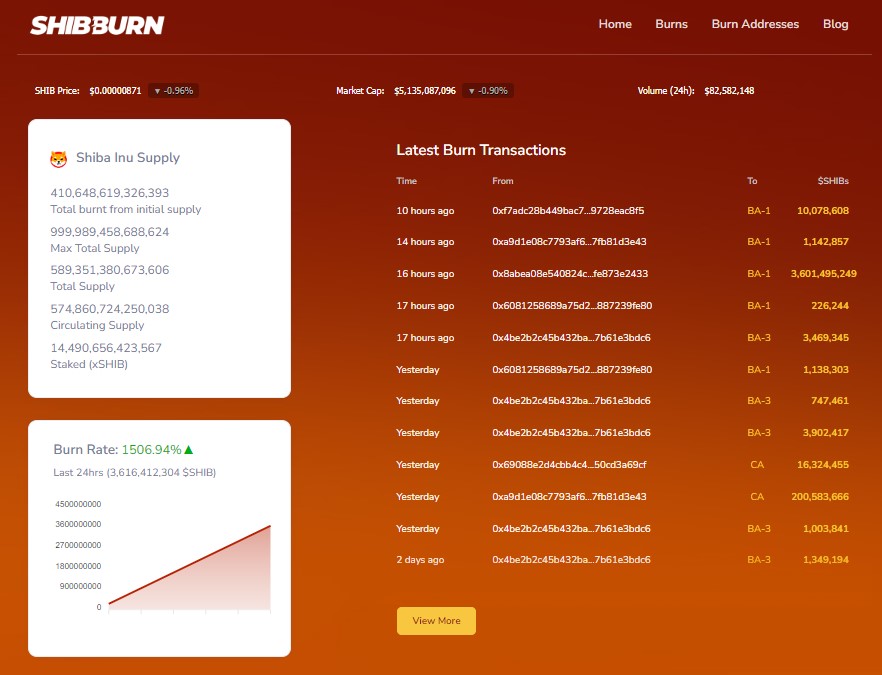 According to data from Shibburn, more than 3.6 billion SHIB tokens have been sent to dead wallets in what can be characterized as a sustained push toward deflating the meme coin's total supply.
One wallet accounted for more than 95% of the total tokens burnt, and while the details of this address remain obscured, it is notably associated with some of the mega token burn moves in the Shiba Inu protocol.
As diligently documented by U.Today, Shiba Inu has been quite consistent in its burn actions over the past few months with the system staying elevated most of the time. While the burn rate does not necessarily complement the token's price growth, it shows investors that the Shiba Inu protocol has inherent utility and fundamentals that can power growth.
Is diversification favorable for SHIB?
One of the primary goals of Shiba Inu at this time is to release the Shibarium mainnet, the Layer 2 protocol it has been working on for some time now. While still in the testnet phase dubbed PuppyNet, Shibarium has been recording a number of impressive feats, including a parabolic surge in the number of addresses connected to the system.
Shibarium was considered the perfect shot at diversifying the Shiba Inu protocol, and it is billed to be favorable in the long term as it will also form a major channel through which the digital token is deflated.