According to data provided by the Shibburn website, over the period of the past 24 hours, the rate of removing SHIB tokens from the circulating supply has grown by nearly 1,000%.
In the meantime, the price of Shiba Inu is close to removing another zero and going up.
SHIB burn rate jumps high
The SHIB burn rate has made another rise so far this year, meaning the amount of SHIB meme coins sent to dead-end wallets today exceed that burned the day before. In the past 24 hours, according to Shibburn, the community of the leading meme token managed to burn 23,807,694 Shiba Inu.
Thus, the burn rate soared by 937.64%, compared to Jan. 11.
The overall destroyed amount of SHIB from the total supply equals 410,384,480,999,999 meme coins.
That is almost half of what remains in circulation now, which is 589,615,519,000,000 Shiba Inu.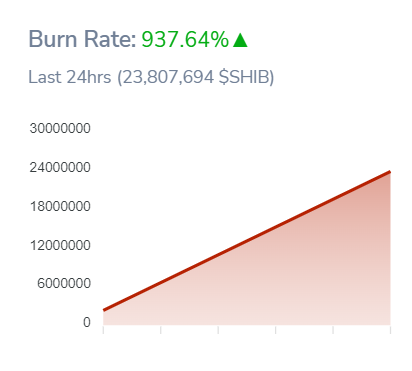 The SHIB community widely believes that the burn rate of Shiba Inu will jump high when the Layer 2 protocol, Shibarium, is launched. The goal of Shibarium is allowing users to conduct a greater number of transactions without congestion. Besides, it will lower the fees significantly.
Shibarium developers plan to convert a percentage of transaction fees into SHIB and burn them. As reported by U.Today previously, the SHIB army expects trillions of tokens to be removed from circulation then.
The fees on Shibarium will be paid for in BONE token.
SHIB price is about to "burn" a zero
At press time, SHIB is trading at $0.000009147, after rising by 2.67% over the past day, according to CoinMarketCap. On a weekly basis, the price has increased by roughly 7.50%.
The Shiba Inu price added one zero at the start of November, when FTX exchange collapsed from a massive liquidity crisis after being caught using customer funds to bail out its trading company, Alameda Research.
Back then, the meme token was changing hands at $0.000011.