Billy Markus, who created the original meme coin DOGE in collaboration with Jackson Palmer in 2013, has taken to Twitter to comment on current crypto prices and having to pay taxes on crypto and NFTs.
He sold "a bunch of ETH" in late December before the price jumped about 20%.
Selling ETH to pay 2022 taxes for selling NFTs
Markus stated that he had to sell some of this Ethereum while it was trading at the $1,190 level to pay taxes he owed for last year. Ethereum was changing hands that low on Dec. 20. Three days prior to that, the price was moving in the $1,170 range, and then on Dec. 20 it went up, reaching $1,210 and then climbing to $1,220.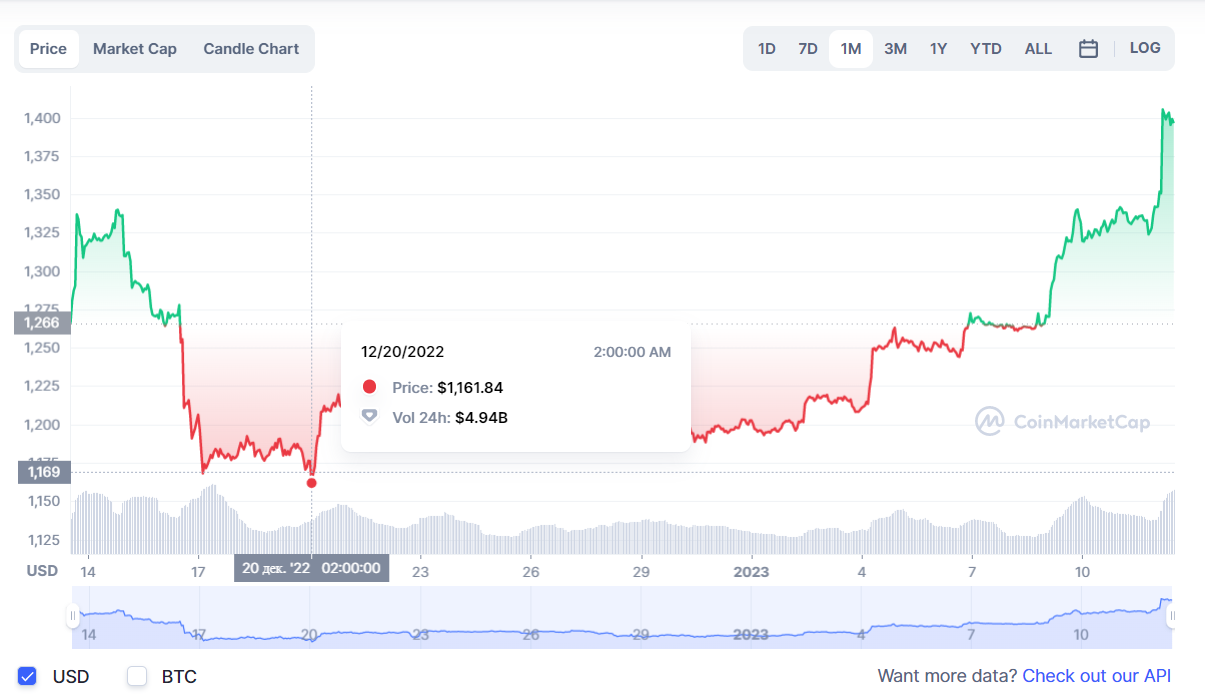 Thus, the Dogecoin co-founder had to sell his crypto a bit too early. "Everyone, you're welcome to this rally," he added with dark irony.
i sold a bunch of eth at $1190 so i could pay 2022 taxes

so everyone, you're welcome for this rally 🤣

— Shibetoshi Nakamoto (@BillyM2k) January 12, 2023
In the comment thread, Markus voiced that he had to use the fiat-converted ETH to pay taxes for selling some NFTs earlier that year. According to his explanation, the state of California and U.S. IRS charge a seller "53 percent of the selling price at the exact moment of sale."
As reported by U.Today, at the very start of February 2022, Markus tweeted that he had sent three NFTs from the collection he created on the OpenSea crypto marketplace. The floor price for them stood at $0.088 ETH per unit.
He described those non-fungible tokens as "pixel art NFTs of a small doge with big dreams."
i sold NFTs, you always owe taxes if you do commerce in crypto but i owed more than my crypto was worth so i actually made negative money.
Ethereum recovers $1,400 mark
Over the past 24 hours, according to CoinMarketCap, the second largest crypto, ETH, followed major coin BTC as the latter suddenly regained $18,000 and continued growing. Ethereum, following in Bitcoin's footsteps, rose nearly 5%. That created growth of 12% in the past week.
During the first week of January, Ethereum added around 10% within a couple of days, surging from $1,262 to $1,340. Now, on the back of Bitcoin rushing forward, Ether has managed to regain the $1,400 level.
The ETH community keeps cherishing big hopes since the middle of September, when the Merge upgrade was implemented and Ethereum finally shifted from the proof-of-work consensus model to the proof-of-stake one, which is much less energy consuming and, therefore, environmentally friendly.
Bitcoin maximalists, such as Max Keiser, keep slamming Ethereum for it, calling it a "centralized scam."
After the Shanghai upgrade, whose launch is due in February, withdrawals from the Ethereum 2.0 deposit contract will open, so many expect stakers to withdraw a massive amount of Ether from it.
This may lead to another big plunge in price. As reported by U.Today over the weekend, several anonymous whales bet on ETH to hit $400 by the end of June. So they bought 26,000 ETH put options at the strike price (at which they can sell ETH even if it drops lower) of $400.