After a few days of staying deep below zero in the red, the SHIB burn rate has finally demonstrated a substantial rise, according to data shared by the Shibburn explorer. The price of the second largest meme coin has also shown a mild increase overnight.
SHIB burn rate up over 1,800%
Data gained from the Shibburn website indicates that within the past 24 hours, the Shiba Inu community has managed to get rid of 50,258,924 SHIB in total. That comprised stash of meme coins is worth merely $378.
There have been four burn transactions in all, with the two largest ones carrying 27,502,303 SHIB and 12,034,353 SHIB to dead-end wallets. As for the past seven days, the community succeeded in burning a total of 638,400,947 SHIB. That is more than 37% percent fewer destroyed tokens than a week before.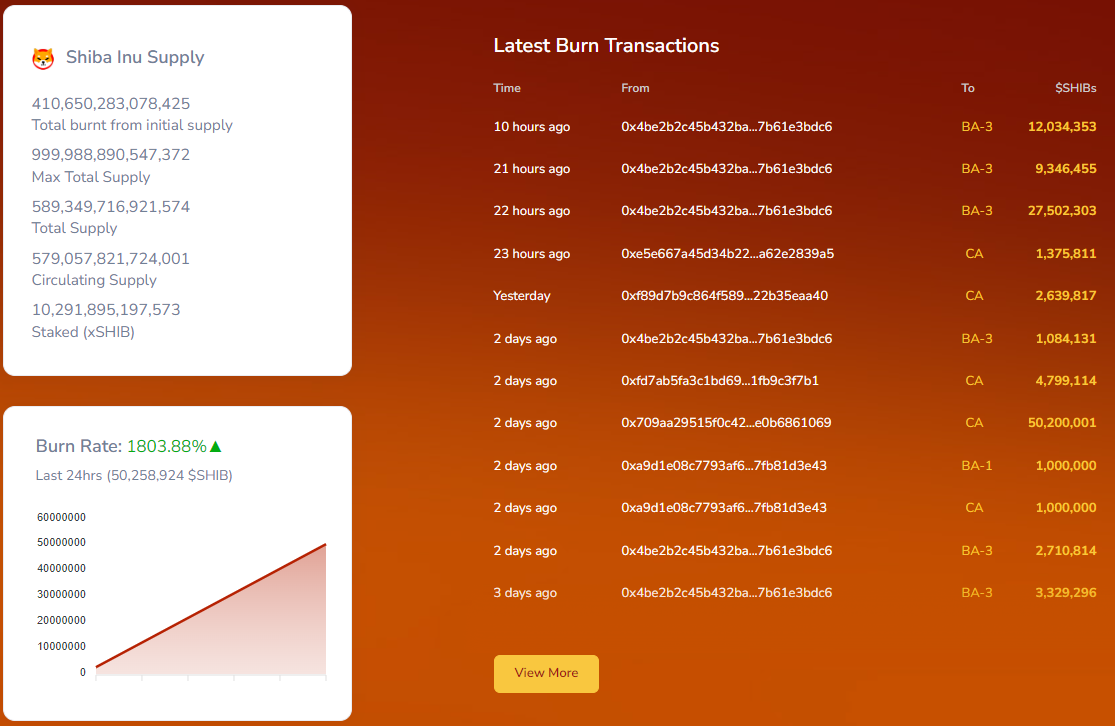 Burns are a popular practice in the crypto world now, and they imply that the community and developers regularly, or from time to time, send coins to wallets, from where this crypto cannot be spent or withdrawn at all.
The long-term goal of this is to gradually reduce the circulating amount of coins (SHIB, in this particular case) in order to make it more scarce and eventually to attempt to drive its price upward.
Shibarium reaches new milestones, SHIB price surges
According to Puppyscan, the Shibarium testnet known as Puppynet has seen an increase in both performed transactions and connected wallet addresses.
Over the past few days, Shibarium beta has seen a massive boost in transaction count. Earlier, U.Today reported that it had added around a million transactions in merely two days, hitting 25 million.
Now, the transaction count has surged by a few hundred thousand units and reached 25,665,558 in total. As for the wallets linked to Puppynet, their number has also risen substantially and reached the 17 million milestone. There are now 17,005,447 wallets connected to Shibarium.
As a reaction to this and to other factors, the price of SHIB has finally turned green and started to show growth. Per data shared by CoinMarketCap, within the last 24 hours, the prominent dog-themed meme coin rose by 3.21%. At the time of this writing, SHIB is changing hands at $0.000007516.