Crypto blogger Jeremie Davinchi has posted a tweet to pick the brains of the army of his followers regarding the real personality of the mysterious Bitcoin creator known as Satoshi Nakamoto.
He shared his view of this long-going discussion topic, whether it was one person or a group. Among his followers, there were quite a few who shared a classic opinion on who Satoshi may have been in real life.
Was Satoshi one person or a group? Here's what Davinci and community think
Davinchi mentioned that Bitcoin code is so complex and ingenuine that many believe that this could be a "group effort".
In response, many commentators wrote that they believe it was famous computer scientist Hal Finney, who passed away in late August 2014 from amyotrophic lateral sclerosis and the complications caused by it.
He was the first recipient of 50 BTC which was sent to him by Satoshi to test the very first peer-to-peer transaction. However, many believe that Finney himself was the mysterious Bitcoin creator.
Is Satoshi Nakamoto an individual or a collective of brilliant minds? The complexity and ingenuity of the #Bitcoin code have led many to entertain the possibility of a group effort. What do you think? 🤔

— Davinci Jeremie (@Davincij15) July 31, 2023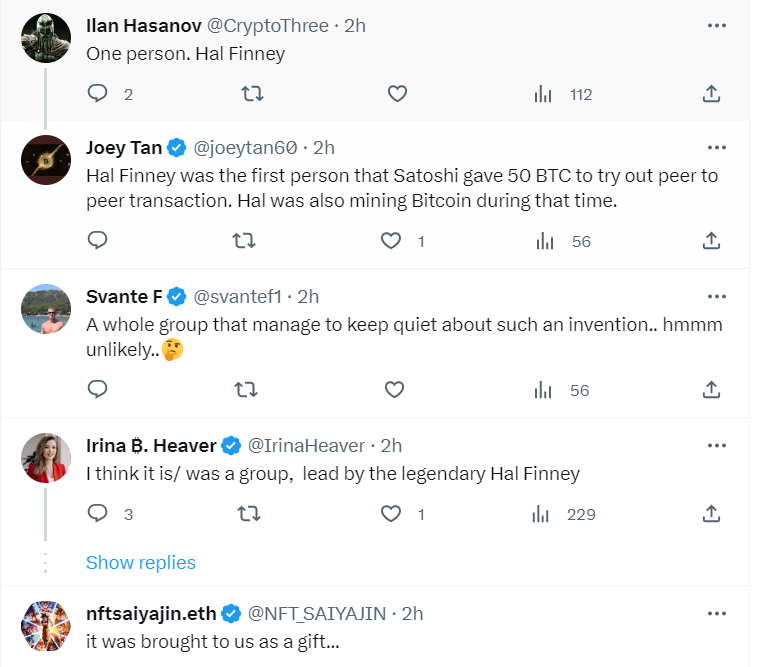 Some in the comment thread, shared they believe it was either Finney alone or a group of developers led by him. One Twitter user even wrote he believed Bitcoin could be created by the US government.
Was Steve Jobs Satoshi Nakamoto?
Earlier this summer, the community had heated discussions about whether Steve Jobs could have been Satoshi, since the Bitcoin white paper was found within the operational system of Macs.
In December this year, Ripple CTO David Schwartz put an end to the speculations whether it was he who created Bitcoin – he stated that he only learned about BTC in 2011, whereas Satoshi disappeared in 2010.