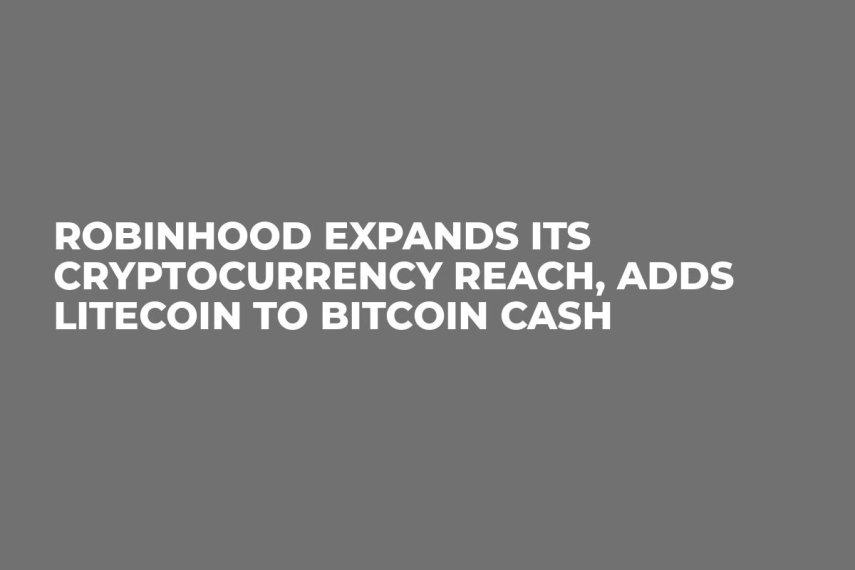 Cover image via U.Today
Robinhood, a stock buying app that is popular with younger investors, made waves a few months back when it announced its way in the the cryptocurrency space with zero transaction fees.
Now, the trading platform is expanding its reach after starting with Bitcoin and Ethereum. It has recently added both Litecoin and Bitcoin Cash to its stable. However, its reach remains limited to a few states in the USA.
Stable coins
Robinhood, as a company that is not 100 percent crypto facing, having made its name as an offering for young investors to buys stocks, has added these latest coins in a move that will be considered safe by many.
The company broke new ground when it announced that users could buy Bitcoin and Ethereum with zero fees as it was happy to take on the extra costs in order to pick up new users. Now, in an ecosystem that is lagging a bit, it has expanded its reach.
The decision to add Litecoin and Bitcoin Cash is not surprising as the currencies come with little regulatory risk, based on recent guidance from the SEC. Both of these cons have made it past the regulators definition of securities as they are quite decentralised.
Making customers
This latest move, to diversify, will no doubt help Robinhood in their mission to pick up more customers as they have categorically stated that they are happy to not make money off crypto - yet.
Adding Litecoin and Bitcoin Cash adds two coins that are aimed at operating more like digital cash than others. And, by offering these with low fees, Robinhood could well pick up customers that have had their aversion to the traditional coins like Bitcoin.