The XRPL Monitor bot has noticed several gargantuan fund transfers over the past twenty hours. The biggest of them was made by Ripple's ODL corridor BitStamp – 143 mln XRP.
Ripple itself also wired a substantial amount of its cryptocurrency. All in all, the amount of transferred XRP, considering other transactions, totals 188 mln XRP.
Bitstamp wires almost 143 mln XRP, Ripple sends more XRP
According to data shared by XRPL Monitor, around twenty hours ago, the XRP/EUR ODL corridor running on the Luxembourg-based Bitstamp exchange wired 143 mln XRP. That is $28,070,835.
Transaction Type: Payment
Amount: 119,999,900 XRP
Fee: 10 drops (0.00001 XRP)
Sender: rKUy1Ew9VrA8YNm5ArgKup2E6iAwE1iMyC
Sender Balance: 28,791,566.954323
Receiver: r48vdi2bCvEgKiGBby5adQwmxL4sEgSrXh
Receiver Balance: 179,690,020.000846
Link: https://t.co/0o3QAkPhXh

— XRPL Monitor (@XRPL_Monitor) May 27, 2020
Transaction Type: Payment
Amount: 23,000,000 XRP
Fee: 10 drops (0.00001 XRP)
Sender: rJYN9HpJrr2g1Krwjmdsuy53SLh52XuHv2
Sender Balance: 151,103,718.77585
Receiver: rM8u1fULBaRTA2KkdEgKhduvJQ4dMxnv46
Receiver Balance: 32,577,438.679147
Link: https://t.co/dg8NK4Fn3W

— XRPL Monitor (@XRPL_Monitor) May 27, 2020
A while after that, the blockchain decacorn Ripple, with headquarters in San-Francisco, made three transfers of 10 mln XRP each. In total, 30 mln XRP equals $5,869,682.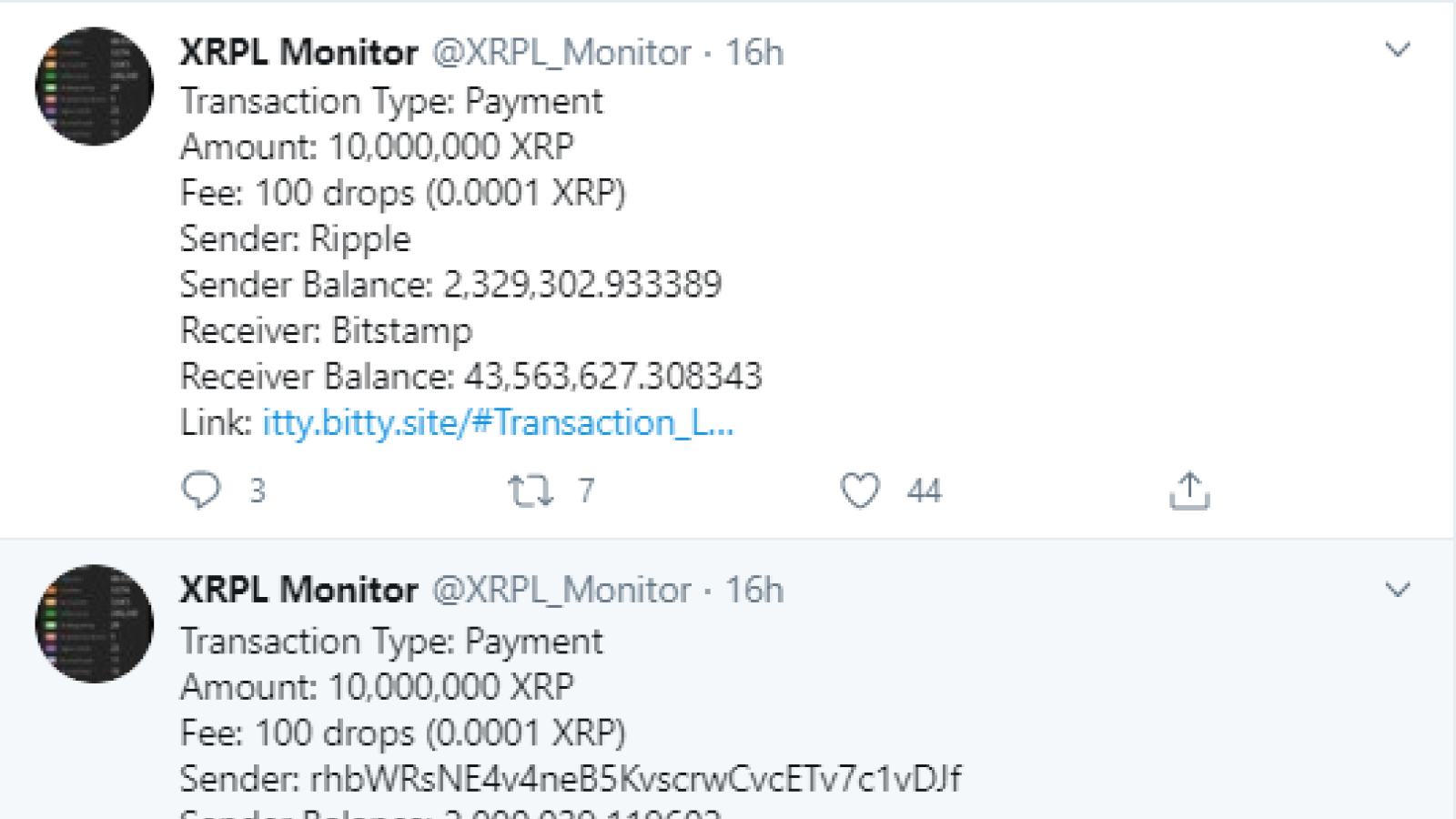 10 mln XRP of this was sent to Bitstamp.
The XRP Liquidity Indexes come close to new ATHs
The Twitter bot reports that the XRP liquidity values in some of the ODL corridors have come close enough to exceeding the current all-time highs and reaching new ones.
The current figure of the liquidity index on the XRP/AUD corridor on the BTC Markets venue totals 13,547,345 versus the present ATH of 14,427,181.
The liquidity index of XRP on the Mexican Bitso corridor (XRP/MXN) is now sitting at the 31,930,454 level versus the present all-time high of 33,537,077.
Liquidity Index for Bitso XRP/MXN (28-day moving trend)
Day progress: 29%
Today so far: 31,930,454
All Time High: 33,537,077
Data: https://t.co/v07j0Xh3s1 pic.twitter.com/9iIPxbja7w

— Liquidity Index Bot (@LiquidityB) May 28, 2020