Ripple (XRP) in March moved in a tight trading range with low-high prices of $0.2966-$0.3315. In our previous article about Ripple Price Prediction for March 2019 our key theme to focus on was a potential breakout. This only happened on April 2, 2019.
Bitcoin rally and breakout also moved many other cryptocurrencies higher.
Can this crypto market rally continue for Ripple in April 2019? Ripple Price Prediction for April 2019 will mention our technical analysis forecast, and some price forecasts by online sources to consider them as potential price targets.
Ripple Price Year-To-Date Performance and Key Statistics
As of April 5, 2019, Ripple has a price of $0.3626, and a year-to-date performance of - 5.0%.
· It has the third rank on CoinMarketCap in terms of top 100 cryptocurrencies measured by market capitalization, same as in March 2019
· Market Capitalization: 14.61 Billion and Circulating. Supply: 41.74 Billion
· Volume: 2.42 Billion, Maximum Supply: 100.00 Billion
· 52 Week Low-52 Week High: $0.2478-$0.9608
Source: Business Insider
Ripple price prediction April 2019
What are some Ripple price prediction ranges from online sources for April 2019? The recent rally for Ripple (XRP) should be monitored as it could have an impact on the forecasts as market conditions have changed.
LongForecast has the following Ripple price prediction for April 2019. An open price of $0.31, a low-high range of $0.31-$0.43 and a close price of $0.38 for a total monthly return of +22.6%.
PrevisioniBitcoin estimates that in April 2019 Ripple will have a minimum price of $0.33, in March the minimum price was $0.30. The long-term forecast for the rest of 2019 is also optimistic for higher prices.
BeingCrypto updated the Ripple (XRP) forecast after the rally on April 2, 2019. Their forecast is that "Combined with other technical indicators, we predicted that XRP will trade between $0.3 and $0.44 throughout April; however, we believe that consolidation between $0.3 and $0.36 is likely by the end of the month."
WalletInvestor provides a range of values as a forecast for Ripple price this month. Its Ripple price prediction is that XRP price target in 14 days will be $0.33 on the upside and $0.32 on the downside.
CryptoTreat has the following Ripple predictions for April 2019, which are too optimistic and as of current price unrealistic. An open price of $2.2126, a close price of $2.2860, a minimum price of $2.2087 and a maximum price of $2.2869. These Ripple price prediction ranges confirm our thesis that any price prediction attempt should be taken with a large degree of uncertainty, and not as investment recommendation.
Ripple price prediction April 2019 – Technical analysis scenarios
We will mention our two technical analysis for Ripple and our forecast for its price in April 2019 mentioning again that this is not an investment recommendation. Our Ripple price prediction for April 2019 start with the daily and weekly charts.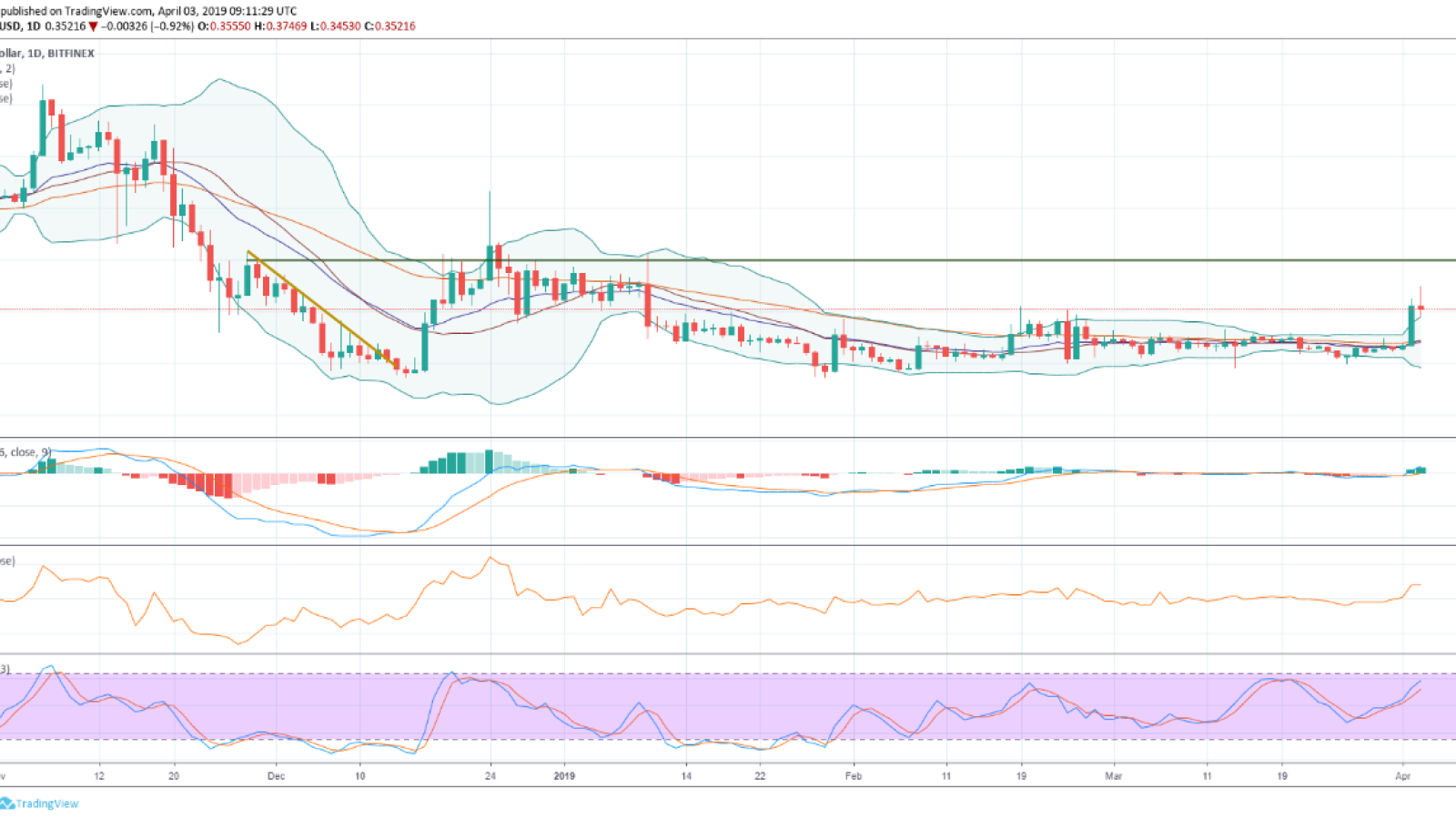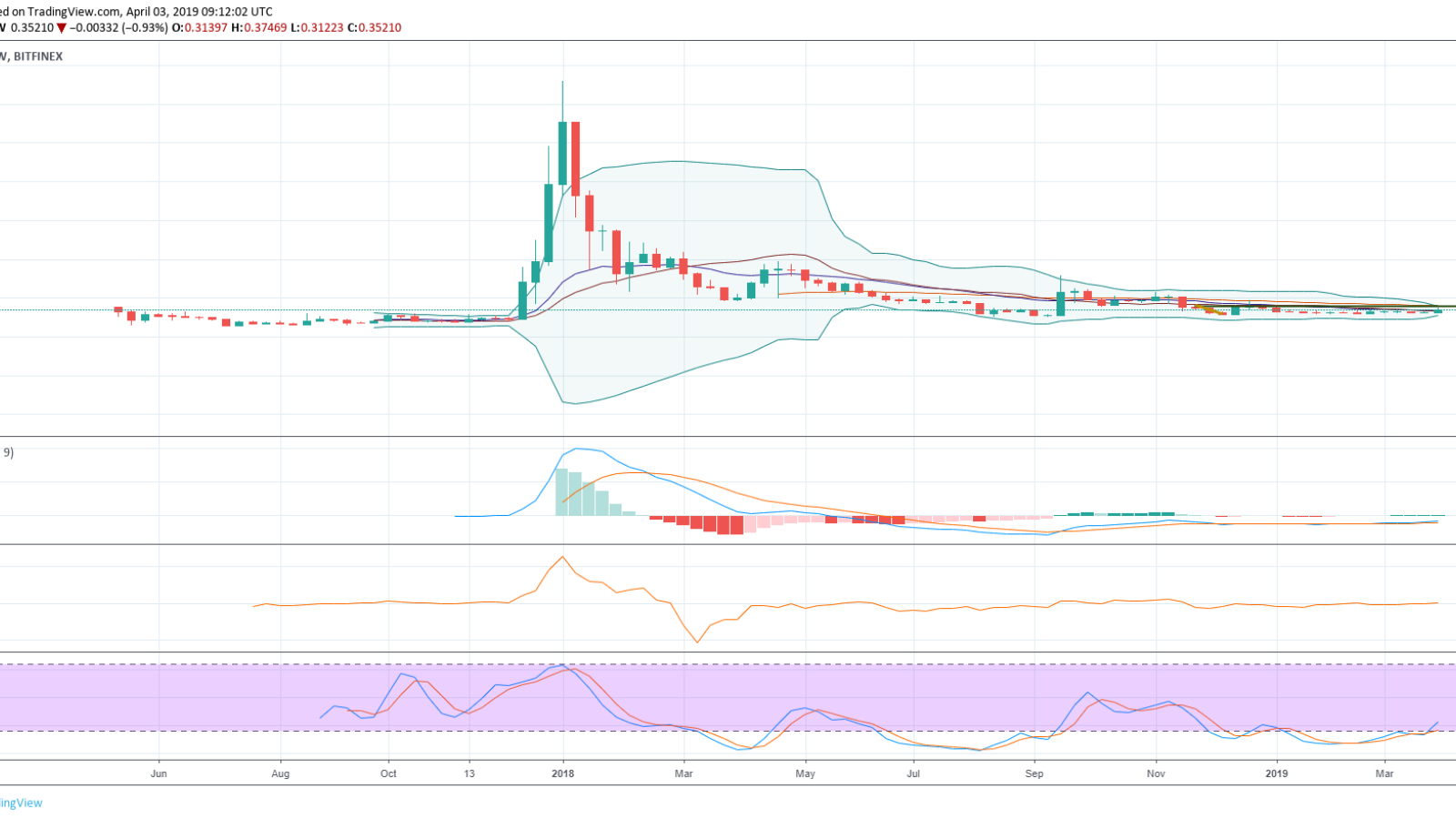 Ripple price prediction optimistic scenario
Ripple (XRP) made a breakout on April 2, 2019. Can this be sustainable? There is strong support at the price levels of $0.2940, $0.3030, and $0.2858. Now previous strong resistance at $0.33 should be a strong support. An interesting fact to monitor is the strength of the trend which is is weak despite the breakout.
This could mean that there could a consolidation phase and not any immediate move to higher prices. The lower daily Bollinger band at $0.2940 should also act as a strong support. Our upside target is $0.39-$0.42. The weekly chart shows a bullish Stochastics indicator crossover and the upper Bollinger band is at $0.3945.
Ripple price prediction pessimistic scenario
If a bullish breakout does not continue, then logic says either there will be a consolidation, or the rally will fade. Higher prices for Ripple in April 2019 have several strong resistances ahead. There is strong resistance at the price levels of $0.36, $0.3736, $0.3860 and $0.40Both 20-day and 50-day exponential moving averages are increasing, but as of April 3, 2019 the formation of a doji candlestick shows indecision about the price.
Ripple moved as high as $0.3757, found resistance and sellers pushed price lower to the price level of $0.3493. On the weekly chart the level of $0.38 is a very strong resistance. If selling pressure resumes, then some target prices would be $0.34 and $0.3026.
Ripple price prediction April 2019 conclusion
Ripple made a breakout on April 2, 2019. But we are not convinced yet that there is more room for immediate higher prices. The optimistic scenario is supported based on current market conditions. In general, we believe that Ripple may consolidate in the price range of $0.32-$0.38 in April 2019. A breakout needs some fundamental reasons to have credibility. In the next days we will find if the recent rally was a speculative one, or some fundamental news will support the price of Ripple to higher or lower levels.