Ripple (XRP) in February moved in a tight trading range of about $0.29-$0.355. In our previous article about Ripple Price Prediction for February 2019 we wrote that a downtrend is the dominant trend, which is losing momentum though, and we proved to be correct due to the range-bound price action. What can Ripple do in March 2019? Our Ripple Price Prediction for March will mention our technical analysis estimate, and some price forecasts by online sources to consider as potential price targets.
Ripple Price Year-To-Date Performance and Key Statistics
As of March 5, 2019, Ripple has a price of $0.3051, and a year-to-date performance of -17.25%.
It has the third rank on CoinMarketCap in terms of top 100 cryptocurrencies measured by market capitalization
Market Capitalization: 12.62 Billion and Circulating. Supply: 41.43 Billion
Volume: 571.35 Million, Maximum Supply: 100.00 Billion
52 Week Low-52 Week High: $0.2478-$1.0835
Ripple price prediction March 2019
What are some Ripple price prediction ranges from online sources for March 2019?
LongForecast has the following Ripple price prediction for March 2019. An open price of $0.32, a low-high range of $0.25-$0.33 and a close price of $0.31 for a total monthly return of -3.1%. this forecast suggests that a range-bound price action for Ripple many continue in March 2019.
PrevisioniBitcoin estimates that in March 2019 Ripple will have a minimum price of $0.30.
WalletInvestor provides a range of values as a forecast for Ripple price this month. Its Ripple price prediction is that XRP price target in 14 days will be $0.339 on the upside and $0.310 on the downside. The downside predicted value is almost the same with the minimum price forecast by PrevisioniBitcoin. WalletInvestor has a forecast trend line which is rising and is higher than the current price line. This indicates a level of optimism for higher prices this month.
CryptoTreat has the following Ripple predictions for March 2019, which are too optimistic and as of current price unrealistic. An open price of $2.134532, a close price of $2.212322, a minimum price of $2.117962 and a maximum price of $2.220322. These Ripple price prediction ranges confirm our thesis that any price prediction attempt should be taken with a large degree of uncertainty.
Ripple price prediction March 2019 – Technical analysis scenarios
We will mention our two technical analysis for Ripple and our forecast for its price in March 2019 mentioning that this is not an investment recommendation. Our Ripple price prediction for March 2019 start with the daily and weekly charts.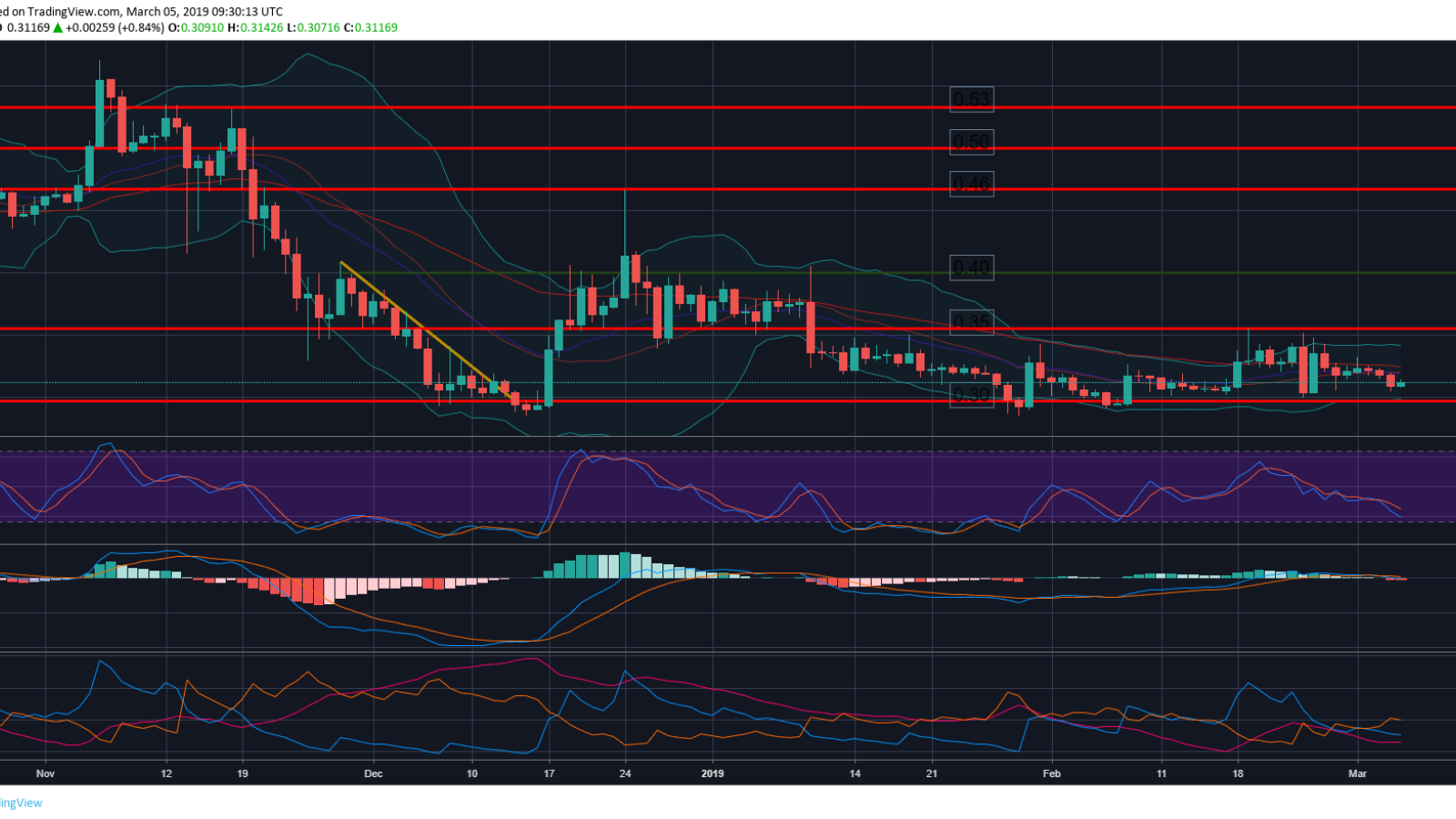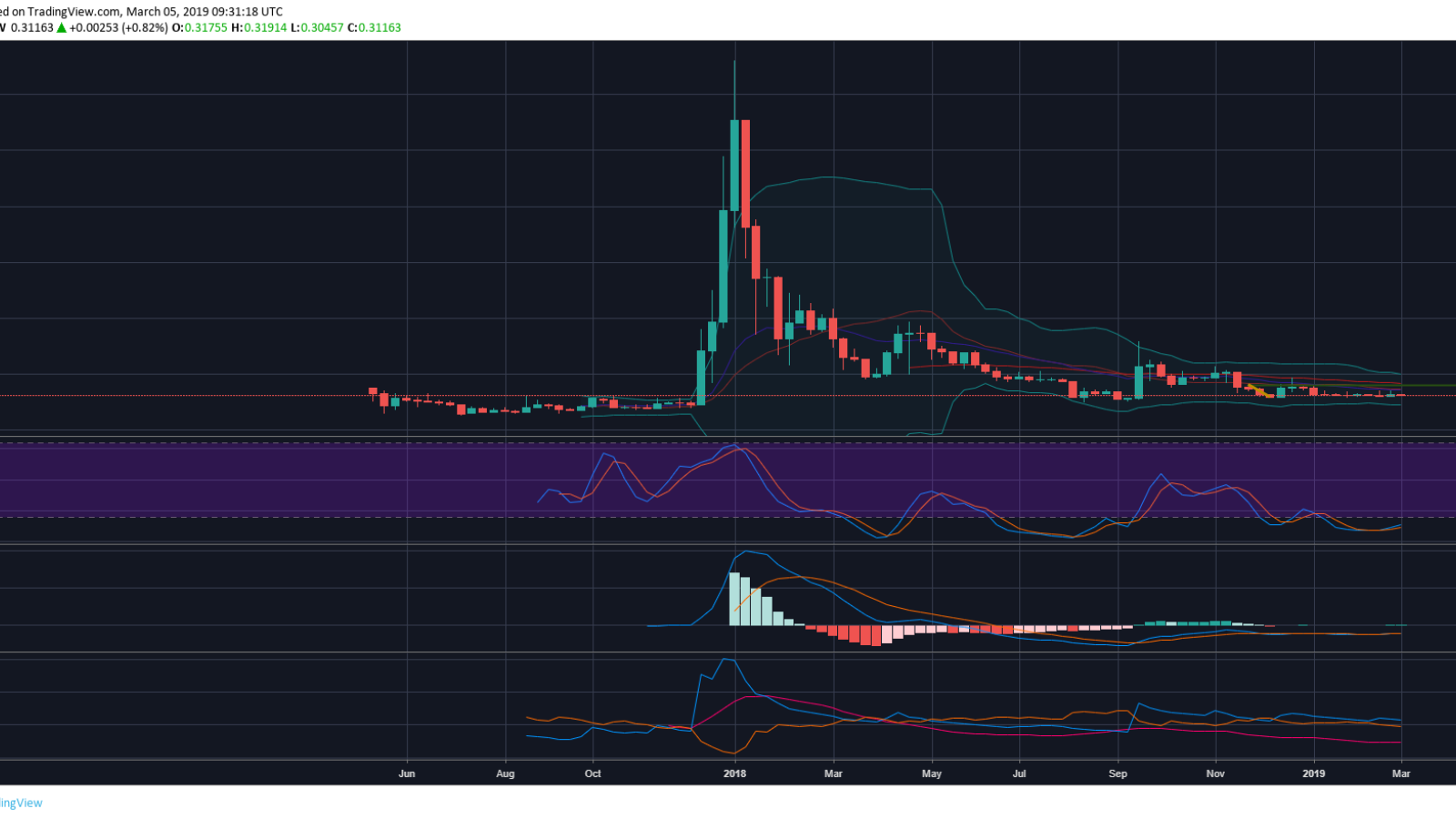 Ripple price prediction optimistic scenario
Ripple (XRP) has formed a bottom at $0.2940 on February 7, 2019 and ever since it makes higher highs and higher lows. There is strong support at the price levels of $0.2940, $0.3030, and $0.2858. The strength of the trend is weak and the strong support at $0.3030 may be tested again. The lower daily Bollinger band at $0.2970 should also act as a strong support.
Our upside target is $0.3420, which coincides with the upper daily Bollinger band and a very strong resistance level. The weekly chart shows a bullish Stochastics indicator crossover and strong support near the price level of $0.3014.
Ripple price prediction pessimistic scenario
We mentioned some bullish or optimistic notes above. Still we are not convinced that higher prices could occur for Ripple in March 2019. Both 20-day and 50-day exponential moving averages are declining. The recent strength of the trend measured by the ADX/DMI indicator is very weak, but the -DI line is above the +DI line, confirming the fact that the dominant trend is a downtrend, without being strong though.
The MACD indicator is flat, and the Stochastics indicator on daily chart has not made any bullish crossover. The price level of $0.3515 is a very strong resistance level, tested several times before. Other strong levels of resistance are $0.3180, $0.33 and $0.3425. On the weekly chart the level of $0.3180 is a very strong resistance. If selling pressure resumes, then some target prices would be $0.2955 and $0.2865.
Ripple price prediction March 2019 conclusion
Ripple has for now a price action that can be expressed as indecision, with a high degree of uncertainty. The trading range which started in February 2019 may lead to a breakout this month. The real question is will it be an upside breakout or a downside breakout? We cannot predict this. We can predict is though that long phases of consolidation in many cases lead to large price moves. If a breakout is to occur this month then Ripple should move higher than$ 0.35 or lower than $0.29.