Referral programs are nothing to be surprised at, those are standard mechanisms to attract more customers through the existing ones.
Most frequently, this method is used by Ponzi schemes. However, it is not only their makers that what to attract as many clients as possible. Binance, the biggest global crypto exchange by the daily trading volume, also runs a referral program that allows its customers to bring in new clients and then get a share of the trading fee.
One of properly manufactured ads, offering to open a free account with Binance via a referral ID was found in a public toilet and a photo got posted on Reddit. The city or even the country was not mentioned.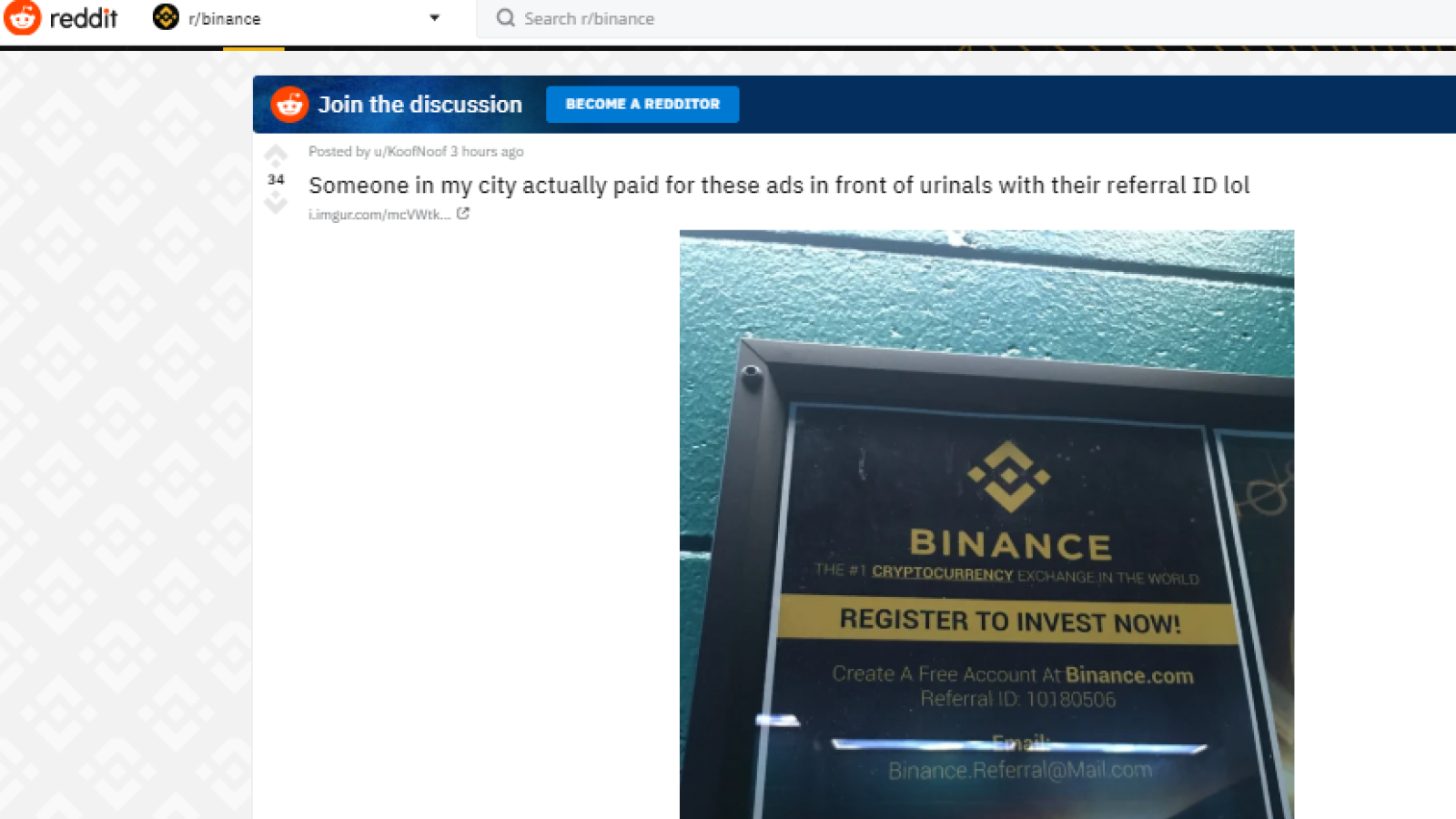 Redditors' reaction
The photo provoked a curious discussion among redditors, in which some just laughed that whoever did this has wasted their money. Others, on the contrary, believe that this could be the perfect way to get new people to register on Binance – since public toilets are visited frequently and on a regular basis, thus making it a great place for advertising a crypto exchange which is already world famous among the crypto community members.
Some were surprised that it was Binance, not Tron (TRX), placing their ad at such a peculiar spot. Tron has been famous for a mega large PR company in 2018 that allowed it to move from the end of top-50 coins' list to just number 10 and hold there. As per Justin Sun, in 2019, he intends to move TRX inside the top-four line of crypto assets.
Binance referral scheme
The referral program of the exchange was launched at the end of May 2018 and it offers landing new customers through personal referral IDs and QR-codes. In return, the program participator is to get 20 percent of the trading fees that the new customer pays. Those may, however, increase to as much as 40 percent. The fee is to be paid out in the coin which was used for covering that fee in the first place.
The Binance team states that these new accounts will be thoroughly checked. Fake accounts will be shut down, the reward not paid and the players who supposedly brought the fake traders in can even be disqualified.
Binance Coin in the market today
Presently, Binance Coin (BNB) is holding on position #14 among the top-20 crypto asset list. Its market cap at press time is $802 263 381. BNB is going for $6.13, having shown a rise by 2.47 percent over the last 24 hours.