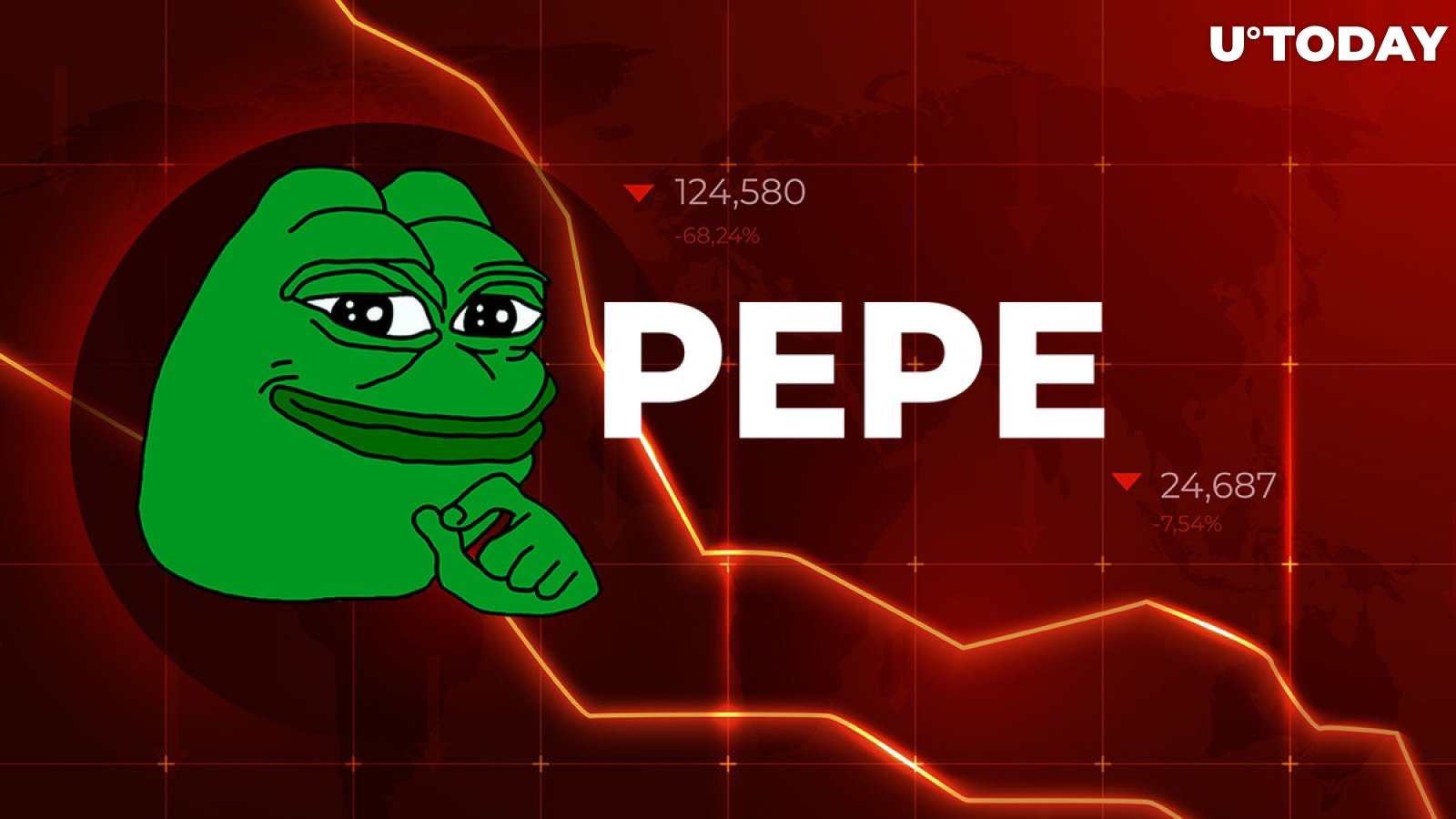 Cover image via www.freepik.com
The frog-themed cryptocurrency Pepe (PEPE) saw a significant sell-off toward the weekend after concerns emerged about a 16 trillion token sale by its developers.
PEPE fell by over 20% for two consecutive days spanning Aug. 24 and 25 before slightly rebounding to where it trades. At the time of writing, PEPE was marginally down 0.51% in the last 24 hours to $0.00000089.
On Aug. 24, a sequence of transactions from the PEPE multisig CEX wallet occurred, resulting in the transfer of 16 trillion PEPE tokens worth almost $15 million to four crypto exchanges, notably OKX, Binance, KuCoin and Bybit, and the needed signer count was dropped to 2/8 wallets.
This meant that instead of requiring five out of eight wallets to approve transactions, only two out of eight were required.
an announcement to the $PEPE community:

Yesterday on August 24th, 2023, a series of unexpected transactions took place from the $PEPE multisig CEX
Wallet in which ~16 Trillion $PEPE tokens (worth roughly $15m USD) were transferred to various crypto exchanges (OKX, Binance,… pic.twitter.com/iZmXV1TAvw

— Pepe (@pepecoineth) August 26, 2023
According to the official PEPE X account, the project has been plagued by internal strife since its inception, with some of the team being bad actors led by big egos and avarice.
16 trillion tokens stolen by PEPE bad actors
PEPE stated that this internal conflict led the majority of the team involved in PEPE's creation to begin to distance themselves after the first week of its inception.
This category of individuals, it stated, impeded the team's progress on making donations or purchases with multisig tokens owing to an inability to sign and being unavailable to contact for weeks at a time.
Noting that the multisig wallet was set up to require 3/4 signers to be present for approval, three team members went into the multisig wallet without the consent of others and stole 16 trillion PEPE tokens, or 60% of the 26 trillion multisig tokens, and transferred them to exchanges for sale. The CEX-wallet tokens were never intended to be traded or sold for profit by the team.
The majority, if not all, of the tokens stolen from the multisig were reportedly swiftly sold on OKX and Binance. These bad actors then removed themselves from the multisig in an attempt to disassociate themselves from PEPE, erasing all of their social accounts in the process.
PEPE regrets the fear and uncertainty, as well as any losses caused by the bad actors' actions, and assures that the remaining 10 trillion tokens in the multisig are in safe hands, as they have been transferred to a new wallet where they will safely rest until use or burn arises.