Largest holders of ARB tokens and contributors to ArbitrumDAO decided not to return 700 million ARB tokens to the DAO treasury. AIP 1.05 progress reflects the conflict between the groups of large and small Arbitrum (ARB) holders.
Arbitrum (ARB) holders opposed AIP 1.05: What does this mean?
Arbitrum Improvement Proposal (AIP) 1.05 is slated to fail as 84% of voters decided to vote against its implementation. Such results were registered by the snapshot taken today, April 15, 2023, at around 4:52 a.m. (UTC) on Arbitrum's (ARB) block 78,163,289.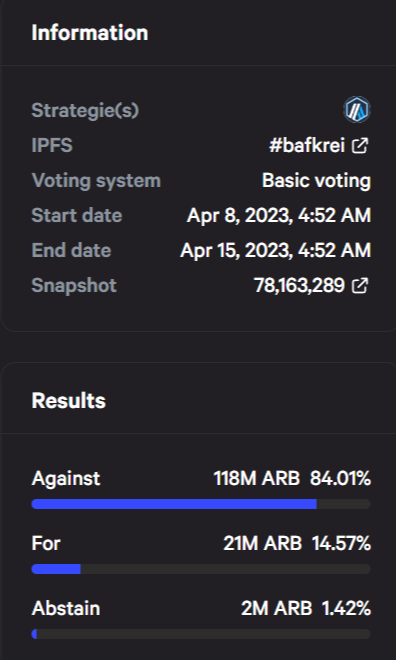 As such, holders of over 118,000,000 ARB tokens blocked the approval of AIP 1.05, saying they do not want a monstrous 700 million ARB stake (over $1.16 billion in equivalent) to be returned to the treasury.
It is obvious that the largest ARB holders ("whales") were the ones who blocked the proposal. Out of 118 ARB belonging to the opponents of AIP 1.05, almost 60% is stored on just five wallets.
During the first days of the voting procedure, when the small holders voted, the decision to approve AIP 1.05 was leading by a 65% majority. However, once whales came, the situation changed.
As covered by U.Today previously, the decision to voluntarily distribute hundreds of thousands of ARB tokens enraged all groups within the Arbitrum (ARB) community. To address these concerns, Arbitrum Foundation reconsidered the agenda of its first AIPs in a more inclusive and democratic manner.
Whales slammed the proposal, here's why
The largest ARB holders who are in charge of preventing AIP 1.05 from being approved, shared their opinions about the role of this referendum. Crypto influencer Chainlink God, who backed his "nay" vote with 4.8 million ARB, becoming the fifth largest whale of the voting, described the proposal as a dangerous "power play":
I see this proposal bringing little to no benefit in the best case, and introducing unnecessary risk and costs to the DAO and the Foundation in the worst case. I believe the best action to take is to move forward, align on how the funds should and can be used going forward (AIP-1.1), rather than engaging in a power play move over past actions
Seasoned Ethereum (ETH) enthusiast Mike Abundo stressed that the blocking of AIP 1.05 is designed to prioritize long-term goals over short-term ones:
By defeating AIP 1.05, the Arbitrum community chooses long-term ecosystem development over short-term financial gain
The second largest opponent of AIP 1.05, pseudonymous Ethereum (ETH) researcher and educationist Olimpio Crypto opined that he backed its veto with 18 million ARB due to centralization concerns:
Arbitrum took a big step with the Arbitrum DAO having direct on-chain governance power, without the need for a third party to execute AIPs
As of printing time, Arbitrum (ARB) is changing hands over $1.66, being 6.8% up in the last 24 hours.