American publicly traded trading platform Coinbase Global Inc has been dragged into a new class action lawsuit for failing to issue two airdrops featuring Flare Network's native token, FLR and the associated Songbird (SGB) token. The lawsuit was filed with the United States District Court of the Northern District of California.
According to the complaint filed by HODL LAW CALI, the representative of the plaintiff, Dallas Woody, and others who may join in, Coinbase has failed in its promises to participate in the Flare Network airdrop, as it announced back in December 2021.
The plaintiff posited that the Flare Network airdrop was billed to be distributed to every XRP holder based on a snapshot of account balances. The modalities were such that the Songbird token would be distributed first before FLR tokens are deposited for all users.
Per the accusation, despite Coinbase exchange receiving the distribution of both SGB and FLR tokens prior to the distribution of the latter on Jan. 9 of this year, the trading platform has refused to distribute it to all eligible customers.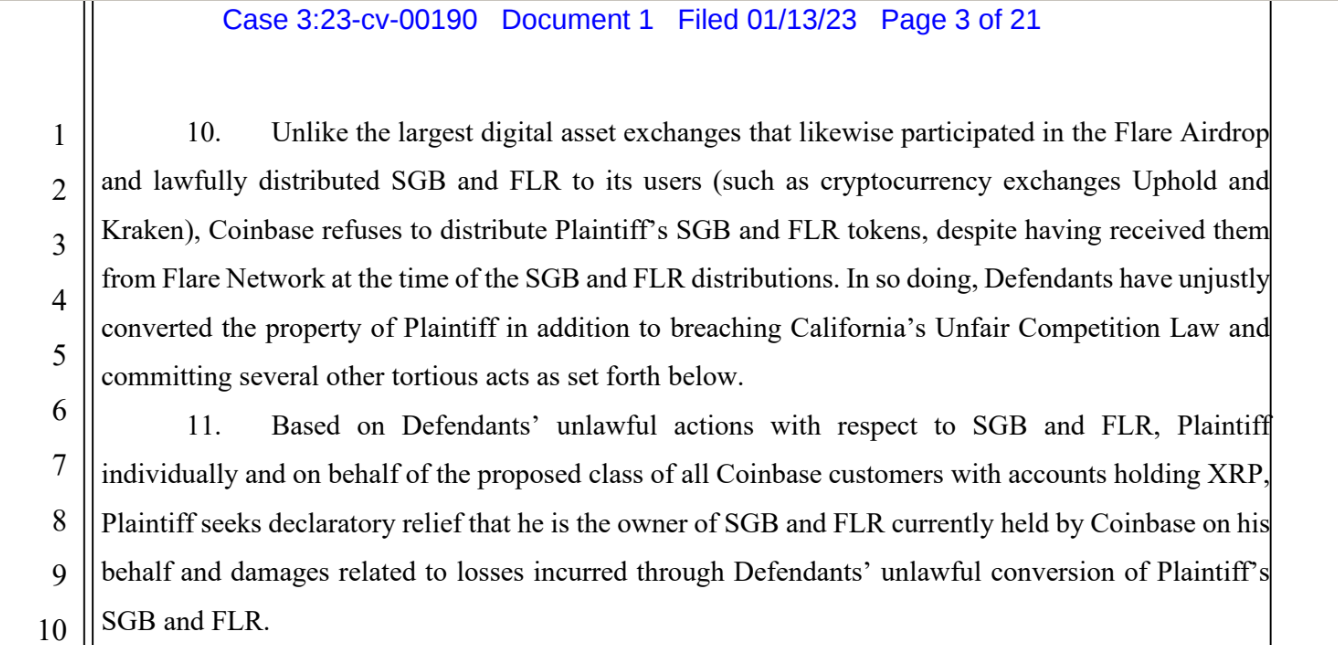 Plaintiff's demands of Coinbase
As detailed in the complaint, other exchanges have distributed their received FLR and SGB tokens to eligible users, and the delay or failure of Coinbase to do this at the right time has cost customers some losses. The defendant is request ING that the court force Coinbase to credit users their tokens and also pay for losses they may have incurred.
The Flare Network airdrop is one of the most acclaimed in the digital currency ecosystem in recent times, with many trading firms pledging support. Despite exchanges like Binance participating, the Flare Token recorded a significant plunge as many beneficiaries sold off the tokens as fast as they got them.
The price actions that succeeded in the airdrop drew criticism from Ripple CTO David Schwartz. The coin is currently trading at a price of $0.000419, atop a 6% plunge over the past 24 hours.