American banking giant Morgan Stanley recently compared the performance of Bitcoin (BTC) to that of Tesla (TSLA).
As the chart below shows, they have been trading virtually in lockstep over the past year.
The Tesla stock has shed roughly $500 billion of its market cap over the past two months alone.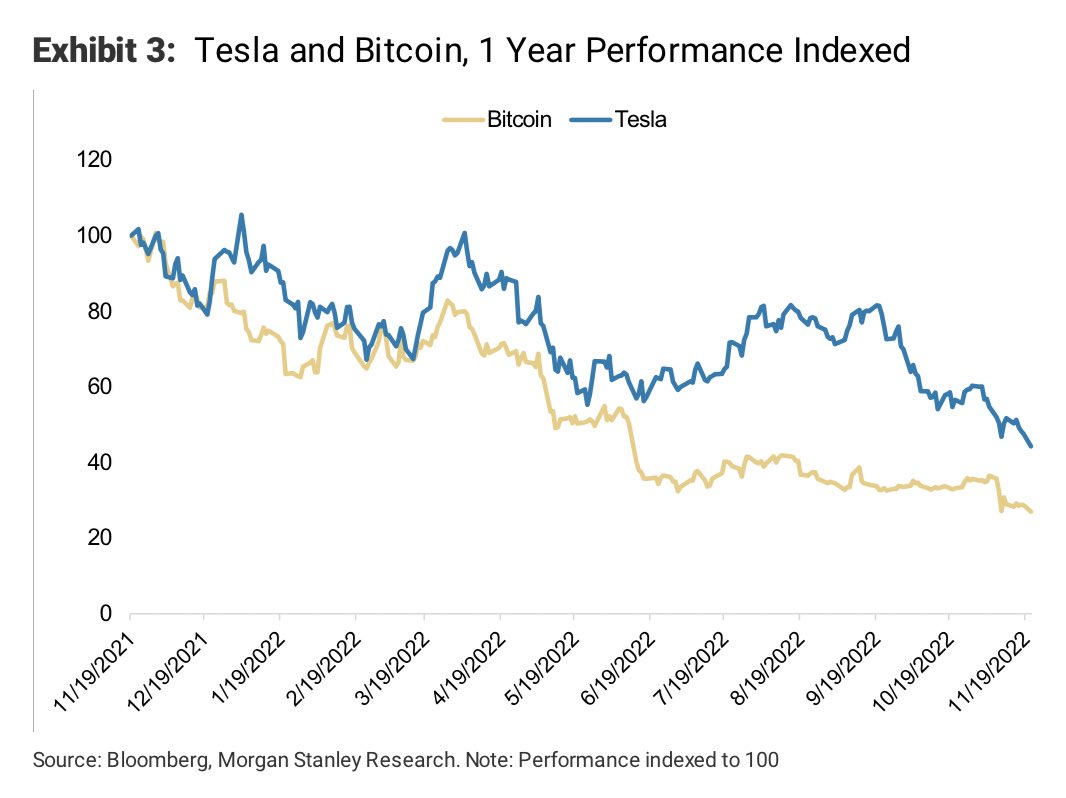 The half-a-trillion-dollar beatdown has taken a toll on the net worth of CEO Elon Musk, who is now on the verge of slipping below French fashion tycoon Bernard Arnault on the list of the wealthiest people in the world.
Musk, who has been busy amplifying far-right propaganda on Twitter after taking over the social media platform, has cast a negative light on Tesla.
As Morgan Stanley points out, the Twitter debacle has potentially exposed several areas of the economy to risk, including consumer sentiment, commercial partnerships, capital market support and government relations.
Some experts believe that Tesla's directors may be pressured to rein in the chief executive. The e-car maker's board has been routinely criticized for lacking independence from Musk.
Now that Tesla has lost the equivalent of three Disneys and four Nikes in just a year, the company's future has been called into question.
So far, Morgan Stanley maintains a somewhat optimistic view, arguing there must be some form of sentiment change around the Twitter crisis that would allay shareholder concerns.
Citi, another prominent bank, argues that the stock offers a balanced risk-reward trade at the current price.
TSLA is down 60% from its record peak. Meanwhile, BTC is down 76.21%.