In a surprising twist, Luna Classic (LUNC), the original token of the Terra ecosystem, experienced an unexpected price spike recently, a rare occurrence considering the token's sustained downtrend since September 2022. However, the joy was short-lived as it quickly gave up its gains and fell by 14%.
The rollercoaster ride for LUNC tokens brought back memories of the dramatic collapse of Terra's original Luna token back in May 2022. Once counted among the top 10 largest cryptocurrencies, Luna and its stablecoin, UST, saw their value plummet, wiping out almost $45 billion of market capitalization within a week. UST, initially pegged 1:1 to the U.S. dollar, plunged to 10 cents, while Luna sunk to near-zero, a stark contrast from its all-time high of $119.51.
Several factors, including mass withdrawals from the Anchor Protocol, broad investor apprehension about cryptocurrencies and a Bitcoin price drop, precipitated the crisis. Amid the chaos, holders converted Terra into Luna, leading to a supply glut that further depressed Luna's price.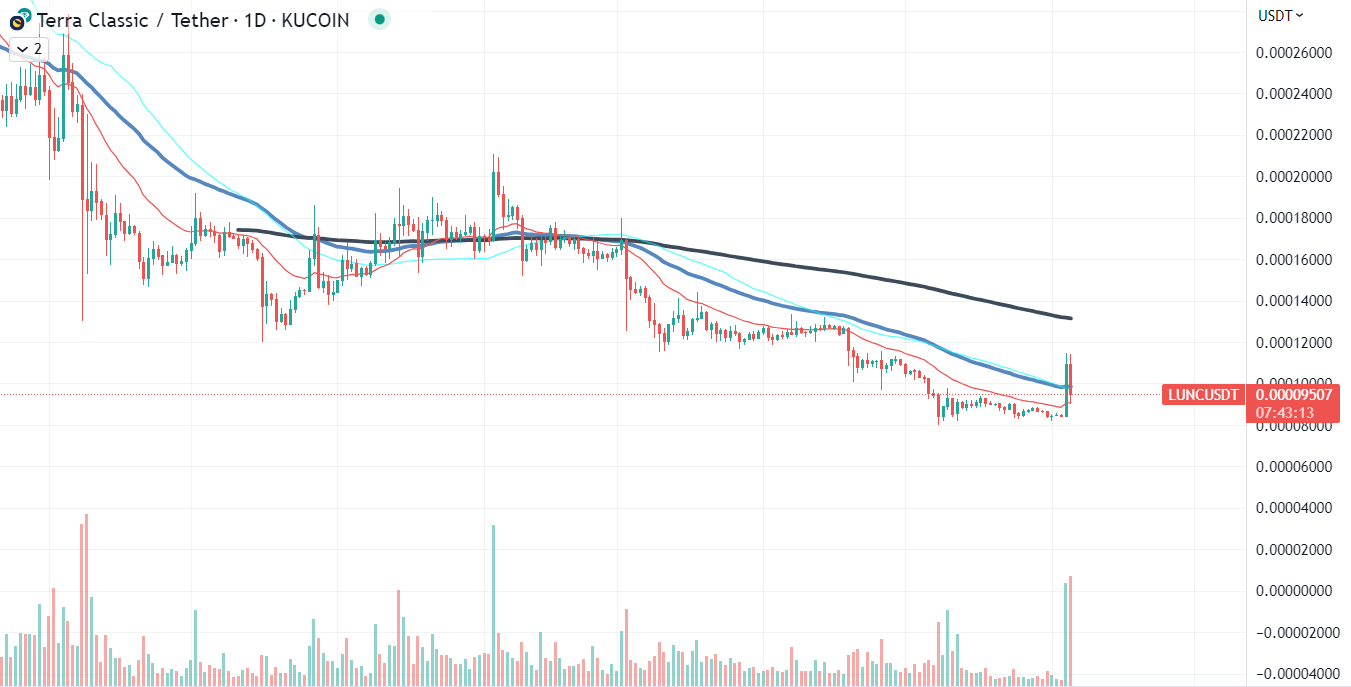 This upturn is all the more noteworthy in light of Terra founder Do Kwon's legal troubles, including an arrest while traveling with falsified documents and several fraud charges brought by a federal grand jury in Manhattan.
Cardano remains resilient
Cardano (ADA) has demonstrated remarkable resilience amidst a tumultuous period in the cryptocurrency market. As various digital assets faced significant liquidations, totaling approximately $60 million, ADA managed to largely steer clear of the storm. This is particularly notable as the majority of the liquidation volume hit the two leading cryptocurrencies, Bitcoin and Ethereum.
Unlike its counterparts, Cardano has maintained its uptrend, weathering the marketwide correction with aplomb. One of the reasons for Cardano's resistance could be its ongoing consolidation phase, which has been playing out around the current price level. While it has experienced some pressure, the digital asset has not yet found sufficient support to spring from $0.37 back to the $0.5 mark.
Cardano's performance is noteworthy in the context of its intrinsic value proposition. Known for its energy-efficient proof-of-stake blockchain architecture and emphasis on rigorous academic research, Cardano has been a favorite among investors seeking more sustainable and thoughtfully developed decentralized solutions.
SUI's wavelike performance
Sui (SUI) is currently facing a challenging market phase. It recently experienced a 13% price drop, leaving traders and investors cautious about the token's next moves. However, an analysis of the token's performance points toward the possibility of a 25% price rebound in the coming period.
In recent months, SUI's price has followed a wavelike pattern, suggesting a systematic profit-taking strategy among traders. Such a pattern may indicate a carefully planned exit strategy by investors who entered early. However, it is important to note that this trend does not necessarily spell doom for the token's prospects.
Currently trading at $0.85, SUI is down approximately 50% from its all-time high. A key technical indicator, the Relative Strength Index (RSI), is currently below 25. In traditional trading analysis, an RSI value below 30 is often viewed as a signal that the asset is oversold. This could indicate an impending reversal, offering a potential buying opportunity for investors.
This analysis brings us to the possibility of 25% price growth for SUI. After such a significant price decline, the token could be primed for a robust recovery. It is not uncommon for crypto assets to see sharp rebounds after periods of steep losses, and SUI could be setting the stage for a similar price action.