Our Litecoin price prediction article for February 2019 starts with key stats and a year-to-date performance. Litecoin (LTC) as of January 31, 2019 is ranked number 7 on top 100 cryptocurrencies by market capitalization on CoinMarketCap, but now LTC grew up to the fifth position in the crypto top 100.
The current value of Litecoin (LTC) is $42.71, the market capitalization is 2.581.596.178 USD and the Volume (24h) is $693.718.920 USD or 200.793 BTC. The 1-year performance is -80.78% as price fell from over $200 to $30, and the year-to-date performance is only -1.45%, as on Jan. 1, 2019 the price of Litecoin was about $32. What is our Litecoin price prediction for the month of February 2019? First some forecasts on Litecoin by some sources as a guide, and not as an investment advice whatsoever.
Litecoin price prediction February 2019 from various sources
It is interesting to monitor if sources have a positive Litecoin price prediction or a negative one and the diversity of forecasts. The reason is that it is almost impossible to make an accurate Litecoin price prediction, either in the short-term or in the long-term but filtering some forecasts provides a path or possible future prices to focus on.
LongForecast estimates that Litecoin in February 2019 will have an open price of $32.31, a low-high range of $28.64-$36.90, and a close price of $30.80 continuing its decline in 2019, with a monthly return of -4.7% . A conservative Litecoin price prediction with small volatility.
TradingBeasts appears to be more optimistic about Litecoin. Its price is forecasted to reach $44.16 by the beginning of February 2019. As a guidance the expected maximum price is $53.76, and the minimum price is $36.55. The Litecoin price prediction for the end of the month is $43.00. That is a monthly return of about 36%, compared to the price of about $31 on January 31, 2019. Not bad if this scenario is to materialize.
Digitalcoin forecasts that the price of Litecoin will increase in February having a potential target of $40.17.
CoinFan is the most bullish or optimistic source on Litecoin's price for February 2019 forecasting a minimum- maximum range of $128.5617897 - $173.9365391 respectively.
Overall three out of four mentioned sources above have a positive Litecoin price prediction estimating an increase in the price, which ranges from a significant one, the forecast by TradingBeasts to an extreme one, the forecast by CoinFan.
Litecoin price prediction February 2019 based on technical analysis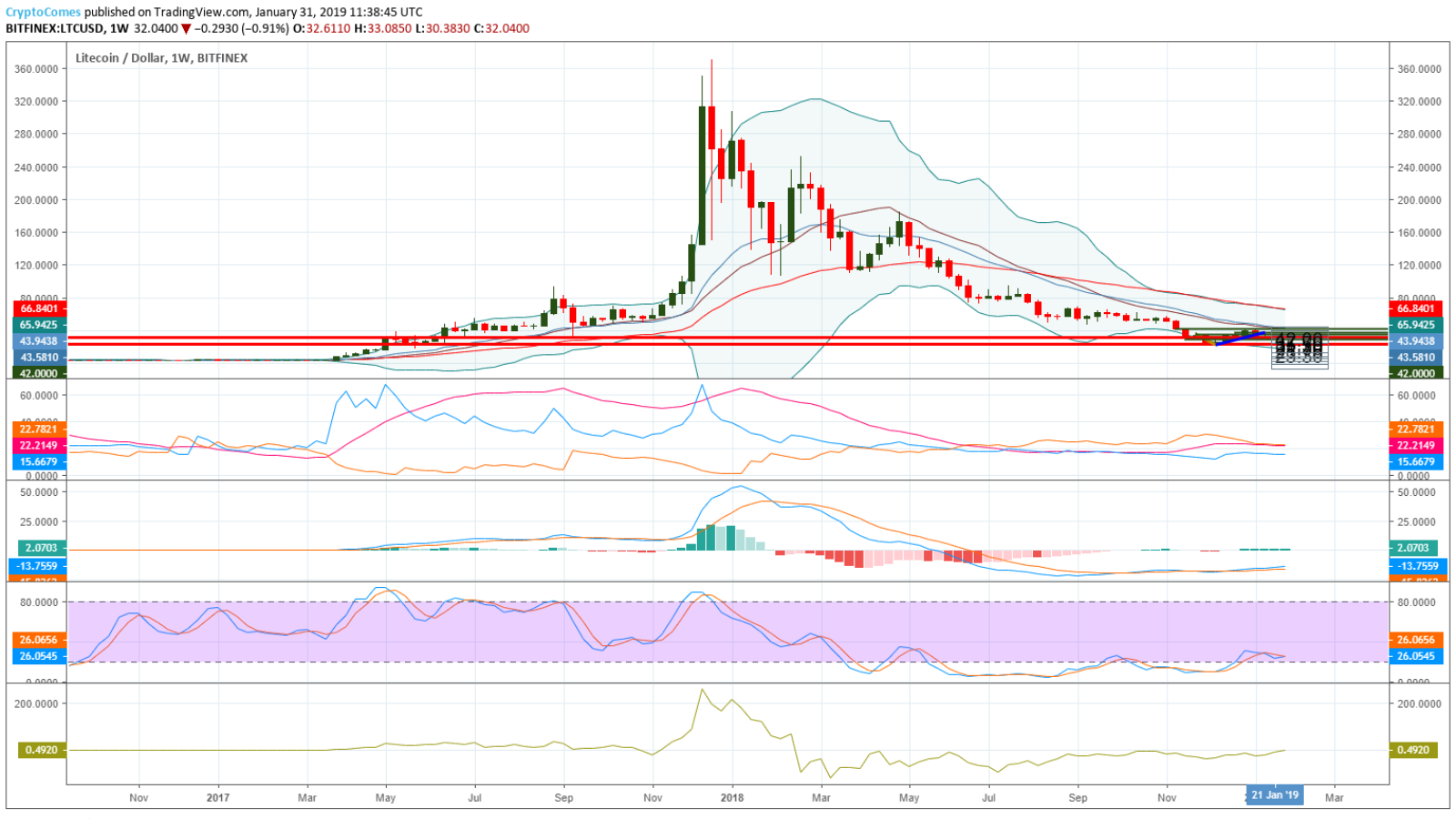 We have applied lately the idea of presenting a bullish and a bearish scenario about cryptocurrencies as this is not an investment advice but only an article for informational purposes.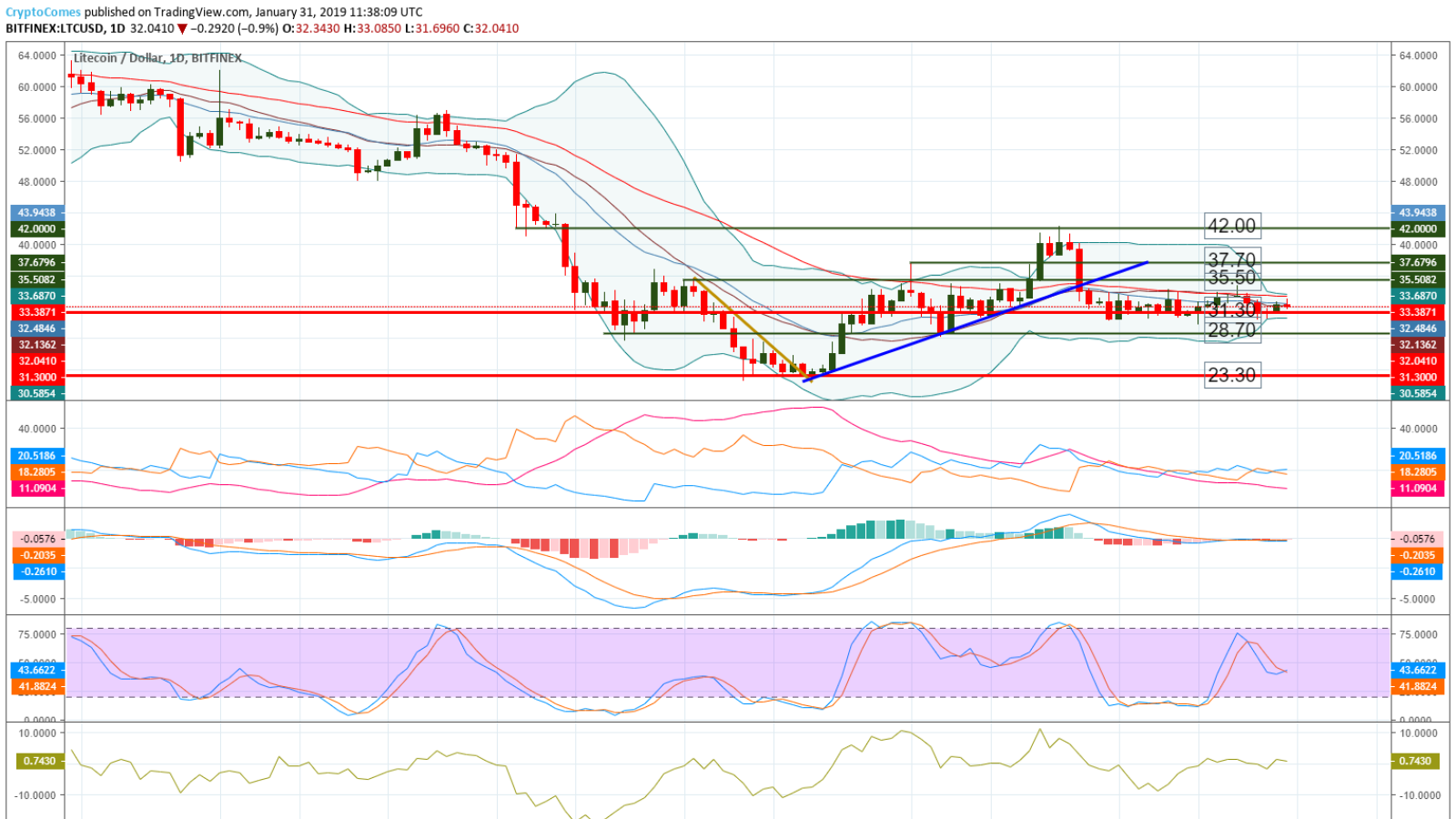 Litecoin price prediction positive scenario
The price is now at a clear consolidation range of $40-$44, the strength of the trend is very weak confirming the fact that downtrend seems to have lost its momentum, and it is very positive that the positive directional indicator (+DI) is now above the negative directional indicator (-DI), a signal that the uptrend is getting stronger and that there is a potential trend shift from downward to upward.
A target price of about $43-$44, which coincides with the upper daily Bollinger band at about $43.50 is likely.
The MACD indicator is flat, and the Momentum indicator is trending up, which may indicate some strength in the uptrend. But as there is very strong resistance at the level of $43.50-$43.70 it will be very difficult for now for the price to move above these levels.
Litecoin price prediction negative scenario
It is always a good idea to examine not only one but several time frames for trading purposes and financial or technical analysis. The weekly chart for Litecoin shows that the downtrend is still strong with declining 50-period and 20-period exponential moving averages.
In other word, the weekly chart suggests that the dominant trend is not an uptrend, but still a downtrend. If the recent consolidation range does not lead to a bounce from the level of $41.50, there are increased odds for the price to move lower and retest the very strong support level of $38.40. And if this support does not prove to hold then further losses to the support level of $33.70 are the next target.
Our Litecoin price prediction for February 2019 is that a breakout is very likely, but its direction is not easy to be forecasted based on the recent chart price action.