Kalima (KLX), a delegated proof-of-stake (PoS) blockchain for IoT, invites developers to develop dApps with its smart contracts and SDK's and announces the listing of its KLX token on BitMart, a top-10 centralized cryptocurrency exchange.
Kalima (KLX) Blockchain kicks off, KLX listing campaign started: key takeaways
As interest in cryptocurrencies is accelerating yet again after the crypto winter, Kalima unveils its ecosystem of blockchain solutions underpinned by core token KLX.
Kalima (KLX) is an ecosystem of blockchain products and services designed for the segment of enterprise-class dApps and Internet of Things (IoT);
KLX token is available for enthusiasts on the BitMart exchange since Feb. 2 2023, with staking and validation pools open to the public;
Kalima has a very low energy footprint, making it an environmentally friendly blockchain technology.
Like blue-chip blockchains Polygon Network (MATIC) and COSMOS (ATOM), Kalima (KLX) platform is a blockchain network providing very high scalability;
Kalima (KLX) is a third-gen L1 blockchain; its native token KLX is released on Polygon Network (MATIC) as ERC-20 token but is planned to be bridged towards its own platform in one year;
KLX net supply is capped at 480 billion tokens; over 18.7% will be released to the participants of its two-phase token sale;
The Kalima software development kit (SDK) has already been released to the global developer community for numerous languages, including Java, C#, C, Rust, JavaScript, Python, Lua, Kotlin, and Swift.
One distinctive characteristic of Kalima is its ability to be incorporated in small IoT and mobile devices, allowing for scalability and cost-effectiveness in deployed IoT configurations.
Kalima's low latency (less than 1 second) is another competitive advantage
As such, Kalima (KLX) address the problems of blockchain usage in enterprise and IoT in a totally novel, decentralized, community-driven, modular and flexible manner.
What is IoT?
The Internet of Things, or IoT, is a sphere of tech development that builds systems with objects equipped with sensors to process and exchange data. On IoT networks, the objects can interact with each other via various types of communication protocol which are interconnected to Internet by the use of IoT gateways.
IoT involves a wide range of "smart devices" designed for personal, commercial and industrial usages. Wireless sensor networks, control systems and automation mechanisms are the fields of IoT usage in human life.
From the 2000s to the 2010s, the concept of IoT gained widespread acceptance. IoT systems can be utilized in industry, infrastructure, "smart home", agriculture, medical care, company development optimization, and other B2B and B2C applications.
How does IoT work with blockchain?
Obviously, such sophisticated systems involve processing large volumes of data. That is why the problem of powerful, high-performance and tamper-proof data processing systems is of paramount importance for IoT as a segment.
To address these goals, IoT protocols integrate blockchains, as only distributed ledgers can process large volumes of information in a censorship-resistant and low-cost manner. On blockchains, monstrous datasets can be processed for a fraction of a cent. Also, no party is powerful enough to carry out a 51% attack of the blockchain in order to alter the data in its blocks; at the very least, such attacks make no economic sense.
German-based blockchain project IOTA was the first attempt to integrate mainstream blockchains into the systems of IoT devices.
However, IOTA pales in contrast to Kalima Blockchain, which outperforms it in a number of critical technical areas. Kalima Blockchain is a multichain network, which means that its users will deploy and govern their own blockchains, known as PrivaChains, as opposed to the system utilized by IOTA. This Blockchain network approach, along with client-side smart contracts , provides Kalima users with newfound independence and modularity. In terms of speed (TPS) and Block Average Time (BAT), Kalima Blockchain again displays its capacity for scalability, since it can handle 1000 TPS per chain on its ecosystem (separating speed performance from network size) and has a BAT of 1 second rather than 1 minute.
Introducing Kalima (KLX), third-gen blockchain for IoT-centric use cases
Launched in 2021, Kalima (KLX) blockchain attempts to employ the cutting edge developments of the Web3 sphere in IoT and leverage the disruptive power of blockchain in enterprise-grade systems.
What is Kalima?
Kalima (KLX) is a highly-scalable modular delegated proof-of-stake (DPoS) blockchain tailored to data processing in IoT and enterprise dApps. Kalima (KLX) attempts to fuel an interconnected network of IoT devices, including iOS and Android-based smartphones, supercomputers, small IoT gateways, LoRaWAN gateways, industrial networks and so on.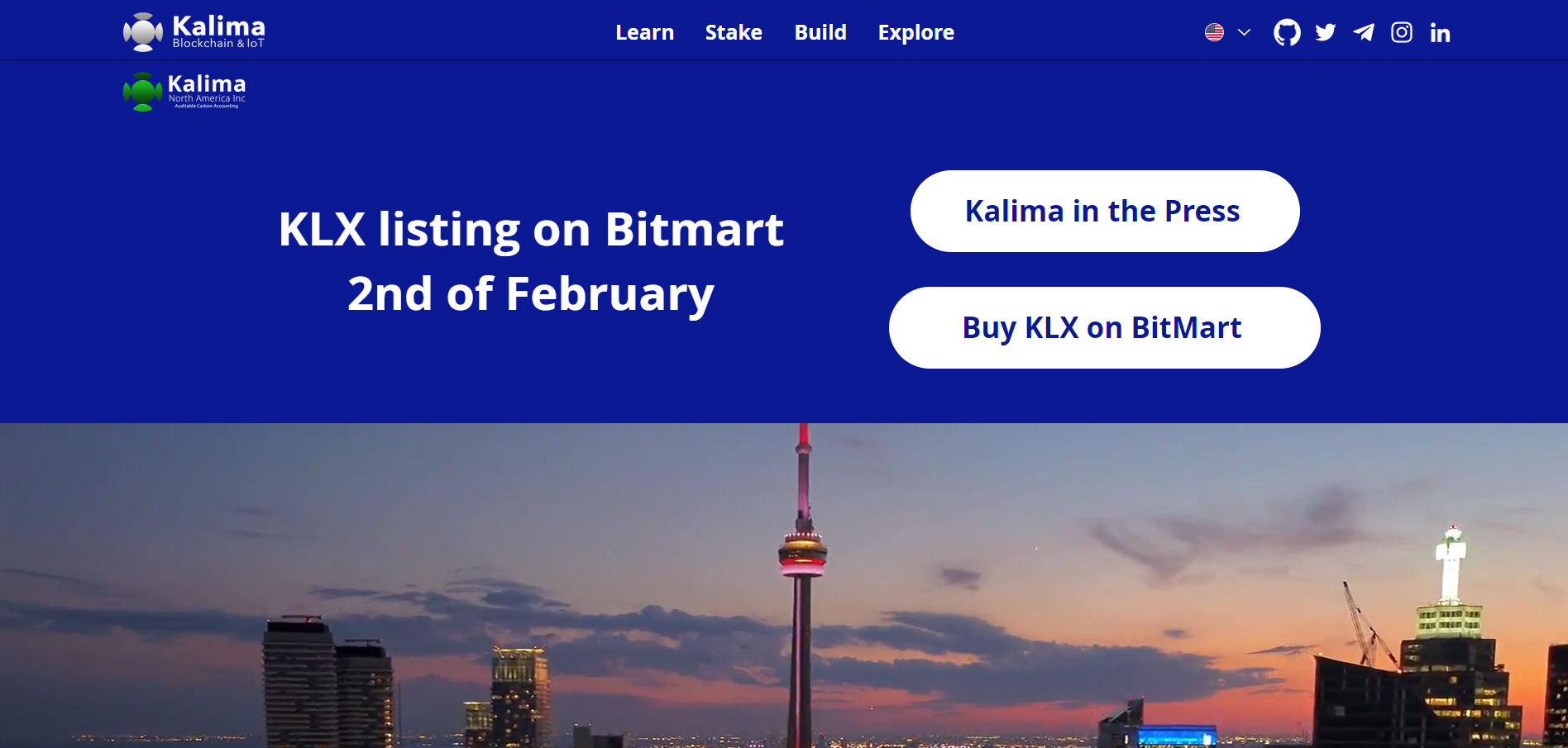 Kalima (KLX) solutions are system-agnostic: mobiles, tablets, smart watches and web interfaces can be integrated into a single IoT framework. Besides data processing, Kalima (KLX) can work as a platform for decentralized applications (dApps). The flexible structure of its smart contracts can onboard various protocols, from DeFi platforms and NFT marketplaces to the protocols of data notarization and industrial IoT applications (carbon tracking tools, digital twins and so on).
Building a plug-and-play ecosystem for all entrepreneurs, investors and tech enthusiasts interested in developing and promoting enterprise-grade dApps is an endgame goal for the Kalima (KLX) team, its founders and early backers.
While Kalima's core token KLX is already up and running, in Q2, 2023, the first batch of validation pools will go live. The Kalima (KLX) blockchain's own mainnet will be activated in early 2024: KLX supply will immediately migrate to a new network.
Kalima's (KLX) consensus and staking design: basics
Kalima's main asset, KLX, is a backbone element of the project's tokenomic design. KLX holders can freely transfer them to each other and use them for staking, node maintenance, dApps building on Kalima, paying transaction fees and so on. KLX stakers will be rewarded for their contributions proportionally to the amount of KLX staked.

The KLX supply is capped at 480 billion tokens. Periodically, the rewards pool will be reduced by 2 every halving, occurring every new 16 billion KLX emitted. In all, up to 80% of all KLX will be released to its circulating supply. The token comes with a balanced tokenomics, with the KLX supply allocated as follows.
| | |
| --- | --- |
| Purpose | Allocation, % |
| Kalima (KLX) Team | 12.375 |
| Advisors | 5.125 |
| Kalima Foundation | 22.5 |
| Initial Seed Sale | 3.125 |
| Private Sale | 15.625 |
| Reserve | 41.25 |
The Kalima Foundation will only use 4 billion KLX per year for daily operations and progress initiatives.
To get periodic rewards in KLX, Kalima enthusiasts can set up a validation pool; a minimum of 120 million KLX staked is required. In validation pools, there are two groups of nodes: Validator Nodes and Master Nodes.
Type of Node

KLX Tokens Staked

(both by node operator and associated delegators)

Rewards per Block, KLX tokens

Master Node

40 million

1

Validator Node

4 million

0.1
Block rewards will be distributed equally between all active Validator Nodes and Master Nodes, on Kalima MainChain and in every PrivaChain.
Also, all KLX holders are invited to join a special staking initiative, Pre-Bridge Staking. This program will be active until the Kalima (KLX) token migrates from the ERC-20 standard to its own native one. The program went live on Feb. 2, 2023, and will sunset in Q1, 2024.
The longer tokens are staked, the higher the rewards will be for participants in the Pre-Bridge Staking mechanism. At the same time, all unstaked tokens during the entire duration of the program will return to their holders with zero rewards. Rewards will be distributed between the successful participants of the Pre-Bridge Staking program within 12 months of the launch of the Polygon-Kalima bridge.
Kalima's software development kit (SDK) unlocks new opportunities for devs
Kalima's (KLX) engineers are attempting to build a blockchain for all developers interested in IoT breakthroughs. That is why its software development kit (SDK) is versatile and easy to use. To start building Kalima-centric IoT applications, developers only need to create an account and then connect any devices or services, managing their operations remotely with the Kalima (KLX) administration tool.
Developers can create and deploy smart contracts in various languages: JavaScript, Java, Python, Csharp, C, Objective-C, Kotlin, Swift, and Lua. Smart contracts run at the edge and can be used on smart devices, tablets, smartphones and other elements of the IoT ecosystem but also on the cloud.
Kalima Network
Kalima Network includes the MainChain, which will manage KLX addresses, and PrivaChains which will run developer dApps.
Technically, developers can choose between running their dApps on their own PrivaChain or using a shared PrivaChain, together with their peers and competitors depending on the dApps requirements. PrivaChains can also be interconnected with other blockchains such as Tezos (XTZ) or second-layer scaling platform like Lightning Network (LN) or soon with Polygon (MATIC) to allow payments in XTZ, BTC or ETH or to publish NFTs on popular platforms.
Kalima (KLX) developers should only pay €0.00025 per KB of data processed in KLX. Also, to own a dedicated private PrivaChain, users should stake 8,000,000 KLX per master node, or 2,000,000 KLX per validation node. As such, Kalima (KLX) makes the barrier to entry for new developers lower than ever before: only holding and staking KLX tokens is required to use Kalima's (KLX) distributed computational power.
With the success of the KLX listing, in 2023 the Kalima team is now working on the deployment of validation pools. To this day, 6 validation pools are up and running on the test net. The Kalima test net already hosts PrivaChains for industrial applications in Europe. The goal is to obtain at least 60 validation pools to ensure the security of the network by 2024.
A security Bounty is running with success from October 2022 on Kalima Blockchain.
KLX token now listed on BitMart: Why is this important?
To trigger an inflow of liquidity to the Kalima (KLX) ecosystem, the foundation started its token listing campaign. Starting from Feb. 2, 2023, the KLX token (as an ERC-20 asset) is available on BitMart, a top-10 centralized exchange by trading volume.

BitMart supports hundreds of trading pairs in its spot and derivatives modules. As of February 2023, the platform is ranked seventh by normalized 24-hour trading volume according to the largest independent crypto statistics tracker, CoinGecko. BitMart registers almost seven million visits monthly and processes $1 billion per day in trading volume.
Since Feb. 2, 2023, KLX token is listed against U.S. Dollar Tether (USDT), the largest stablecoin by market capitalization. In just a few days, Kalima (KLX) reached over $116 million in fully diluted valuation.
With KLX being listed on BitMart in a KLX/USDT pair, all Web3 enthusiasts are able to purchase it on a regulated centralized exchange in order to join staking and validation initiatives.
Wrapping up
To sum up, Kalima (KLX) blockchain is a blockchain network that is concerned with breakthroughs in enterprises and IoT, which is one of the most impressive use cases for blockchains and DLTs. Kalima (KLX) launches with balanced tokenomics, a fair and inclusive staking mechanism, and a modular blockchain network architecture.
The listing of the KLX token on BitMart is set to accelerate interest in Kalima's (KLX) progress among crypto entrepreneurs, investors, and hobby stakers.