Over the past few weeks, Ethereum (ETH) has been showing signs of resilience, despite the bearish sentiments that have pervaded the broader cryptocurrency market. The second largest cryptocurrency by market cap seems to have found a local price bottom and could be primed for a reversal in the near future.
Having settled at a low point, Ethereum is presenting itself as an intriguing prospect to the watchful eyes of crypto traders. The Ethereum market has been relatively quiet, with declining volume being one of the defining characteristics of recent trading periods. While decreased volume often signals a lack of investor interest, in the case of Ethereum, it may be indicative of a maturing market and impending price reversal.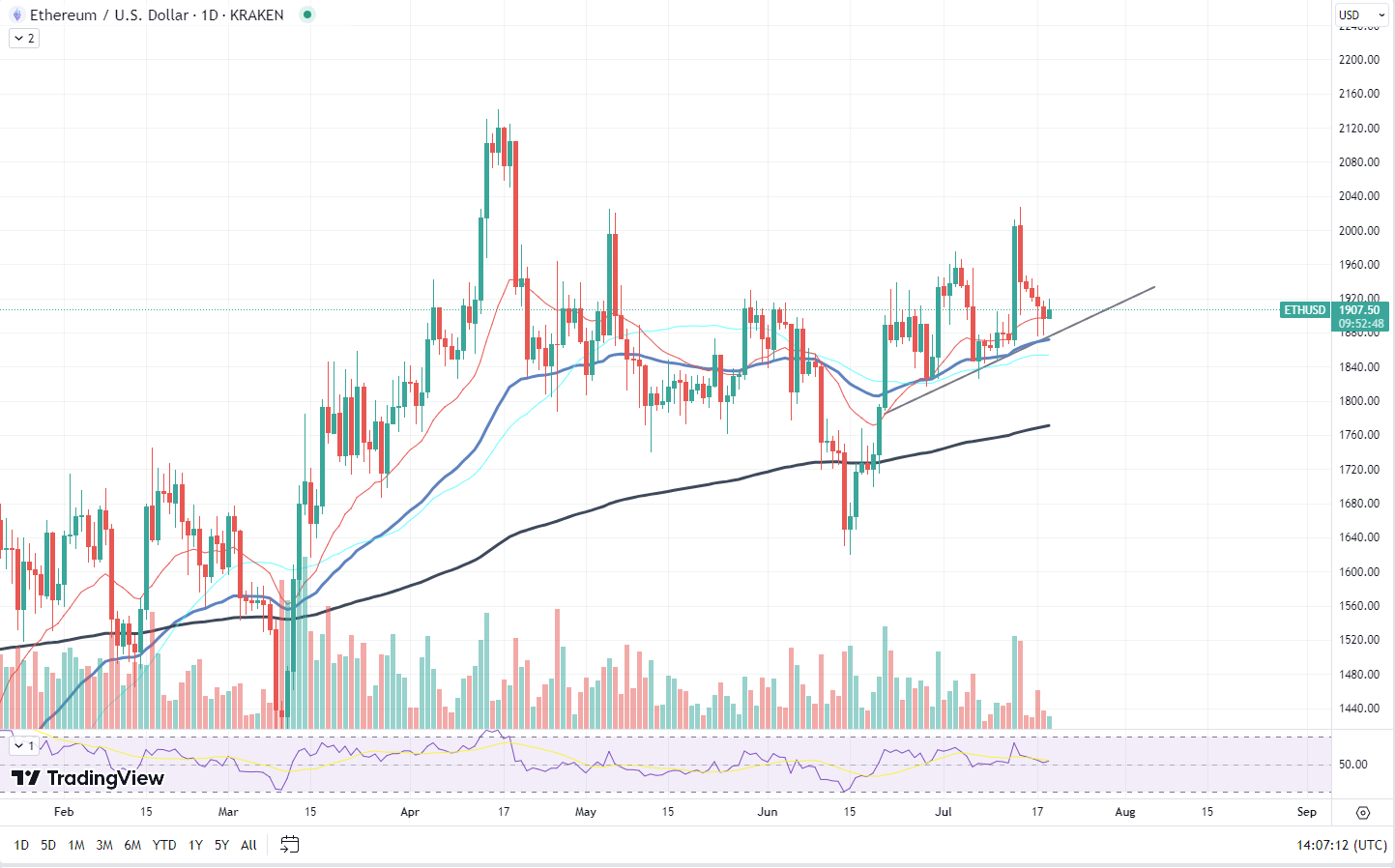 As of now, ETH is trading well below its all-time high reached in May, but it is important to note that it is currently outperforming Bitcoin in terms of year-to-date returns. Ethereum's potential move toward $2,000 may depend on a multitude of factors, including investor sentiment, market trends and developments within the Ethereum network itself.
The Ethereum network is currently undergoing significant changes as part of the Ethereum 2.0 upgrade, which aims to increase its scalability and security. As developers make progress with Ethereum 2.0, it could spur renewed interest in ETH, helping to boost its price toward the $2,000 mark.
XRP has a ways to go
The recent court victory for Ripple (XRP), resulting in a momentous price hike of over 70%, has ushered in new questions regarding the asset's future. With the dust settling from the legal ruling, Ripple finds itself at a crucial crossroads. Here are three potential developments in the XRP narrative:
The post-court decision boost in XRP's price could pave the way for a period of consolidation. In this scenario, Ripple's value may stabilize as investors reassess their strategies based on the newfound legal clarity. Consolidation periods often follow significant market events, serving as a kind of "cool-down" phase. Investors and traders could use this time to accumulate more XRP or redistribute their holdings, both of which could lead to a more stabilized price in the short term.
Another possible development is an uptick in Ripple adoption. With the legal case against Ripple resolved favorably, more businesses and financial institutions may feel secure to integrate XRP into their operations. This decision could increase Ripple's real-world utility which, in turn, could positively impact its price.
The resolution of the Ripple-SEC lawsuit might also have broader implications for the entire cryptocurrency industry. The landmark ruling could influence how other cryptocurrencies are classified and regulated, thereby altering the crypto landscape. In this scenario, Ripple may become a precedent for other digital assets facing regulatory scrutiny. This could lead to a potential reevaluation of many cryptocurrencies and a possible reshaping of the crypto market.
Shiba Inu is already moving upward
After a turbulent summer, Shiba Inu (SHIB), the meme coin that grabbed worldwide attention earlier this year, is showing signs of entering an upward trend, despite having faced anemic price performance.
Like many cryptocurrencies, Shiba Inu faced a rough patch this summer, as investors diversified their portfolios in the face of unpredictable market conditions. This shift in investor focus led to a sluggish performance for SHIB, with reduced trading volume and sluggish price movement. The general stagnation on Shiba Inu's market can also be attributed to the proliferation of alternative meme coins, which competed for the same pool of investors.
However, in the wake of Ripple's recent court victory, a renewed interest in the crypto market has emerged, with Shiba Inu among the tokens that have benefited from this development. Ripple's win in court seemed to have a ripple effect on the entire market, with many altcoins, including SHIB, experiencing a value boost.
Despite the lack of significant price movement, technical indicators suggest a potential uptrend for Shiba Inu. Recent price charts show SHIB moving off of the local trendline, pointing upward. This signal could represent the beginning of a new bullish cycle for Shiba Inu, suggesting that the token might be gearing up for a new rally.