Sushi (SUSHI), the native token of popular decentralized exchange SushiSwap, has experienced an extraordinary surge in price, gaining nearly 20% in the past 24 hours amid a wider recovery on the DeFi market. This robust performance is being fueled by an inflow of funds into the platform, with trading volumes showing a significant increase.
This surge in activity and price has led to SUSHI successfully breaking through a key resistance level, which has been a significant barrier for the token in the recent past. Breaking this resistance could be an indication of a potential bullish trend for the token, particularly given its relatively strong fundamentals and the overall positive momentum in the DeFi sector.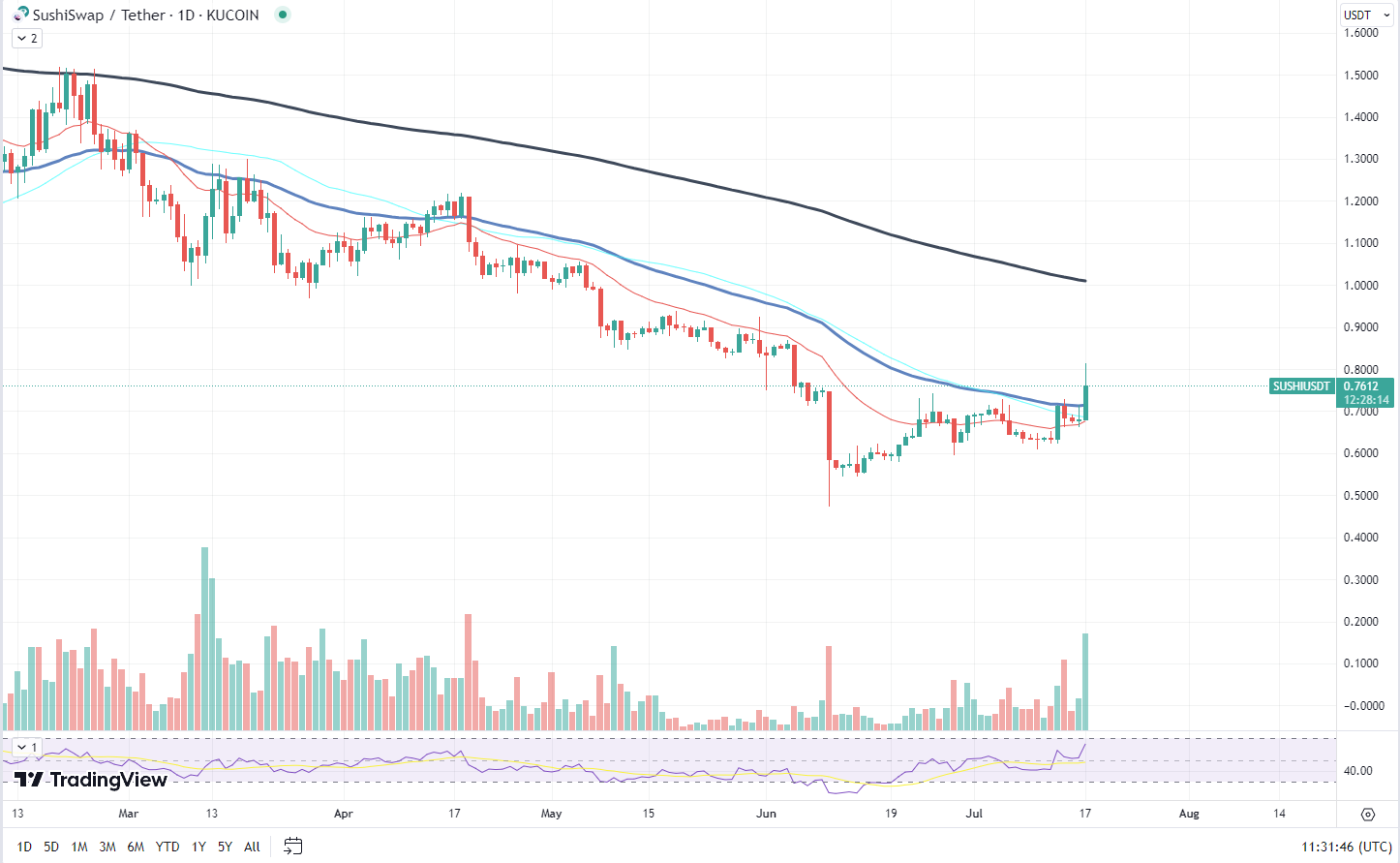 Analyzing SUSHI's current technical indicators lends further weight to this bullish outlook. The Relative Strength Index (RSI), a momentum oscillator that measures the speed and change of price movements, has hit 70. Typically, an RSI above 70 is considered to indicate overbought conditions, which can often precede a price correction. However, in strong bull markets, assets can remain overbought for extended periods, leading to significant price gains.
Shiba whales wake up
In an intriguing move, an anonymous crypto wallet has recently transferred trillions of Shiba Inu (SHIB) tokens. This comes amid a volatile period for the meme coin, which recently hit the $0.000008 price level before retreating slightly.
Shiba Inu, dubbed as a "Dogecoin killer," has been struggling to maintain the momentum that led it to break through the $0.000008 price barrier. After the surge, a pullback occurred that saw SHIB retreat toward the $0.000007 price range.
However, it is not all bleak for SHIB holders, as the token has managed to cling to the 50 Exponential Moving Average (EMA) level. This key technical indicator is often used by traders to identify market trends, and the fact that SHIB is still hovering at this level might suggest that there is still some bullish sentiment around.
What exactly this massive movement of SHIB tokens means for the token's price is uncertain. Large-scale token transfers, often referred to as "whale" moves, can create substantial ripples on the market, influencing the price of the asset in question.
The unknown wallet's decision to transfer trillions of SHIB tokens could signal a number of different intentions. It may be a strategic move ahead of anticipated market dynamics, a token distribution maneuver, or merely a portfolio realignment.
Arbitrum shows its strength
In an impressive display of resilience, Arbitrum (ARB), a leading Ethereum Layer 2 scaling solution, has successfully broken past its local resistance level at $1.2. This achievement comes after three unsuccessful attempts to overcome this significant price threshold, demonstrating the strength and persistence of the Arbitrum community.
Arbitrum's struggle to surpass the $1.2 mark has been a focal point for investors and analysts, who viewed it as a key test of the token's performance and momentum. The first three attempts saw the cryptocurrency getting close to the coveted price mark, only to face a pullback each time. However, the fourth attempt proved successful, marking a noteworthy victory for the Arbitrum ecosystem.
This breakthrough could signal a potential trend reversal and the start of a new phase of price discovery for Arbitrum. Often, overcoming a critical resistance level can ignite a fresh wave of buying activity as investors gain confidence in the asset's ability to maintain its upward trajectory.
The successful breach of the $1.2 level comes as a positive sign for Arbitrum supporters. It also speaks to the strength of the underlying technology and the growing user base that the platform has been able to cultivate, factors which are critical to the long-term success of any blockchain project.